The days of Ghanaians waiting for someone to hand them a job are coming to an end. As the government's "2020 vision" program to boost Ghana's economic growth, alleviate poverty, and encourage private investment comes to fruition, a new generation is doing its part to help. Young people are creating opportunities where previously none existed, finding ways to improve lives, and to build their own futures. Known as the "social media entrepreneurs" (SMEs), these ambitious men and women are harnessing the possibilities of the Internet to pursue their own careers.
The Social Media Entrepreneurs
Ameyaw Debrah's story of success is interwoven with the explosion of the Internet in Ghana. In 2008, he started a celebrity and lifestyle blog and has turned it into a lucrative business. He's been riding the digital transformation wave ever since. "I publish everywhere. I make sure that when something new comes, I get in there early and I grow with it. So I have a blog, I share it on Twitter, I share it on Facebook and I even share it on LinkedIn."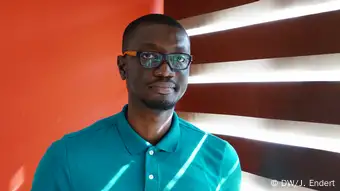 Ameyaw Debrah, blogger from Accra has more than a million followers
Ten years later, Ameyaw, now in his 30s, boasts a massive audience. He is a living blueprint in how to use the Internet to your advantage, skillfully cultivating a brand on social media. He has more than a million followers across his various social media accounts. Half a million people follow his updates on Twitter alone. His posts range from photos with global celebrities to observations on the latest political news. Beyond the advertising revenues, he has used his outsized influence to make money in other ways. "I have also done some brand sponsorship, because surprisingly, I put things up there and I find that people actually go and buy it," he says.
Ameyaw, who is tall and trim, looks every part the media personality. But he is now a business owner, having recently turned his one-man operation into a company that employs a graphic designer and a video producer. This year, they launched Ameyaw TV, a web-only TV series that produces news and lifestyle stories. In one item, a leading cosmetic surgeon explains the top five most common plastic surgeries in Ghana. Over the years, Ameyaw has developed a touch for what generates engagement and what doesn't. "People really like the success stories of Ghanaians or Africans who are doing amazing things. They share it a lot. They engage with it a lot. I think maybe it's aspirational. That type of content often does really well," he says.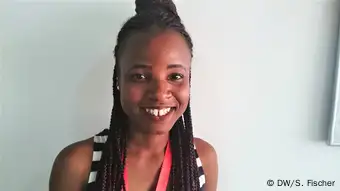 Vanessa Otchere, journalism student, "techpreneur", blogger and founder of a startup called TicketEx
Twenty-four year old Vanessa Otchere is another entrepreneur at the forefront of Ghana's digital revolution – albeit at the start of her journey. She has just set up TicketEx, an online platform for buying bus tickets. Having entered her final year at university, she splits her time between studying and getting her company off the ground. "We are a team of three people: lead developer, social media marketer, and me. I do the front end of the business while my developer does the back end," says Vanessa. TicketEx is still looking for investors, but Vanessa is confident success is on the way. "My team members work voluntarily. I have no money to pay them. However, they will be getting some allowance once we start making a profit."
Support Networks
Behind many of the start-ups trying to become profitable are the innovation hubs that nurture their development. Will Senyo is a co-founder of Impact Hub Accra, where, in his words, he is "building a home for Accra's entrepreneurs and bold thinkers." European leaders, such as Angela Merkel and Emmanuel Macron, have paid visits to the center, to meet the new breed of business owners liberated by the Internet.
"There is clearly an emerging class of young people in Ghana, specifically, who are redefining the terms of what is expected of them. Partly out of necessity, because they can't trust anyone to provide them with the opportunity, and then partly because of this global access to Internet, which has kind of become an equalizer. People increasingly don't think geography is an inhibitor for them in their pursuits," Will says.
Vanessa has also had help navigating the start-up world from a slew of organizations aimed at supporting growth in the technology industry and encouraging more women into the scene. Her business idea came during one such boot camp established to find technological solutions to everyday problems. "I am involved in various organizations. I am part of UWAT a flagship program where they teach women how to code, and offer business development skills so you can create a business out of your idea. I am also involved in Developers in Vogue, where they teach coding and connect you to relevant jobs. I think organizations like that bring more women into technology, and I believe it is a good step in the right direction, because when I was growing up, the role models were all men."
As well as a lack of role models, one of the biggest challenges to growth in the industry is the country's digital literacy rate. For Vanessa, help was on hand in Ghana's booming capital. And now she is mentoring others who are trying to learn the skills needed for Ghana's digital economy. Her Twitter account is a steady stream of inspirational quotes and encouragement for her peers. As is often the case, however, the opportunity gap between urban and rural is vast. Vanessa says that the organizations could, and should, strive to address it. "If they have the funding for these programs, I believe they should organize some in other parts of the country, so they would not be limited just to Accra."
Vanessa is immersed in the digital ecosystem, using her blog to delve into the latest innovations in the tech market. She's also found that the Internet has opened doors for her. "I think the Internet is a critical part of networking. I have had a couple of meet-ups through LinkedIn. So I think the Internet is very important," she says. But she still laments the lack of online resources available, which frustrated her when she was writing her business plan. "I wanted to find out the number of people who travel by bus every day, and there is no information like that. When it comes to statistics, particularly for Africa, it can be hard to find."
Internet Access
Because the Internet is critical to their business models, Vanessa and Ameyaw acutely feel the problems with Internet access around the country. Both agree that only with a free and open web, will more people be encouraged to become SME's – and they acknowledge that Ghana is plagued with connectivity and affordability problems. "Generally it's improving. The challenge is: With more people using the Internet, is it going to be more affordable? Is it going to be more reliable? Now it is so slow, and it costs an arm and a leg to be able to get any good quality bandwidth to work with. Those of us that have online businesses hope that a lot more people will come online, so that we can grow. If more people are online, more people will read my site, the more reach I have, and the more potential to increase revenues," Ameyaw says.
New media landscape
That desire for revenue can have adverse effects. With 'Social Media Entrepreneurs' re-landscaping Ghana's news industry, it is increasingly influential bloggers like Ameyaw to whom audiences are turning for their news. But there is a controversial underbelly to the rise of the citizen journalism. Not all bloggers are trained journalists. Sometimes, accuracy is compromised in pursuit of clicks because of the advertising revenue it generates, as Kent Mensah, an online editor and journalist, explains. "We have bloggers who are coming along and seeing opportunities to make money. They can benefit from Google AdSense. You see a lot of websites popping up in the name of providing news. It is good for the public in a way, because they have various avenues to consume news, but at the end of the day, credibility is at stake," he says.
Ameyaw is proud of the progress that is being made, but he sees an opportunity for Ghana to tackle the scourge of click bait. For a start, he wants traditional advertising companies to take their operations online. He also wants the media industry to intervene by giving financial support to the more reputable bloggers. This, he hopes, would help stamp out fake news. "We have come quite far, where at some point it was quite difficult to speak freely, to the point where our media space is one of the most vibrant, one of the freest on the continent. But the industry is just not doing enough business digitally. To clean up the digital space, we need our community to identify the good bloggers and then spend money encouraging high quality."
Vanessa and Ameyaw are emblematic of a new wave of Ghanaians who understand and see the potential of the Internet: a generation that is using digital tools to break down barriers and create opportunities for themselves. It's a model that is only possible when digital skills and affordable access to the Internet are available to all citizens, rural and urban, young and old. Maybe then Ghana's "2020 vision" for economic renewal can be considered a genuine success.
The #speakup barometer is a DW Akademie project that examines the connection between digital participation, freedom of expression and access to information. Learn more at www.dw.com/barometer