William Senyo is no urban planner but he is trying to build a city within a city. A sort of digital paradise sheltered from the disorder and uncertainty and unpredictability of modern life in Accra.He says slow Internet, power outages, and a shortage of space to collaborate is hampering businesses. So he set out to fix it. "The idea was, how can we create almost an alternative parallel society, micro version, smack in the middle of all the chaos, and provide insulation from all of these things," he recalls. "So what we have done is take this part of the city, dig the whole place out and put Google fiber in. So anywhere in this one square km area, we can send you Internet up to 250 mbps. A second part of it is that we are clustering buildings. We take buildings that are not really in use, invest capital in them, improve them and make them warm, open spaces for young people to work and do their thing."
The Impact Hub Accra was born as a home for Ghana's talented entrepreneurs to launch the next Facebook or Airbnb. The idea was to create an environment where creativity, support, and encouragement flowed, like reliable electricity. When it comes to the business fundamentals, Senyo is borderline obsessive. He says fast Internet and energy are crucial to cultivating successful companies. "Internet is like oxygen. Power is like oxygen. These things should not be the biggest things that block innovation, but they are." As well as creating an ecosystem for collaboration and invention, he wanted to make it easier for outsiders to tap into Ghana's future. Senyo says his hub should be the first place international investors drop by when they come scouting for opportunities in West Africa.
"I'm flying into Accra, I get an Uber, and I drive straight to an innovation enclave. For 20 minutes I am here: amazing energy, young people, DJ sets at night, coffee under the trees, walking in between the buildings and having conversations. It makes it a lot easier for people to say, 'Yes, I think I can do this. These people are like me but we are just in Africa, we think the same, we are the same, we have the same aspirations'. So it makes the trust building between entrepreneurs and investors a lot quicker."
Ghana's future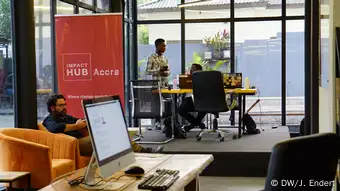 Impact Hub in Accra offers workspace for digital freelancer and startups
In charting a path for the future, Senyo cannot help but reflect on Ghana's past. It was one of a few colonized countries that won independence without large- scale bloodshed. He believes these cultural qualities are going to help Ghana navigate the choppy waters of digitalization. "We did not fire a single gun. As a people we are more strategic and slower to action but when we do get to a point, we can make gains. Across the region there is a reason why we are the most stable, most progressive, and most democratic. We are just more cerebral. There is a history of activism that is calm and that is progressive. I think we are seeing some of that translating to our technology as well. We are not the fastest but we are likely to be the winners in the end."
Digital colonialism
There is a tension within start-up communities around the world, but especially in cities like Accra. Namely, the outsized influence and monopolization of multi-national mass media companies growing more powerful everyday. Critics call it "digital colonialism" and say it threatens the decentralization of the Internet, and has the potential to throttle creativity. "The colonization is twofold. On the consumer product side like Google search engines and all of that, Facebook and Instagram and all these things where they take your data, optimize and make a profit and on the other side, getting online is also getting becoming more expensive. So you can't win on either front."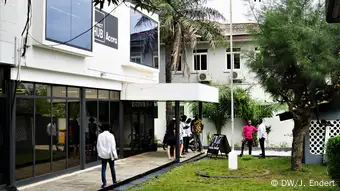 Impact Hub: A digital city within Accra
Senyo admits that the Hub will struggle to create a counterweight to such power, but he sees his role as enabling little changes that have an impact. "I won't kid myself into thinking that by what we are building we are creating any groundbreaking technologies that can take over the world. What we will admit though is that what is the alternative? Governments are not investing in R&D as they should be. Private sector partners outside of Africa are not investing in R&D here as they should be. So, should we throw our arms in the air and just wait? You can build communities like ours that are focused on incremental innovation that provides opportunities for others to get access to jobs and all these things. For now, that is the gap we fill," Senyo says.
While he clearly thrives on thinking big, he is not ignorant to the "bread and butter issues" of many in Ghanaian society. And more importantly, he sees the Hub as a place to discover solutions to local problems. "Are we able to provide solar powered systems for rural people across Africa using mobile money? Are we able to make sure that payment eco systems are digital.
Digital divide
As the CEO of a start-up accelerator, Senyo has the kind of Internet access and speeds that few Ghanaians could dream of. He is, however, concerned about a broader failure to roll out even basic digital infrastructure to remote communities. "I have heard the argument that tech can actually exacerbate societal divide and now I completely agree with that. In Africa the digital divide is very wide, mostly because of constraints to access." "I don't know what a solution could be except to commoditize the Internet, as though it were a basic human right," he adds.
The even bigger picture for Senyo is changing the world through digital participation, confronting conflict and climate change with intelligent ideas. He wants the Hub to engender a sense of purpose in those who make it their home, not just to make money but also to do social good. "The final goal for us is to create a new generation of young people. We can't affect everyone, but maybe we can get 1,000 people who think differently, who act differently, who are more ethical, who are more environmentally conscious, who are more driven by altruistic ideals. And are not like typical political leaders."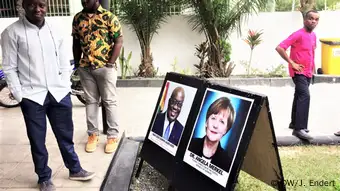 Ghana's President Nana Akufo-Addo and Germany's Chancellor Angela Merkel were guests at the Impact Hub in Accra
He calls it "soft activism" and says it's about standing for something and leading the way. Building a place that draws curious people from around the world. Already it is yielding results; in the past 12 months, Senyo has welcomed French President Emmanuel Macron, Dutch Prime Minister Mark Rutte, and German Chancellor Angela Merkel to the Hub. "That says something about our capacity to be soft without saying a word," he says.
Generation digital
Senyo epitomizes the can-do attitude of a new generation of Ghanaians that grew up in the Internet age, and for whom the world is a much smaller place and means are not necessarily a barrier to opportunity. They represent a new force, galvanized by digital participation; their voice is being felt across the continent. For Senyo, this development is part of the reason that foreign leaders come to the Hub.
"There seems to be some shifts in power dynamics where young people are becoming bolder and bolder, and foreign governments realize that to actually continue to be relevant to these African countries, you can't just continue to engage with governments. You have to engage with these emerging power structures. It still not close to being powerful enough, but it is interesting to engage with." It is not difficult to see why Senyo has become the figurehead of Ghana's most well-known start-up nerve center. He is full of optimism for a continent that has been held back by the legacy of the past. "I think there has never been a better time to be young, black and African. There is a lot of untapped energy here that could help both national economic gain and also empower people to flip the African narrative."
The #speakup barometer is a DW Akademie project that examines the connection between digital participation, freedom of expression and access to information. Learn more at www.dw.com/barometer