For grain farmer Issahaku Yakubu, phoning his brother is a relatively new luxury. The two men only got their first phones two years ago. The brothers are separated by 600 km of Ghanaian countryside. Yakubu is in Kpene, a remote village at the heart of Ghana's northern farming region, while his brother is in the booming capital, Accra. Before the phones, staying connected was hard work. "Those days if I needed any of my relatives or someone in another community or town, I either had to travel there or write a letter or message somebody traveling there," says Yakubu. Such methods were notoriously unreliable, with messages taking weeks or even months to be delivered.
Yakubu's phone is a basic model that cost about 60 Cedis (around 15 Euros.) "With just one Cedi worth of credit (18 Euro cents), even if the person is abroad, I can reach them within a minute," Yakubu says. As well as making and receiving calls, he can play music and tune into the radio for vital farming tips. For a long time, Yakubu was more at ease handling maize and millet than mobile phones, but he is gradually getting to grips with digitalization. It hasn't been easy. Yakubu was never taught computer literacy skills.
It is a similar picture across northern Ghana. Rural residents, like Yakubu, rely more on radio than any other medium to follow the national and regional conversations. Phone penetration in the north has increased but standard mobile phone owners continue to outnumber smartphone users – a statistic widely attributed to the high rates of illiteracy and poverty.
The normal phones offer basic features like radio receivers rather than web browsing, making it easier for people to listen to shows on the radio instead of surfing the Internet. There are 30 radio stations in the region producing a broad range of programming, from education and politics to human rights and agriculture. In an area where farming is the dominant livelihood, many locals cling to the radio in the hope of picking up advice on how to maximize their harvest.
Digital life is growing in Tamale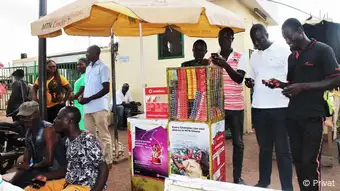 Prepaid card sale in Tamale, Ghana
But in the nearby city Tamale, it is digital life that is growing. Huge numbers of urbanites are connecting with each other digitally. Two out of three Ghanaians – some 20 million – have mobile data packages, according to MTN Ghana, a subsidiary of Africa's biggest mobile phone company. Platforms such as Facebook and WhatsApp are among the most popular, with over 4 million users, according to the 2017 Internet user statistics. But a lack of competition means making calls and getting online can be costly.
At around one Cedi for a five-minute call, the price is prohibitive for those earning an average income. Development worker Zakaria Abdul Mumin, 25, has a smartphone. But due to the cost of data, he doesn't go online often.
"It is expensive to stay connected. I have just started working and if I want to be online all the time, it will cost me a lot," he says.
The digital revolution has left some behind. In Ghana, they call them the "BBC," meaning Born Before Computer. They are always older and often view the Internet as a threat to social cohesion.
"There is no respect nowadays. Look at how young boys and girls are using the Internet for dating. It shows no respect to the families. People have disconnected from their families and they only make phone calls – no more visits," says Ibrahim A Dauda, 48.
Ibrahim has banned his children from using phones until they reach adulthood, reasoning that the pitfalls of social media outweigh the benefits.
For those not forbidden from going online, coverage speeds vary hugely. Currently there is a huge disparity in network speeds between rural and urban centers across northern Ghana. The government has embarked on a five-year, 38-million-dollar fiber optic project in a bid to narrow the yawning network gap between the north and south of the country. Spanning 800 km, the plan aims to link 120 districts and municipal assemblies with surrounding communities.
Commercial Internet cafés are dotted across the region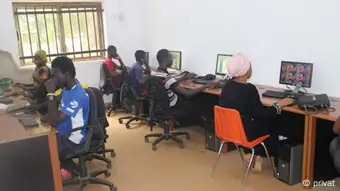 The inside of Tamal ICT center
Government efforts to connect citizens to the Internet are supported by private enterprises. Commercial Internet cafés are dotted across the region. Those that can afford to, use their smartphones or laptops to get online.
The Ghana Investment Fund For Electronic Communications (GIFEC) is trying to bridge the digital divide between the served and underserved communities across the country. Since 2002, GIFEC has been establishing Information and Communication Technology (ICT) centers in district capitals. In the north, almost all districts have a hub.
At the center in Tamale, computers with Internet access beckon anyone looking to learn or improve on their digital skills.
Iddrisu Abubakari manages the center. "Here we teach everything from data information management and digital marketing to information management systems and this has offered jobs to many people especially in digital marketing entrepreneurship in northern Ghana," Abubakari says.
The center also offers training tailored to the locals. Some farmers, for example, have been taught new methods, such as the appropriate use of farm chemical applications and how to market their products online.
"The Internet is good because it opens up your mind," says Abubakari, "but that is not without its risks." He believes the rise in cyber fraud confronting the country came in the wake of digitalization.
The shift from analog to digital is revolutionizing the way Ghanaians spend their money. The government is encouraging paperless transactions in the hope of reducing and ultimately ending corruption. Digital financial transactions, the most common of which are carried out through Mobile Money Transfers, are especially popular in rural areas, where banking services are limited. But this sector is also beset by problems with fraud.
The Internet slowly changes democracy in Ghana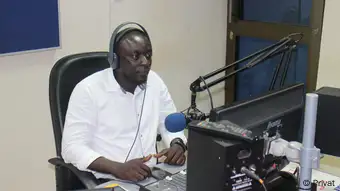 Mohammed Abdallah, Moderator at Diamond FM
The Internet offers more than the promise of paying bills or staying connected with family and friends. It's slowly changing democracy in Ghana, providing the opportunity to get involved in governance. As well as websites, most government officials use social media to get their message out. Journalist Nyadro Adanuti says this is helpful in many ways. "The Internet has become a research tool for many of us and can help provide us with some of the leads to a story," he says.
It's not just the press who follow the political conversation on social media. In northern Ghana, where the youth are hooked on the web, many see it as the best platform to deliver feedback to their elected representatives. But Ghana is not immune to the hate speech and vulgar language that has become associated with aspects of social media around the world.
Mohammed Abdallah hosts a current affairs show on Diamond FM, the first private radio station in northern Ghana. His show, "Diamond Power Drive", is 80 percent politics and so regularly generates heated debates. The station uses a delay system to control hate speech on the radio. "We delay our broadcast by around 90 seconds, so the technician is able to cut out any foul language used by a caller or studio guest," Abdallah explains.
Since Ghana's return to democratic rule in 1992, the media has enjoyed light touch regulation – though instances of censorship are not uncommon. The country's strong World Press Freedom Index ranking – in 2018 it came 23rd – is underpinned by constitutional guarantees. It is the job of the independent National Media Commission to oversee newspapers, television and radio. But the Internet is unrestricted.
As Ghana embraces the future, farmer Yakubu is reflecting on the past. Some letters that he sent years ago never made it to their destination. "Having a phone has made life easier. Whoever says technology doesn't make a difference needs to think again," he says.
Maxwell Suuk / Matthew Moore
The #speakup barometer is a DW Akademie project that examines the connection between digital participation, freedom of expression and access to information. Learn more at www.dw.com/barometer