Newsroom 2.0 is to be launched in summer 2021, greatly improving UA:PBC's news production with a redesigned fully equipped news production center. The flagship project in Kyiv is part of the broadcaster's transformation process supported by the European Union and the German Federal Foreign Office. DW Akademie and BBC Media Action are coordinating the newsroom's development and providing training for UA:PBC staff.
"The essence is to create a multimedia newsroom for public broadcasting where news for TV, radio, a website and social networks is created in one place. All leading European news providers work according to this principle and will allow UA: PBC to become Ukraine's most efficient news producer with high-quality news content," said Dmytro Khilchenko, the project coordinator.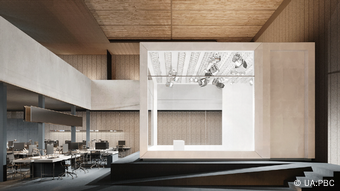 A digital model of the new UA:PBC newsroom
High-quality news content for shifting consumer habits
Ukraine's unstable media sector and the current pandemic have increased people's need for reliable information. While interest in traditional television remains high in Ukraine, young audiences are often looking for more mobile content. UA:PBC has to date only operated separate TV and radio newsrooms without digital output.
The new multimedia newsroom recognizes the shifts in media consumption habits and staff will soon be able to produce quality, reliable news coverage compatible with UA:PBC news platforms, including digital and social media. The new model will also reposition UA:PBC, enabling it to compete with private Ukrainian broadcasters and increase its audience share.
Long-standing cooperation
DW Akademie has worked with UA:PBC in its reform process since it started in 2014. DW Akademie sees public broadcasters as essential to democratic societies and has supported the transformation of state broadcasters in Kyrgyzstan, Mongolia, Moldova and Serbia.
Its experts and trainers look at all aspects of public broadcasting transformation, including organization development, media management and advanced journalism training. And when it comes to making newsrooms compatible with the requirements of today's media consumers and outlets, DW Akademie can also share its own experiences and stress the benefits, having recently redesigned its own newsroom.
DW Akademie is Deutsche Welle's center for international media development, journalism training and knowledge transfer. Our projects strengthen the human right to freedom of expression and unhindered access to information and empower people worldwide to make independent decisions based on reliable facts and constructive dialogue. DW Akademie has implemented large-scale media projects in Ukraine since 2014 and has conducted smaller activities since 1997. Our activities in this current project are funded by the German Federal Ministry for Economic Cooperation and Development (BMZ), the German Federal Foreign Office, and the German organization for international cooperation (GIZ).