More than a hundred thousand people have been killed in Mexico and at least 60,000 people are considered missing. With its ongoing drug war, Mexico has become one of the world's most dangerous countries for critical journalists. The Organization of American States has warned against the emergence of further "zonas silenciadas" (zones of silence), regions where fear prevails and free reporting has become impossible. Those living in these areas can no longer follow events taking place around them. However, there is reason for hope as new digital media outlets are stepping in to counter the silence. Courageous journalists are working with civil rights activists to ensure that the fates of those who have disappeared will not be forgotten.
Our activities
Through our partner Periodistas de a Pie, DW Akademie is supporting a network of young, local digital media outlets, some of which continue to work where other media have given up. Strengthening these independent voices so that they remain strong is our response to the ongoing threats to press freedom, and with an aim to expand reporting. Media outlets working in violent areas require more than occasional security training. As a result, DW Akademie is focusing on strengthening comprehensive journalism skills, creating new networks and sources of funding, and building a trusting and close relationship with the audience. This approach contributes to stability and security, with a goal to increase the media's relevance and the reporting on human rights issues.
In a creative lab organized by our project partner Técnicas Rudas, the roles were reversed: Media professionals and artists dig with shovels to find the missing people.
Together with the media and civil society, we are also contributing to the discussion on those who have disappeared or were abducted. Our partner, Técnicas Rudas, works closely with relatives' organizations searching for lost family members, often under difficult conditions. These organizations are now receiving support in documenting their cases, systematizing information and making it available to journalists and researchers. This approach aims to make it easier to find the links between individual cases and contribute to their resolution. In innovative "labs", media professionals and others in creative fields are working together to develop new narratives for educating the public about the disappearances and making the issue more widely discussed.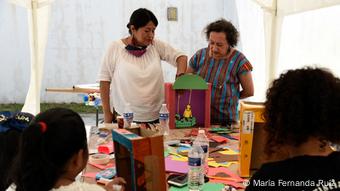 Relatives of the missing people come up with new narratives – in the form of poems, songs and pictures – in order to share the stories of the violent disappearances.
Mexico has been a DW Akademie focus country since 2020. Through regional projects, it is also linked to neighboring Guatemala, El Salvador and Honduras.
Funding: German Federal Ministry for Economic Cooperation and Development (BMZ)
Program Director: Julia Manske
Locations: Mexico City, Puebla, Jalisco, Chiapas, Guerrero
Local Partners: Periodistas de a Pie, Técnicas Rudas
Focus: Media viability, professionalism and sustainability of the media sector, civic participation, safety for journalists