Marileny Choc, an indigenous Q'eqchi' radio presenter and editor, sits in front of her microphone every day at Radio Sayaxché in northern Guatemala, encouraging listeners to ask questions in their own language.
"Our audiences send us news via the station's WhatsApp, in Spanish or Q'eqchi'," she said. "News that circulates in community groups and which they wonder whether it's false or misleading," explained Choc. "The station's team is given the task of investigating and clarifying on air the result of their investigation."
This task becomes particularly crucial at election time, when the lack of press freedom and access to accurate information exclude a large part of the population from the possibility of active political participation. The lack of information is particularly common in rural areas.
In the case of Guatemala, the elections are "extremely worrying not only for the right of journalists and communicators to inform, but mainly for the right of citizens to be informed in order to make free and informed decisions," according to Reporters Without Borders.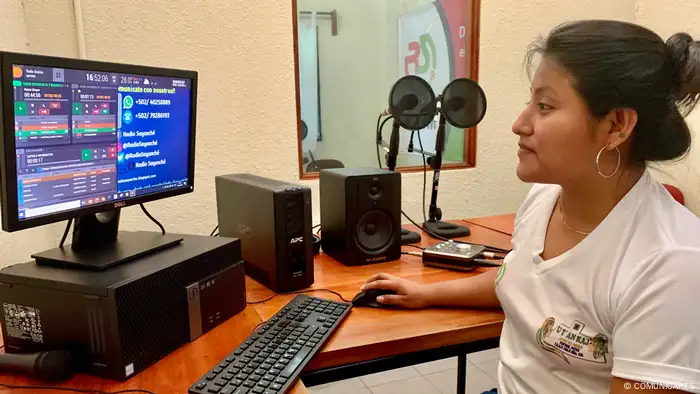 Choc's screen shows the WhatsApp content that encourages citizen participation.
Dubious political strategies can increase disinformation. Offering gifts or other rewards in exchange for voting, for example, can influence women and youth. These groups are often less informed and more susceptible to manipulation at election time, which prevents them from making full use of their voting rights.
"In the communities there is a lot of discrimination and inequality," explained María Rivera, host and editor of the radio station La Voz de Nebaj, which broadcasts in the Guatemalan communities of Nebaj, Cotzal and Chajul. "It is considered that the man is the authority in the house and that the woman does not have the right to have a say or to decide on important things within the family, such as voting," she added.
Together with her colleagues Mayra de León and Balbina Cuyuch, Rivera invests her efforts in creating radio programming, in the local Ixil language and in Spanish, which allows the audience to develop a critical attitude. The programs, as well, place emphasis on women and the issues that affect them.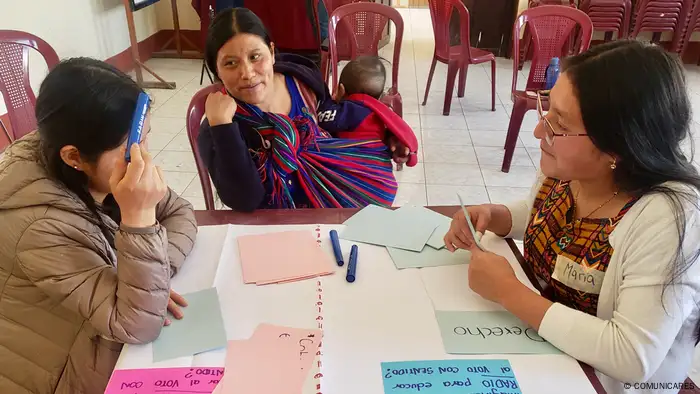 María Rivera, Mayra de León and Balbina Cuyuch are pioneers in their field: they transmit accessible information that encourages active listening.
Encourage citizen participation
Radio Sayaxché and La Voz de Nebaj are two of the six radio stations participating in the #VotoConSentido media campaign, which was launched by COMUNICARES, DW Akademie's partner in Guatemala. The objective is to counteract disinformation surrounding the national elections and offer tools that help citizens exercise their right to vote in a critical and independent manner.
COMUNICARES has trained dozens of local media communicators in four states of Guatemala through practical skills offered by Media and Information Literacy (MIL) so that their media content and formats encourage audience interest and participation.
Together, they have developed radio segments, audiovisuals and social media publications in both Spanish and Mayan languages, as well as a magazine in Spanish and English. Local broadcasters have also launched everything from local political analysis programs to public opinion polls and local candidate interviews.
"#VotoConSentido fosters the leadership of local and community media communicators to promote more critical views at election time," said Oneida Rodas, director of COMUNICARES. "It encourages communities to ask themselves questions before voting; guides them in four steps: see, listen, analyze and decide; and motivates them to actively participate with the station and in the community, giving importance to their voices."
Keys to a meaningful vote
With the question "Are you a citizen or do you just live in Guate?" the campaign invites the population to doubt, to get involved in working for the community's welfare and to be more analytical when it comes to participating in political decisions.
COMUNICARES proposes four necessary steps to take into account before going to vote:
👀

Seeing: means paying attention to the information presented by the media, social networks, street advertisements, public meetings, billboards and political flyers. It also means not settling for a single source of data.

👂Listen:

if we go to a public meeting, it is about listening carefully to the proposals, the messages that are sent through radio, podcast and other auditory resource

s

.

🔎

Analyze: when we put our senses into action, we are in a position to compare one piece of information with another. We can accept a proposal or reject it. We can choose one and reject another, or look for a third option.

💡 Decide:

It will always be a smart move to make a decision based on good information. The better information we possess, the better decisions we can make.
Now is the decisive moment: it is time for a meaningful vote.
The first round of Guatemala's national elections was held on June 25, 2023; the second round will be held on August 20. The #VotoConSentido campaign is part of the MIL Community of Information and Journalism (CIPA, in Spanish), a training program for local communicators, developed by COMUNICARES. The Media and Information Literacy work developed by COMUNICARES in Guatemala is supported by DW Akademie and financed by the German Federal Ministry for Cooperation and Development.