How do you assess the current level of digital participation in Pakistan?
In Pakistan, only 22 percent of the population has access to the Internet, which is low compared to neighboring countries. It is still not a medium widely used by the majority in Pakistan, but it has huge potential in terms of impact. We have seen digital media stories or a single tweet explode, leading to instant actions by the policymakers. Internet usage is still however, an urban phenomenon and traditional platforms like TV, print and radio continue to be widely used because of their easy availability. Access is one of the biggest challenges and leads to a wide urban-rural divide. The expansion of the Internet across the country has been far from homogenous, and a digital divide – for example inequality in the access, use and impact of information and communication technologies (ICTs) – can be seen across gender, income, religious, urban-rural and educational lines. Tribal agencies and the province of Balochistan are still informational black holes with frequent digital shutdowns and a scarcity of Internet services. We are currently seeing prominent mainstream journalists resorting to digital media as resistance against new forms of control and state censorship and to reach out to their audiences independently, after being fired from their jobs in response to government pressure. Pakistan still has work to do in terms of equal and wider Internet access, ICT infrastructure, affordability, gender balance, user and consumer protection, media literacy, creating an IT-friendly environment, freedom of expression, information policies that serve the public instead of the state, and the digital eco-system.

What impact has digitalization had on the country's media landscape?
The media landscape has been transformed by the participatory nature, real-time sharing and by easy access to information and views through the digital platforms. In Pakistan, digital platforms are now more than an alternative media channel, sparking insecurities among the more traditional media houses.
The political debate has moved to social media. Over the last few years, Twitter has, for example, become a powerful platform for social and political debate in Pakistan. From the government and the opposition to the military and rights-based groups, stakeholders use Twitter as a platform for propaganda, breaking news, opinion, contesting narratives and promoting human rights.
Professional journalists, freelancers, citizen journalists and regular citizens all use digital media (especially Facebook) for information gathering and dissemination, in particular for content which would not make it through editorial or state censorship.

What are the main challenges?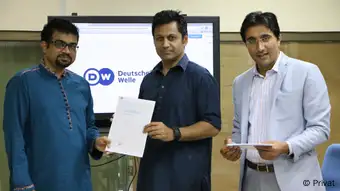 Asif Khan (right) with participants of a DW Akademie TV training
In my view, the best indicator of a state's respect for its citizens is to see how much freedom they have to express themselves and to receive accurate information. In Pakistan, the state controls access to information – and that is one of the country's biggest challenges. Some 78 percent of the Pakistani population still does not have access to the Internet, which means they live in an information blackout. The government must improve policies to expand ICT-related infrastructure to those areas. The high taxation of mobile and Internet data is also an issue for access and availability: Tax rates in Pakistan are nine times higher than in neighboring India. If we want our people to reap the benefits of this new era, we must make the Internet affordable for the majority. There is a huge gender gap when it comes to digital participation. Women do not participate at the same rates because they lack access to the necessary facilities, and there is no real protection from cyber bullying and online threats. When it comes to digital participation, we need to work on gender equality, as well as improving digital penetration in rural regions and for marginalized communities.

What is the main focus of DW Akademie in Pakistan?
We are active in Pakistan since 2014 and have worked with partner organizations on topics such as digital safety for journalists and conflict sensitive journalism. Presently, DW Akademie is working with five partner organizations on psychological and physical safety and qualifications for journalists, for example ethical journalism, data journalism and citizen journalism through digital journalism and mobile journalism. The main aim of the intervention is to promote free, quality journalism in Pakistan, and to provide opportunities and platforms to disadvantaged groups in war-affected areas in the tribal districts neighbouring Afghanistan, Khyber Pakhtunkhwa and Balochistan. These disadvantaged groups should be allowed to be heard and understood as a target audience. Also, due to a lack of communication channels, non-existent mainstream media, security issues, disrupted or missing Internet connectivity, and certain state policies and restrictions on free access to information, rural areas in Pakistan currently do not receive journalistic content.

What are DW Akademie Pakistan's plans for the future?
Until the end of 2020, we will continue to focus on the physical and psychological security of journalists, media ethics, data journalism and citizen journalism. Besides that, we intend to work more on mobile journalism and Media Information Literacy (MIL) in the future.
The #speakup barometer is a DW Akademie project that examines the connection between digital participation, freedom of expression and access to information. Learn more at www.dw.com/barometer