Corruption is a problem in Morocco and people there have been losing faith in public authorities. Transparency International placed the country lower mid-range in its 2019 Corruption Perceptions Index (CPI), ranking it 80thalongside China and India.
Morocco's Access to Information Act passed in 2019 aims to make it easier for people to view and assess public data, such as the awarding of public contracts, licenses, approvals, tax breaks and public services. However, public transparency is still in its early stages in Morocco and few journalists have experience in processing and analyzing data.
"Most Moroccan media include numbers haphazardly in their reports," said freelance journalist Khadija Boufous. But it's especially important in a pandemic "to make the news, and its impact on the public, easy to understand and to explain how it relates to Covid-19," she said.
This was the focus of the data journalism project "Fake News à l'épreuve des Faits" ("Fact-checking Fake News") which by December 2020 had trained approximately 30 Moroccan journalists and programmers in informative reporting based on facts.
Data journalism under difficult conditions
So how is the pandemic affecting Morocco's economy, including at the local level? How is it impacting the country's tourism, education, local job market and people's social lives? Many regions in Morocco have been cut off from information sources and work for journalists is now even harder due to curfews and contact restrictions. Getting information from remote regions has become almost impossible but the people there rely on clear graphics and simple narratives.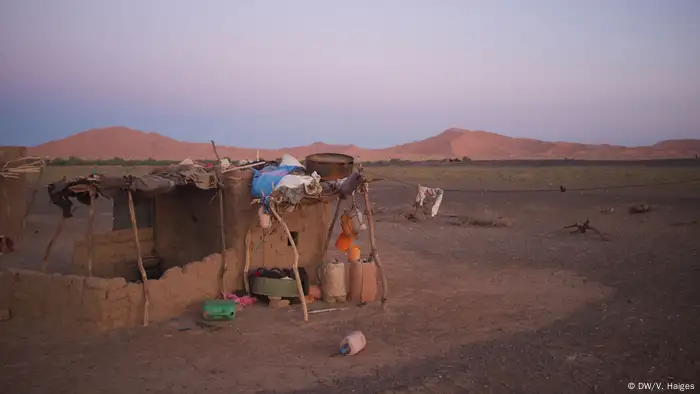 Rural regions in Morocco have been particularly cut off from information sources, making people more susceptible to false information
This has made it easier to spread fake news, rumors and false allegations, especially via social networking sites such as Twitter, Facebook and WhatsApp. However, misinformation can also be found on the channels of established, respected media.
"Morocco is still far from providing mechanisms for direct access to public interest data," pointed out Yassine Benargane, an online journalist for the Moroccan website Yabiladi and participant in the data journalism project. "We've seen this again and again at the daily press conferences that give updates on the pandemic," he said.
Fake News à l'épreuve des Faits – Reliable news for Morocco
Well-researched reports, verified facts and data journalism methods can curb the spread of misinformation and disinformation. As a result, participants learned how to identify relevant information and tell stories based on data and facts, not feelings or hearsay.
"This is an exciting, innovative approach," said Boufous praising the project. DW data journalist and project trainer Ajit Niranjan said he could feel the participants' enthusiasm and was pleased to share his knowledge. "Participants bring with them their own experiences and interests and this really adds to the exercises," he said. "Those who are good with numbers do have an advantage," he noted, "but that's also what they can learn here."
The Fake News à l'épreuve des Faits project was conducted entirely online. Data journalists from The Guardian, the Süddeutsche Zeitung, Die Zeit and Deutsche Welle discussed with participants and in one-hour sessions offered their expertise. The recorded seminars, tutorials and learning materials were uploaded so that participants could access them at any time from any location, and with the aim to report in and about Morocco with well-researched, fact-based and informative stories – both now and after the pandemic.