Manzoor Ahmed Pashteen is typing a message on his smart phone. The device is connected to portable wireless speakers, and guests sitting on the floor in the traditional Pashtun manner can hear him type. Among them is a family that has lost three sons. They have travelled a long way to attend a Pashtun Tahafuz Movement (PTM) protest in Peshawar. Pashteen, who speaks for many Pashtuns, also has a reputation for being a great listener. "People message me on Facebook and Twitter and tell me how they and their families have suffered because of the security agencies. Sometimes I invite them over, but often I travel myself to visit the victims of enforced abductions," he said. "These families are in distress and they have no confidence in law enforcement."
The movement began in 2014: After a military campaign against the Taliban in the Waziristan tribal region, eight university students began advocating for the removal of landmines in the area. In 2018, protests against the extra-judicial killing of a 27-year old Pashtun, Naqeebullah Mehsud, in the southern port city of Karachi sparked countrywide support for the group. It also spurred creation of a more comprehensive platform, which included demands for an inquiry into the extra-judicial killings and abductions of Pashtun citizen by law-enforcement agencies.
Because of the group's criticism of Pakistan's powerful military establishment, major media houses excluded the group from their news coverage. In February 2019, for example, the local Pashto language channel Kyber TV chose not to air an interview with Manzoor Pashteen because of pressure from the military.
Pashteen and his supporters use social media to circumvent mainstream media censorship: "I was a political worker before popular access to social media. I remember larger protests that were ignored by most newspapers. It is now much easier to reach the masses, to tell them about issues and events. The impact is huge. If there were no social media, there would be no PTM."
Political activism through digital media
The movement's supporters – mostly ordinary citizens from across the country — took to social media to organize protests and bring attention to human rights violations, especially of Pashtun people, during the long drawn-out battle against violent extremism in Pakistan. Against the odds, two key leaders of PTM were elected to the Pakistani parliament in July 2018. One of them, Mohsin Dawar, used social media to mobilize activists and supporters.
"Social media helped PTM's cause. It is the basic political tool for PTM to spread our message. A whole new generation of political activists are trained in this process. We faced mainstream media censorship, they curtailed our physical mobility, there are legal cases against anyone who has even served PTM volunteers a cup of tea. Our activists are arrested and the Pakistan Electronic Crimes Act of 2016 (PECA) is used to silence us."
PTM's public protests have frequently been stopped by security services, and its supporters arrested on various charges including terrorism. Many have lost their jobs in government and private industry for showing support for the movement. Others, including Manzoor Pashteen and Gulalai Ismail, face travel bans and restrictions on their movement inside Pakistan. On at least one occasion, journalists covering the rallies have also been arrested.
'What kind of freedom is this?'
The movement has largely been ignored by the heavily television-dependent media industry in the country. When coverage does occur, it is often negative, accusing PTM supporters of standing in opposition to Pakistan or working for a foreign agenda – an allegation often made in the country against those voicing dissenting opinions. In February 2019, a New York Times op-ed written by Manzoor Pashteen wascensored by the newspaper's domestic publishing partners, who chose to run blank space instead, headlined "The military says Pashtuns are traitors. We just want our rights."
Supporters of the cause have been told by Twitter employees that they are violating Pakistani law, including one instance in which Dr. Nida Kirmani, a sociologist, posed with Pashteen for a photograph.


Others have beenharassed and even arrested for their social media posts. According to Amnesty International, dozens of the non-violent movement's members and supporters have been arrested, arbitrarily detained, and intimidated across Pakistan. In June 2019, 37 PTM activists were arrested on charges of sedition.
But supporters of the movement continue to use digital media to bring attention to continuing rights violations. The hashtag #DaSangaeAzadiDa (What kind of freedom is this) has become a voice for the families of disappeared people and PTM supporters all over Pakistan. Cellphone videos of individuals being harassed by law enforcement officials at checkpoints or of violence against PTM supporters have gone viral, making uncomfortable images available to the people of Pakistan that they would otherwise not have seen. Hashtags – along with the signature hat worn by Manzoor Pashteen – have been a crucial means for an otherwise loosely connected group of citizens of various ethnicities and backgrounds to identify with the movement.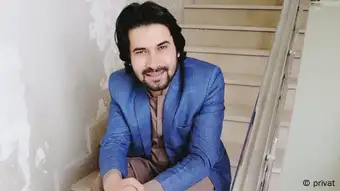 Hayat Preghal was arrested for online comments critical against state policies
Hayat Preghal the PTM blogger
The social media lead for PTM, Muhammad Hayat Khan Preghal was abducted from his house in Dera Ismail Khan in July 2018. For six days, his family did not know his whereabouts, until he was able to call to inform them that he has been arrested by Pakistan's Federal Investigation Agency (FIA). He is accused of using social media to defame his country, charged for comments he made online that were critical of state policies.
Rabia Mehmood, a South Asia regional researcher at Amnesty International, says Pakistan must stop the stigmatization and intimidation of human rights defenders:
"Placement of Hayat Preghal's name on the Exit Control List and the criminal case against him made him lose his job in the UAE because he could not fly out of Pakistan in time after his leave ended. Peacefully expressing political opinions on social media or offline is not a crime but a fundamental human right."
Amnesty International issued a statement condemning the crackdown on human rights defenders, arguing that the PECA is a draconian law used against its own citizens. "Pakistan should either repeal it or substantially amend it to bring it into line with the international human rights standards. It has been used to criminalize legitimate forms of expression. Sections of PECA can be and have been used to unduly restrict dissent," said Mehmood.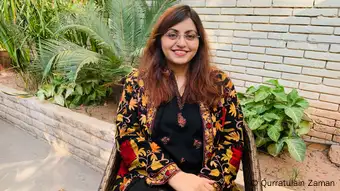 Faced with cyberbullying on Social media, Gulalai Ismail is persistent in her support of the Pashtun Tahafuz Movement
Gulalai Ismail - character assassination and travel bans
Another prominent PTM supporter who has faced extreme backlash for her actions is Gulalai Ismail, an internationally acclaimed Pakistani peace activist: "I used all my local and international platforms to give space to the PTM. Because as a human rights activist, it is my responsibility to support them and amplify their voices."
In response to her activism, a police report was made against her for organizing an unlawful gathering, and her passport and travel documents were confiscated in 2018. Although the country's highest court deemed the move unlawful, her documents have not been returned, making it impossible for her to leave Pakistan. Her name is also currently on the notorious 'persons of special interest' list in Pakistan. Gulalai Ismail's organization Aware Girls, which works for the empowerment of young women and gender equality in Pakistan, has also become a target: Their bank accounts were frozen; and hotels, schools and colleges working with the organization have faced intimidation.
She has also been forced to confront an organized hate campaign on social media, with troll armies accusing her and PTM of being agents working on behalf of international rival India. "Basically, therewere fake screenshots of my WhatsApp messages that implied that I had given money to women to attend PTM gatherings. It was systematic and organized propaganda against me and my family," she said. "I'm facing character assassination. I am called anti-state, anti-culture and anti-religion. I think I have faced more character assassination than Manzoor Pashteen himself."
But the movement persists. In the face of suppression, arrests, defamation and allegations of treason, PTM is using digital media to turn the once lawless war-ravaged tribal regions of Pakistan into a bastion in the battle for civil rights in the country.

The #speakup barometer is a DW Akademie project that examines the connection between digital participation, freedom of expression and access to information. Learn more at www.dw.com/barometer