The core of this joint agreement is support for a free press and freedom of expression in the developing world, which includes strengthening independent community media, fighting disinformation, supporting media and information literacy and training journalists and other media workers. The BMZ and Deutsche Welle formalized an initial agreement in 2013.
Development Minister Svenja Schulze: "Around the world, we are seeing the advance of authoritarianism, accompanied by propaganda, censorship and disinformation. This is especially and painfully clear in Russia, where disinformation is used as effectively and professionally as any military weapon, all in effort to destabilize society. The best antidote against disinformation is a free and strong media, as well as a media-literate and well-informed public. Free media strengthen the resilience of societies to crises - and well-informed societies can develop better. This is why our commitment to the media sector will remain an important pillar of our development policy."
Peter Limbourg, Director General of DW: "Fact-based journalism is an important defense against state-sponsored propaganda – everywhere in the world. Wherever citizens have access to independent information, they can make responsible decisions. A strong and diversified media sector can help societies overcome the multiple crises of our time."
Federal funding that goes toward strengthening free press and freedom of expression initiatives has been available since 2014. In 2023, 30 million euro has been allocated to media development. DW Akademie, as a strategic partner of the BMZ, received around 80 percent of this funding for its projects in Africa, Asia, Eastern Europe, Latin America and the Middle East.
Carsten von Nahmen, Managing Director of DW Akademie: "Our projects are preventative. Precisely during war and amid crisis, we've seen that disinformation costs lives and that conflicts can quickly spiral and multiply in dangerous ways. A diverse and efficient media sector is key to open public discourse, which then enables structural change."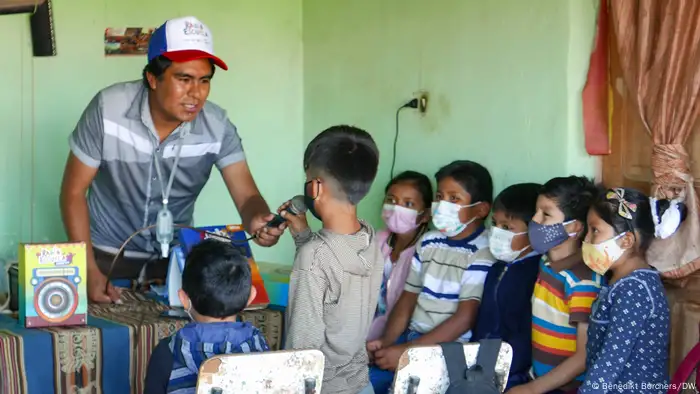 DW Akademie's project "Radio Escuela" in Bolivia
DW Akademie and its partners use BMZ funds to, for example, train media workers in Ukraine, support fact-checking initiatives in Burkina Faso, mediate media literacy projects in Cambodia, modernize university journalism courses in Uzbekistan and cooperate with community radios and schools in Bolivia in developing educational programs in rural regions.
DW Akademie is Deutsche Welle's center for international media development, journalism training and knowledge transfer. Its projects strengthen the human right to freedom of expression and unhindered access to information. DW Akademie empowers people worldwide to make independent decisions based on reliable facts and constructive dialogue. DW Akademie is a strategic partner of the German Federal Ministry for Economic Cooperation and Development. We also receive funding from the Federal Foreign Office and the European Union and are active in more than 70 developing countries and emerging economies.
Press contact
Federal Ministry for Economic Cooperation and Development (BMZ):
Press Office / presse@bmz.bund.de / +49.30.18535-28 70 oder -24 51
DW (Deutsche Welle):
Carla Hagemann, Corporate Communications / carla.hagemann@dw.com / +49.30.4646.8197