What can media professionals learn from young journalists? That was a key question behind the two-day Brave New Media Forum held in the Serbian capital, Belgrade.
Jovana Jovic, 17 years old and co-founder of the teenager portal Youthvibes got straight to the point. "Conventional media don't offer much for young people like us," she said. "That's why we started our own portal where teenagers report on topics that interest other youths."
DW Akademie is supporting the Moldovan TV format Abraziv and the Bosnian youth portal Karike, where youths are reporting on topics they have chosen themselves.
That's a challenge for many established media in the Western Balkans. While they realize that in times of Facebook, Instagram and Snapchat their own content hardly reaches young people, they are reluctant to let youths produce their own programs.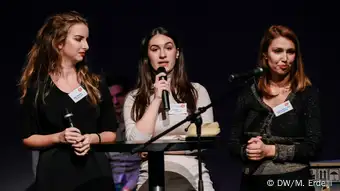 Just 17 and already media makers: Jovana Jović (center) and Vanja Joksimović (left) founded "Youthvibes", a portal for teenagers; here in discussion with Jelena Dukić-Pejić (right) from DW Akademie
Youths learning from youths
"Media these days have to be gutsy and innovative," explains Klaus Dahmann, head of DW Akademie projects in Serbia and the Western Balkans. "This is basically 'Brave New Media'," he says, alluding to Aldous Huxley's famous novel, "Brave New World".
Being brave and innovative – like Montenegro's public broadcaster, RTCC. With DW Akademie support, the broadcaster is training teenagers to be vloggers, helping them with video production and since October publishing the formats on Hexatorm, a YouTube channel. "I wasn't initially sure whether we'd be able to find and motivate talented youths," admits project manager Maja Djuretíc-Mrdak, "but I was amazed by these six teenagers!"
"Brave New Media" also points to negative aspects of the digital world. "We need to be aware of our responsibilities as media makers," Dahmann says.
Teenager criticizes editor-in-chief
A recent study by Serbia's press council was presented at the Forum and caused an uproar. Over the last two months, the study had documented almost 100 cases where the media had violated children's rights. Especially tabloid media had often reported on the sexual abuse of minors, and in a way that victims could be easily identified.
In the ensuing discussion, the editor-in-chief of one of Serbia's largest tabloid newspapers was enraged that his paper was constantly criticized although, according to him, this was hardly an issue in other countries.
A 17-year-old stood up and objected. "Are you saying that young people should learn from older journalists that the best way to justify one's own mistakes is to point to the mistakes of others?" The student received a standing ovation.
Grey zone of social media
An intense discussion also arose among YouTubers, Instagrammers and the audience around the responsibilities of "influencers". Is it ok, for example, for them to try drugs on camera and show the affects? That's what Rens Polman and two other students did on "DrugsLab" a YouTube channel which, by the way, is financed by the Dutch government.
The "YouTuber Wars", particularly virulent is Serbia, were another focus. How can hate speech and cyberbullying be contained on social media? they asked themselves. How responsible are YouTube and similar organizations? Should channel sponsors intervene? Or is it ultimately up to the parents to control what their children see?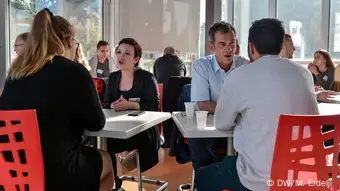 At the speed dating side event teenagers got to know media professionals and YouTubers
Building bridges
With more than 300 participants from southeastern Europe, Germany, the Netherlands, Moldova and Georgia, the two-day Brave New Media Forum has established itself as an event for building bridges.
Teenagers discussed on par with experienced media makers, and producers of children's and youth media from various countries exchanged ideas and explored possibilities for cooperation.
At a side event, youths tried their hand as media professionals– as photographers, video journalists and TV hosts. The best results were honored at the Forum's close.
Another highlight was a variation of speed dating, where teenagers got to know editors and social media activists. Each pair had five minutes to discuss ideas and then move on to the next partner.
The next Brave New Media Forum is planned for October 2019, once again in Serbia.