"Hello, I'm Jennie and here is your news," said the young presenter in the virtual studio. Wearing a t-shirt, she takes a casual approach to hosting the children's news show "logo!" on the German public broadcaster ZDF. She does not talk down to her young viewers but instead, treats them as equals.
The audience in the studio consisted of media makers, NGO representatives, high school students and university students. Viewers were fascinated by the trailer for the German children's news show shown on the screen in Belgrade. It differed completely from any children's show in the Western Balkans, where current events like terrorist attacks or the Catalan crisis are rarely featured and many shows are stuffy.
Difficult news explained to children
"logo!" editor-in-chief Markus Mörchen advocates an assertive approach to topics that are considered to be touchy. "Children have many questions and we have to help them understand these things," he explained. An audience member had a question about "logo!'s" young reporters: Do they really formulate their questions themselves? "Yes," responded Mörchen. "Our editors help the children prepare, but their own questions are used."
Nikola Krstic from the Kosovo broadcaster RTK laments the fact that children's shows are of little importance in his country. "We cannot afford to prepare the children so intensively. We have to fight just to pay travel costs to the stations or buy them drinks," she says.
Media for young people and YouTuber scene gain ground in Serbia
We want to show that media offerings for children and teens can be improved without a large budget," said DW Akademie's Country Manager for Serbia Klaus Dahmann, who organized the Brave New Media conference with his team (Sime Nedevski, Marina Martinovic, Jakov Leon and Sonila Sand) in Belgrade on 30 November.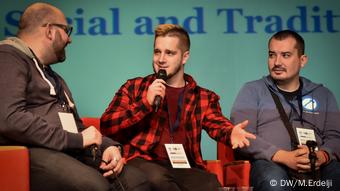 Panellists discuss social media at the Brave New Media conference
Franziska Bulban from bento, a website for young people created by Germany's news magazine Der Spiegel, spoke to the youth media panel about social media strategies. "A large part of our readers come from Facebook, Instagram or YouTube. We must be active on social media." Magda Janjic, editor-in-chief of the Serbian edition of VICE agrees with Bulban.
The highlight of the conference in the early afternoon was the popular German YouTuber Lisa Sophie (22) who presented her channel ItsColeSlaw, a personal video blog with stories from her life, and Auf Klo, a program for young women produced as part of a public service project for the German public broadcasters ARD and ZDF. The university student has been active on YouTube since 2010 and has 240,000 subscribers. The audience was inspired by excerpts from interviews Lisa conducted with German Chancellor Angela Merkel and chancellor candidate Martin Schulz in the run-up to the Bundestag elections.
DW unveiled DE_facto and Balkan Booster
In the accompanying conference program, presentations were made by seven media companies with which the DW Akademie is currently developing new formats, including a multicultural TV feature on RTV for young people, a website for young people created with Bosnian broadcaster BHRT and a website for schoolchildren in Bor in eastern Serbia. All eyes were turned to the unveiling of the Serbian and Albanian children's and teen programs on Kosovo's RTK, which normally cannot be seen in Serbia because cable providers there do not carry the station.
"I am pleased that our two young websites DE_facto and Balkan Booster have been very well received by the young target group," said Adelheid Feilcke, head of the DW's European programs
During the breaks in the conference program, young people took center stage. "We were approached by several media representatives and asked what we teenagers want to read or see," said 17-year-old Vanja Joksimovic from Nis, who attended a summer school for journalists at DW Akademie this year. She wants to give her classmates a response to this question soon by creating her own website. "We have already put together a team and want to report on everything that interests us," said Joksimovic.
The Brave New Media conference was part of DW Akademie's "Young Media" project. TV and radio stations, newspapers and websites from Serbia, Bosnia, Montenegro and Kosovo took part.