Former Yugoslavian states have gone separate ways since the early 1990s, not only in terms of politics but also in terms of the media. So it was interesting for young Serbian journalists to see how the media in Croatia and Slovenia, both neighboring countries and EU members, are responding to the same challenges: the digital revolution and a dwindling interest among the younger generation.
Success together with Youtubers
"I found Croatia's 24sata's JoomBoos project the most interesting," said Marija Obrenovic, a young Serbian journalist from the city of Kragujevac. "They used to be a daily newspaper but then combined their web video productions with a YouTuber portal. It's been a success and it's unique in the West Balkans," she said.
JoomBoos started three years ago and has since signed up many of Croatia's YouTubers. It has hosted a casting show, developed a soap opera and musicals, and has won several media awards in Europe and the US. The staff also does the marketing for the YouTubers and is a reason why the portal is running at a profit.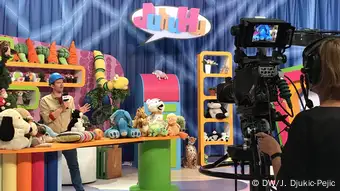 Successful despite a small budget: Presenter Marko and his funny stuffed animals leads audiences through "Juhuhu", a children's show.
Popular tool for high school and university students
Journalist Dragana Sretenovic from Belgrade was impressed by Srednja.hr, an innovative Croatian portal for high school and university students. "A group of young people successfully discovered a market niche and has become well known," she said. Srednja.hr focuses on educational topics and has caused a sensation with its investigative stories. But most visitors go to the site to use its "score calculator".
In Croatia, acceptance to a junior high school largely depends on a child's final grades at elementary school. These grades are turned into points – the more the better. There is a similar process for high school graduates that determines the university programs students are eligible to apply to.
Srednja.hr offers a simple tool that instantly converts grades into points and shows which schools or universities would have accepted students with that number of points last year.
The calculator has been a huge success, generating high click numbers for the website, which in turns provides a solid advertising revenue.
Public media keeping pace
The nine Serbian journalists were fascinated by the way Croatia's public media, usually seen as stiff or old-fashioned, are keeping up with their fast-paced private counterparts. At the Croatian public TV station, HRT, the group watched the production of "Juhuhu", a colorful children's program. Despite its tight budget, small children love the program and its web portal.
Youths cross-examining politicians
Youth programs were the highlight at Slovenia's public broadcaster, RTV Slovenija, where teenagers are in charge of the microphone. Ahead of the recent presidential elections, for example, the young editors were able to get eight of the nine candidates to agree to a live program, where they then were grilled, one at a time, by the hosts.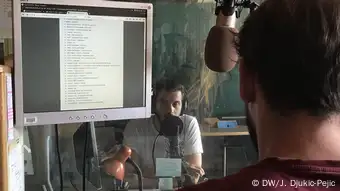 Although Radio Student is losing listeners, it is still popular and a stepping stone for ambitious journalists.
Radio Student was also on the agenda. Describing itself as "Europe's oldest independent student radio station" it was founded during the 1968 protests and gained approval from the Communist Party. It sees its mandate as going against the grain. Students wanting to take part go though a selection process and have to prove they have the grit and overall general knowledge to confidently sit at the microphone and do some straight talking.
While students working there enjoy the station's "revolutionary" image, they call their journalistic assignments "old school". Social media, for example, are off limits. But while the station is losing listeners and the student association is threatening to cut off funding, the staff aren't worried. It's never been easy to work here, they say, but it's worth it. Many journalists who got their start at Radio Student have since made a career in Slovenia's media market.
Innovation is the key
The trip was part of a DW Akademie three year training program for young Serbian journalists who take part in a variety of workshops and trainings to become promoters of children and youth media.
Last year the group toured media outlets in Germany, visiting successful TV like the children's news program "logo!", online portals such as "bento" or social media projects like "funk", that have budgets, the Serbian journalists said, that they could only dream of.
In the West Balkans, children's and youth programs are not a priority and are the first to be cut when money is short. That, said Serbian journalist Sretenovic, made it all the important to see how neighboring Croatia and Slovenia were dealing with the challenges.
"Many of the media we visited showed that even with a limited budget like ours, if you have good ideas and know your target group you can produce excellent programs that can also be a financial success," she said.