In March, as violent demonstrations broke out across Georgia in response to the government's plans to institute a law against foreign reporters, Dato Koridze locked arms in solidarity with other protestors. As a Georgian citizen and multimedia reporter, the proposed law wouldn't necessarily affect him. But he is also a journalist for Radio Free Europe/Radio Liberty, an American-funded media outlet, which meant his livelihood and free movement were on the line.
"The company where I work is completely dependent on American funding, so I would naturally be considered a foreign agent, a spy," he explained.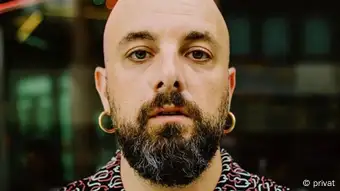 Dato Koridze, a media reporter in Georgia, has been harassed at protests for LGBTQ rights and against government restrictions toward the press.
This was not his first protest against civil rights threats. On July 5, 2021, he attended a protest in support of LGBTQ rights. Some opposing protesters threw him to the ground and beat him, he said. A fellow reporter was killed. No one was arrested.
In March, the issue was proposed Georgian parliamentary legislation – the 'Law on Transparency of Foreign Influence' – that would mandate NGOs such as Radio Liberty to register as foreign agents should more than 20% of their total revenue come from funding abroad. The violent protests prompted the Georgian parliament to shelve the proposed laws. Legal observers, however, believe it's only a question of time before the law goes to a vote again.
Defamation, smear campaigns, intimidation
Koridze's dilemma, like that of many of his colleagues, is familiar terrain to staff members at the Human Rights Center, or HRC, in Tbilisi. Founded in 1996, it has offered free legal aid since 2003 to any Georgian claiming human rights violations. Increasingly, those violations in Georgia relate to what HRC director Aleko Tskitishvili specifies as "defamation and smear campaigns, intimidation from the ruling government party (…) and radical, extremist groups and Russia-backed ultra-right groups." He adds that violence "is becoming more and more realistic." Koridze himself sought support at HRC following the 2021 LGBTQ protests.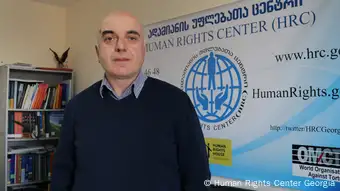 Aleko Tskitishvili, who directs the Human Rights Center in Georgia, fears growing violence against journalists in the country. Human Rights Center is a new DW Akademie partner.
As it happens, in January, DW Akademie and HRC formed a partnership (called 'Quality media and conscious media consumption for resilient society - ConMeCo') aimed at strengthening Georgian independent media as well as media viability. This partnership, funded by the European Union and supported by the German Federal Ministry for Economic Cooperation and Development (BMZ), centers on encouraging quality media as a buttress for fledgling democracies.
"Our partnership focuses partly on the financial transparency of media, partly on building resilience at independent media outlets and partly on helping journalists in Georgia weather crises," said Tamar Kakulia, DW Akademie project officer for Georgia. She noted that a related partnership with Media Development Foundation in Georgia will concentrate on media and information literacy and creativity.
According to Tskitishvili, the March protests only reinforced the need to broaden HRC's free speech advocacy.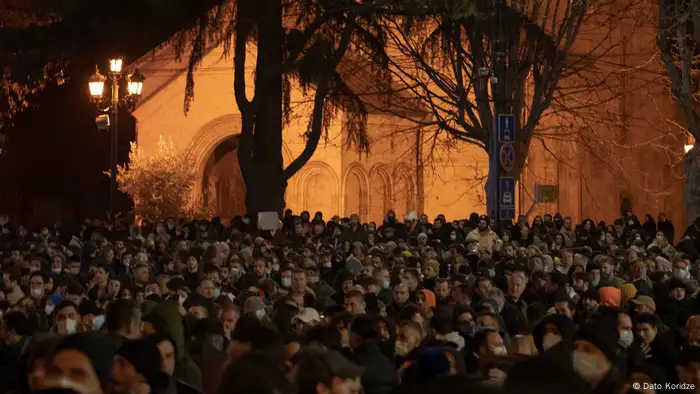 Georgians have taken to the streets in recent years, frustrated with repressive laws and press restrictions.
HRC and free speech
Georgian public broadcasting stations, he continued, receive government funds and, as such, are beholden to what government leaders want to have communicated. However, independent reporting, he said, is critical to fostering democracy in Georgia, especially in a region particularly vulnerable to Russian propaganda and misinformation. In fact, Tskitishvili, Koridze and other Georgians simply refer to the Law on Transparency of Foreign Influence as 'The Russian Law'.
Nino Tlashadze, HRC's deputy executive director, said HRC is pleased to be working with DW Akademie.
"There is an increasing risk of intimidation of independent media and journalists," she said, "so it is very important that this project advocates the rights of journalists and that DW Akademie will be assisting media workers in developing their skills and crisis resilience."
HRC offers support to dissidents and anyone whose civil rights are endangered. Its legal aid office in Tbilisi employs three lawyers, and two other regional offices each employ two attorneys. HRC also coordinates a network of human rights lawyers throughout the country.
Solidarity
Meanwhile, in January, DW Akademie published a discussion paper on Georgia, "Media Freedom in Decline", in cooperation with Germany's Federal Ministry for Economic Cooperation and Development. The report notes that while Georgia was among the first republics to break away from the former Soviet Union, initiate democratic reforms and reduce corruption, these gains have since stalled. Given the hate speech, physical violence, and government restrictions on the media, the Reporters Without Borders (RSF) World Press Freedom Index ranked Georgia 89th out of 180 countries in 2021. "Journalists," the report stated, are "almost constantly under attack."
This is why, Tskitishvili said, he and his colleagues also participated in the March protests. HRC lawyers worked with lawyers for other civil society organizations, both offering detainees free legal aid.
"The trials for these detainees are ongoing," he said, "and the lawyers may even represent them (at) the European Court of Human Rights." If, he continued, "justice is not achieved at the national level."