Welcome to "Survive and Thrive", DW Akademie's dialogue with media managers on innovative and sustainable business models in a challenging global media landscape. We'll talk motivation, lessons learned, funding models, best practices, recipes for success and decisions – good and bad.
Watch here, or read the complete transcript below
Janelle Dumalaon (host): And once again, this is Survive and Thrive, your media viability podcast. As usual, we're talking about just how hard it is to make a success out of a media operation. Entrenched structures, a challenging media environment, censorship, financing difficulties. In the face of all these potential stumbling blocks, outlets have to keep finding ways to stay viable. As such, there's a need for media organizations to learn from each other and ask how we're all adapting to the world we live in.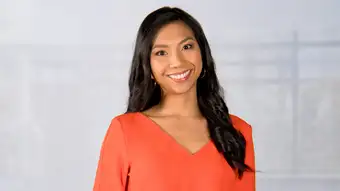 Janelle Dumalaon, host of "Survive and Thrive: The Media Viability Podcast"
At this stage, I'd like to introduce Imani Henrick. She's the station manager of Kings FM Radio in Njombe, Tanzania. It is a station where she launched sweeping changes the moment she came in to lead, right after graduating from university. Welcome, Imani.
Imani Henrick: Thank you so much, Janelle. It's my pleasure to be here.
Now in a moment, Imani, we're going to talk about your work at the station. But first, this brief questionnaire. Your business model in a catch phrase.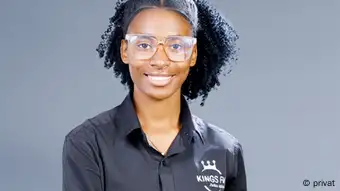 Imani Henrick, station manager at Kings FM
I think before, we didn't have any clear and defined business model, but the Media Viability Project by DW Akademie came at a very right time. Even currently we are still learning and unlearning, redefining and defining the business model.
But, what we do currently is make income from events and projects but also community outreach and advertisement from different advertisers.
All right. So heavily based on audience research. Did you ever manage a moment when everything seemed lost?
Yes, because as you introduced before, I was just fresh out of school. I had zero experience, especially in management. So, when I was taking over, four or five staff members of the radio station just resigned. That's where I was like 'oh my god, how am I going to go forward with this project?' That was a difficult time. But I thank god that the owner of the radio station had my back and was pushing me to move forward.
Let's look to the future. What would you need to thrive in the future?
I think what we need more of is a well-defined business model. We are still learning and trying things - we're in a trial-and-error period. I think what we need to move forward is a well-defined business model and a strategic plan. But we also still need capacity building, especially when it comes to the quality of content. We are doing great, but do still need some more knowledge on how to produce quality content relevant to our audience.
Thank you for that brief introduction, Imani. So let's get to the crux of the matter. As we've been saying, you took over King's FM as a station manager fresh out of university. You started very young. That must have been a very steep learning curve. Tell us a bit about how you ended up where you are.
It is an interesting journey. When I joined Kings FM, I didn't join as a station manager but as program director. That's where my experience began in the radio industry.
It was very challenging because at that time we had content that was irrelevant to the audience we were broadcasting to. And as I said earlier, I think the media viability project came at the right time. The mentors helped us to define and redefine our models, our content, our business plan, our digital identity and all that.
That's where I got a starting point. I continued with a little research and reading from different sources and realized that Njombe – the region that Kings FM is located in – was leading in gender-based violence issues, yet we didn't have any content addressing the issue.
So that's where I took the initiative to start a new program called "Let's talk about gender-based violence". We're now doing that in collaboration with the police's gender desk here in Njombe.
Njombe was also leading on malnutrition issues. That's why we introduced a segment on malnutrition issues in collaboration with the local government. And then we didn't have any program focusing on youth. I realized that the youth in our region are facing a lot of challenges, especially when it comes to employment and financial literacy. So that's when we had the idea to start a youth program.
As I shared before, there were issues regarding malnutrition and gender-based violence – and women were the most affected group. And I realized they spend a lot of time dealing with agriculture issues and other business issues rather than taking care of their families. That's where I came up with the idea of starting a program focusing on women which is called "The Power of Women".
Going through this process of redefining our programs, we realized that people were not listening to us because we had copied and pasted content from the giant media in Tanzania. That's when we came up with the plan of having community outreach. We designed a lot of projects and events that connected us with our audience. We now have sports events, events in which we give people food during Christmas or Eid al-Fitri holidays. We also initiated a football club that is owned by the radio station and where the presenters are the players. This team connects us with our audience because we ask for matches with different groups in our community, like youth or motorcycle riders, for example.
I think after all that reshaping, the station's owner was impressed with what I was doing and I got promoted to station manager. That was a confidence boost for me, despite the fact that I experienced a lot of challenges being young and a woman and coming in to lead a radio station that I did my practical training at back when I was a first-year student at university.
You have been touching on the challenges that are inherent in starting as a young woman responsible for so much change at your station. You mentioned older staff leaving and that there was some resistance to your efforts. What was that like? Can you describe those experiences for us and how you got past them?
Well, I'm grateful for that when I was in at university, I had really good mentors that had my back. So, when I came across an issue I just reached out to them and explained what I'm going through. And also, the wife of the radio station's owner supported me all along the way. I used to go and talk to her about the challenges I was facing.
The challenges were not only staff resigning but also issues with respecting me and listening to me. For some of my colleagues it was challenging because they knew me from when I was here practicing as a first-year student, they had taught me. So now listening to me, hearing what I'm telling them was hard.
But when I told the station owner about it, she gave me hope, saying 'I believe that with your capacity, you can do it.'
And then there was the Hamasa Media Group that we got mentorship from as part of the Media Futures media viability project. I really relied on them to ask questions and they helped me find a way through all these challenges.
But, another thing I did is focus on uniting the team. I'm lucky that most of the staff at Kings FM are youth. I really made sure that I spoke their language about the organization and the team. My mentors taught me to talk to my team transparently – for example about not having money for capacity building.
We were striving very hard and running into a lot of hardship in terms of economic and financial management. Hamasa helped us a lot with that. We didn't have marketing professionals among us. So we just picked one person, a journalist, and Hamasa started mentoring her. And today, she's doing a very good job thanks to that ongoing mentorship.
So really with every challenge I was communicating with the owner of the station, our consultant from the Hamasa Media Group, but also the mentors I had from school.
And would you say that it was a problem for the people around you, that you were young and a woman?
Of course it was! It really, really was. Being young was one problem. Being a woman came on top of that, accelerating the problem to a higher level. I think for some it was their first ever experience being managed by a young woman fresh from school. I think that's why they weren't listening to me all the time in the beginning.
But what I'm grateful for is that the transformation did take place and for how significant it was. And I think it partly happened because I led by example. I have a journalism background, so I went and recorded interviews. If I introduced a new program I went there and launched it, presented it in the first days and then had them take over.
I think that was what helped me very much because they saw that I'm leading by example – like showing 'this is how it should be done' while encouraging them that if they do this we will have an impact, our content will be selling, we will get more advertisers and all that. So I'm grateful that the team now has gained the momentum and and drive and of course now I can say I'm glad that we are speaking the same language.
That's really remarkable. I also wanted to ask, just to just to further this point a little bit, you've also made this point about how you reach out to your audiences, how audiences are more aware of Kings FM now. Do you think that you also act as a role model for your listeners who perhaps would like to break into the radio media scene?
Big yes, big yes! And not only to our listeners but also other media houses. They are all looking at us because we have been very, very creative not only on the content but also how to deliver our content. We have a YouTube channel, we have social media platforms and of course also broadcast radio.
So, many people have been listening to us and taking into account that they not only get content but also a certain lifestyle. For example, when we do community outreach, I do not act as a manager there. I can go and record a contact, help them, welcome them to their seats and all that. So our listeners have really been telling us that they like the lifestyle the staff is living. And this has been a lesson not only to them but also to other media.
Just last week, we did a Kings FM Bonanza and invited other local radio stations here in the Southern Highlands from Muringa, from Makambako and here from Njobme. And they were amazed with the work that we were doing, but also the way that we were collaborating in making sure that all the things are being done at the at the moment and at the right time.
You've talked about the efforts you've made to reach your audiences. You've talked about a basketball team, for example, that you set up that is staffed by… I'm sorry, was it a basketball team? Am I getting the sports team wrong?
It's a football team.
Oh yes, a football team. Thank you for correcting me. A football team that is staffed by the presenters. You really do go out of your way to speak to your listeners.
But you also said earlier that Kings FM used to be a copy paste of the other offers that were available. So how did you train your audiences to accept this new, more focused content that you felt would be more relevant for them?
That's a very interesting question. In a way it was hard because of the attitude that our audience had before. It was like, you know, in the name of the station: Kings FM. It was like we were like some people at a high level, like we were not connected with our audience.
It was really hard for our audience to believe that we were making a transformation and we want them to own the radio. You can imagine that for the first event we hosted, very few people came. But we made sure that these few people were going to be the ambassadors of what we really mean by our radio. We wanted them to preach the news that we really mean it when we say we want our listeners to come to the table with us and we want to start this new beginning with them hand in hand. It took a lot of energy to make sure that people understood us.
Also, now, if we start a new program, we invite one public figure to come and launch the program. For example, the regional police commander of Njombe. That is a credit to us that these people really mean what they are saying. We didn't give them fake promises. If we tell them that we are going to have quality content, we make sure that we have quality content.
But also, we started giving our listeners more airtime. Say we report on an issue, we go to the community and ask them about what they want, how they feel and if the content is relevant to them.
And we are very grateful for the feedback we get. We get the feeling they now see that Kings FM is speaking their language, their lifestyle, and so they feel part of the radio. It's about giving them an open door. The doors are open if you have any suggestions, if you have anything. But also our audience had this notion that advertising on the radio is very expensive - which was not true. So we had to advocate for advertising with us, saying 'our adverts are very cheap. You can afford them.'
So, those are the things that we did and now we are grateful that people are showing up and even making suggestions to us. For example, just last week someone said, 'you know what, we love the T-shirts that you have.' And yes, we're very late to do that, but it is a new business idea: We can print shirts, sell them and add that to the money we make from advertisement and events.
Now what I'm getting from you is that you come to your audiences with a mixture of serious issues and entertainment.
But we also cannot discount the fact that you also appear to have made quite an impact when it comes to the grave problems that plague your community. You mentioned gender-based violence earlier. Have you noticed any sort of impact on the discussion or perhaps even on the prevalence of gender-based violence itself, like just based on the content that you have been producing and sharing with your audiences?
Of course, yes. I'm very, very proud of the host that is doing that program. I took her from being a sports pundit and helped her to become an advocate against gender-based violence in Tanzania. You can sense how difficult it was.
So, the content has been really super, but also the impact. When we started, people were afraid to talk about gender-based violence and the norms, cultural issues, traditional issues. Some felt like speaking about it was some kind of bullying or going against our traditions and all that.
But the more we were reporting on it the more we were starting to see the impact.
We also used to do school outreach when the police's gender department would visit villages.
The outreach only comes maybe once in a while, but when you listen to Kings FM we have this program once a week. You can call, you can send a message, you can reach out to our Instagram, because we have the separate Instagram page for this program.
Before starting this program, Njombe was the number two leading region on gender-based violence cases in Tanzania. But according to the recent statistics of 2022, Njombe dropped to number five. This is something we're very grateful for. We have been a source of change, connecting victims to the authorities, to psychologists, to the police's gender department so that these people can get aid. Sometimes that's legal aid, as we have the opportunity to collaborate with the Legal and Human Rights Center in Tanzania where they also give us their lawyers to support the victims with legal issues.
I can say we have witnessed a really, really great impact of this program on gender-based violence. Same goes for the women's program. We've been featuring women who are doing work that society traditionally believed to be men's jobs. We have been featuring them, trying to change the narrative by showing that women can do this and it has been motivating. When you hear about a fellow woman doing something, her story broadcasted on the radio, you'll get courage out of it.
And then we've also been dedicating airtime to small entrepreneurs, featuring them on the radio and really giving them financial literacy education in collaboration with banks and the local government. We motivate women to take loans because in Tanzania there is this program that women and youth are given zero-interest loans to start businesses and become entrepreneurs.
You've had a strong human rights focus at Kings FM and this is of course rather unique for the commercial radio station that you are. How did you convince advertisers to be on board with your content?
First of all, our audience. We try to make sure that they understand our vision and mission of the radio station. We want to be the first source of information for the Southern Highlands. Despite the fact that we are a commercial radio station, we want to serve the community. We want to make money while we make sure that the community is informed, is educated, is entertained.
We also forge collaboration and relationships with different groups in our society. And with them, we make sure that first they understand the mission and vision of our radio station and then we see the areas of collaboration or possibility of working with them regarding our focus area, vision and mission.
But also, we make sure that we sell the content that we produce. If you become a supporter of a program, you'll leave a legacy of having supported the dissemination of information about a certain issue, maybe about women, about youth, or about gender-based violence or about malnutrition. That's how we convince advertisers.
This year for the first time, we called them and had a meeting, listening to their concerns and thoughts about our service. And what I as a manager am very grateful for is that they were very, very impressed with the content that we air. They say they wouldn't want to advertise with a radio station that doesn't have quality content relevant to their community. Previously they used to take their advertising money to the nationwide media. We were copying the big national radio stations' programming, yet were not competent at it.
But now, we have our own kind of content that is relevant to our people – and we're delivering it in our own style. That's uniqueness. That is what's attracting advertisers to come and advertise with us.
I'm down to my last couple of questions, Imani. We've talked a lot about your advertisers. How do you draw the line between what your advertisers want, what your audience wants, and what you editorially feel is important?
What we do is standing by our focus, our company's focus. We are really, really keen when it comes to that and that's why – as I mentioned earlier – we make sure that all our advertisers understand our vision, mission and what we are doing and what we want to do for the community.
And then if they feel like they can respect our mission and vision and our house style of doing advertisements, they can go with us because you know it's a free market. And maybe if you cannot advertise because of our focus there might be a way to join us in other initiatives. That's why we have a lot of initiatives.
You can join us in our community outreach issues and come there and do your stuff. If not that, you can join us for our community football matches that we are playing with different groups in the community. So that's how we do it; we offer a wide variety of options.
How about we look to the future, Imani, What are the next challenges that you feel you will be facing as a station manager of King's FM?
One challenge that I'm anticipating is the introduction of podcasts.
I was very lucky to be among the trainees on a Crisis Podcast project by DW Akademie. And because I have my own podcast called "Dig it with Imani", focusing on digital rights and inclusion, I feel like this is another opportunity for our radio station.
So now we are starting a podcast for Kings FM focusing on our strengths: Programming on gender based-violence, malnutrition, youth and women.
The challenge that I see with this is the advocacy around podcasts. What are they? Where can I listen? We're operating in a very local area so I feel like we have to push harder so that people will understand it.
Another challenge, as I mentioned earlier, is making more money. As I said, we are thinking about printing t-shirts and selling them.
I think me and my team, we are ready to face these challenges. I've already started with the advocacy around the podcast project. I've trained my team about what podcasts are, where they can be listened to and what the advantages are. We now all understand what we're going to do.
The challenge that remains is getting the audience on board, telling them where they can listen to Kings FM podcasts. They'll be like 'show me where I can get this.'
So yeah, we are at the very last stages towards launching it, but I'm glad and I'm super excited with facing the challenge.
You've come so far from having the people want to leave your team because you were put in charge, to having a team that you say speaks the same language and that you're all on the same page. This is wonderful.
Before I let you go, Imani, we always ask all our guests the same question: We'd like you to name three best practice tips that you have gathered in your time as station manager at Kings FM.
Sure. The first is: Energize the team. When you do that, when you energize your team, telling a person that they've done well, they'll increase their creativity and capability tomorrow.
Another thing is creativity. Maybe that's tip #0. With creativity, everything will be on the right track.
And the last one is: Build relationships with your partners, advertisers and collaborators so you can make sure you're in their minds and in their mouths. When they have an idea for a project in Njombe they have to automatically think of Kings FM.
Energize the team, be creative and build relationships with the ecosystem of advertisers and audience around you. You heard that from Imani Henrick of Kings FM in Njombe, Tanzania.
Thank you so much for joining us today. We learned so much from you.
Thank you so much. Thank you for this opportunity.
This transcript of episode five of "Survive and Thrive: The Media Viability Podcast" has been lightly edited for clarity.
Get in touch
For questions and suggestions write to dw-akademie.surviveandthrive@dw.com
Or find us on Twitter, Facebook, LinkedIn and Youtube.
This podcast is produced by DW Akademie and is supported by the Federal Ministry for Economic Cooperation and Development (BMZ).
Imani Henricks has participated in the "Media Futures East Africa" project by DW Akademie and Aga Khan University.