Independent media outlets worldwide are facing a common and urgent problem: their traditional business models have collapsed. The question of how public interest media can survive in times of rapid technological change and shifting media consumption habits is potentially the most pressing one in the field of media development. At an IAMCR (International Association for Media and Communication Research) pre-conference in Lyon, media development researchers and practitioners came together to discuss new frontiers for media viability. DW Akademie and International Media Support (IMS) organized an interactive session to kick-off discussions about a Media Viability Manifesto, which offers opportunities for collaboration to facilitate more effective support.
Uniting for a joint approach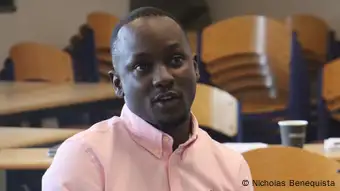 Abaas Mpindi from MCI, a youth-driven organization building the next generation of journalists in Uganda
"Weak media anywhere is a threat to journalism everywhere," stated Abaas Mpindi during the event. Drawing from his experience as CEO of the Media Challenge Initiative (MCI), he argued that the interconnected nature of media systems makes it essential to address media viability holistically while considering the diverse challenges faced by media outlets in every corner of the world. Media development experts have emphasized the need for a systemic approach to media viability, involving journalists, researchers, media developers, big tech platforms, civil society, and political actors alike.
Rethinking the Media Viability Agenda
Tom Law from the Global Forum for Media Development (GFMD) pointed out that many of its members feel that current media viability efforts are often fragmented and set unrealistic expectations for individual outlets without adequately addressing the prevailing media ecosystem. As the biggest global network of media support organizations, GFMD's mandate is to convene the media support sector with other stakeholders to find solutions to the challenges facing media development and journalism.
In line with this goal, DW Akademie and IMS have started an initiative with other media development practitioners to work towards a Media Viability Manifesto. The initiative seeks to foster conceptual clarity, strategic collaboration, and a shared vision for the media development community. Currently, ten international organizations are actively engaged in this joint endeavor, and the initiative is open for anyone to get involved.
Finding a common language
First efforts towards a Media Viability Manifesto focused on establishing a joint understanding of concepts related to media viability. Based on the results of a survey that was conducted from mid-June until early July as part of the Manifesto initiative, participants at the event in Lyon critically debated the idea of a conceptual framework for a multi-stakeholder approach to media viability.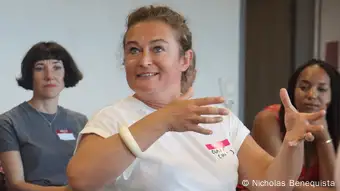 Clare Cook from IMS has been one of the driving forces behind the Manifesto initiative
"Terms like viability, sustainability, and resilience are often used interchangeably without conceptual clarity," said Clare Cook from IMS. She highlighted that stakeholders would be better equipped to harness synergies and scale effective approaches if they spoke with one voice. Adding to this, Laura Moore from DW Akademie noted that "to be more impactful and efficient in how we address media viability challenges, we need to have a shared understanding of what we are talking about." The discussion revealed that conceptual clarity is particularly relevant for media development organizations in their role as intermediaries between donors and media and journalism organizations.
However, participants also voiced concerns about the idea of finding a common language. Some argued the debate counteracts efforts to decolonize media development due to its prevailing focus on English terminology. As the discussion progressed, it became clear that a simple translation of the draft conceptual framework would prove impractical. This is because nuances in meaning between terms like media viability and sustainability, as well as the relevance of the debate, may vary based on the linguistic and cultural context. Others considered the discussion around terminology to be a donor-centric exercise, as part of its purpose is to facilitate effective communication between international media development organizations and international donors and policymakers.
Pursuing strategic clarity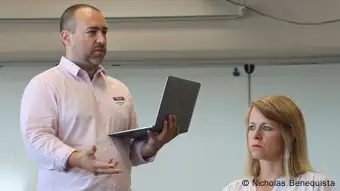 From left: Tom Law, deputy director of GFMD and Laura Moore, head of Research and Evaluation at DW Akademie
While conceptual clarity remains important, the discussions in Lyon brought to light the need for a more practical and strategic approach to the Media Viability Manifesto. Following the event, organizations engaged in the initiative decided to reconvene in autumn 2023 to work towards a joint strategy for transformation. Commenting on the approach, Laura Aguirre from SembraMedia and Alharaca pointed out that the group is not seeking a one-size-fits-all solution. Instead, the goal is to work towards a flexible yet comprehensive strategy that will facilitate multi-stakeholder action on media viability.
The Media Viability Manifesto initiative is gaining momentum at a time when different stakeholders invested in media viability are looking to unite their efforts to confront a multifaceted crisis in journalism. The purpose is not merely to protect independent media outlets as businesses but, more importantly, to safeguard democracy on a global scale.