Welcome to Survive and Thrive. DW Akademie's dialogue with media managers on innovative and sustainable business models in a challenging global media landscape.
Janelle Dumalaon (host): It's getting harder to stay viable as a media operation given charged political environments, censorship, and financing difficulties.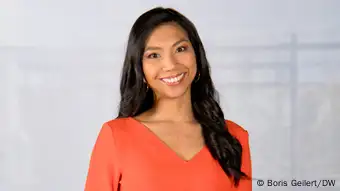 Janelle Dumalaon, host of "Survive and Thrive: The Media Viability Podcast"
Far from just reporting the news, outlets have to keep finding ways just to stay operational. As such, there's a need for media organizations to learn from each other and ask how we're all adapting to the world we live in.
At this stage, I'd like to welcome Salam Omer, now an advisor to KirkukNow based in Iraq. Welcome, Salam.
In a moment, we'll talk about how you've been navigating the challenges facing KirkukNow.
But first, this brief questionnaire: Your business model in a catchphrase.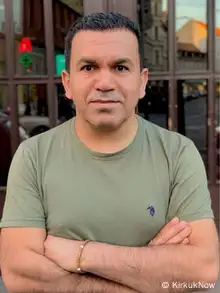 Salam Omer from KirkukNow
Salam Omer: The business model was always depending on fundraising which is very unstable.
And then, gradually, we worked on diversifying the revenue model, for example into donations and also advertising and then now content creation and capacity building.
Did you ever manage a moment when everything seemed lost?
Omer: Yeah, there were quite many situations. We were in many situations where we became hopeless and that was because we operate in an area that is very, very volatile and there are too many state and non-state actors.
For example, there was the time when ISIS, the Islamic State in Iraq, advanced to our areas in mid-2014 until 2017. For many moments actually, we were hopeless because as an organization we were under attack. We've had to move from place to place and rearrange the groups, among many other challenges at the same time.
And what would you need to thrive in the future?
The very, very important thing is that you have to know that while there are many challenges, at the same time, there are opportunities.
So being open to the environment you work in is very, very important.
And also changing your model and adapting to new realities – actually these are tips we can work on and learn more about, like how to live in the AI era.
Thank you very much for that. Now, Salam, you're a familiar figure to us at DW, of course.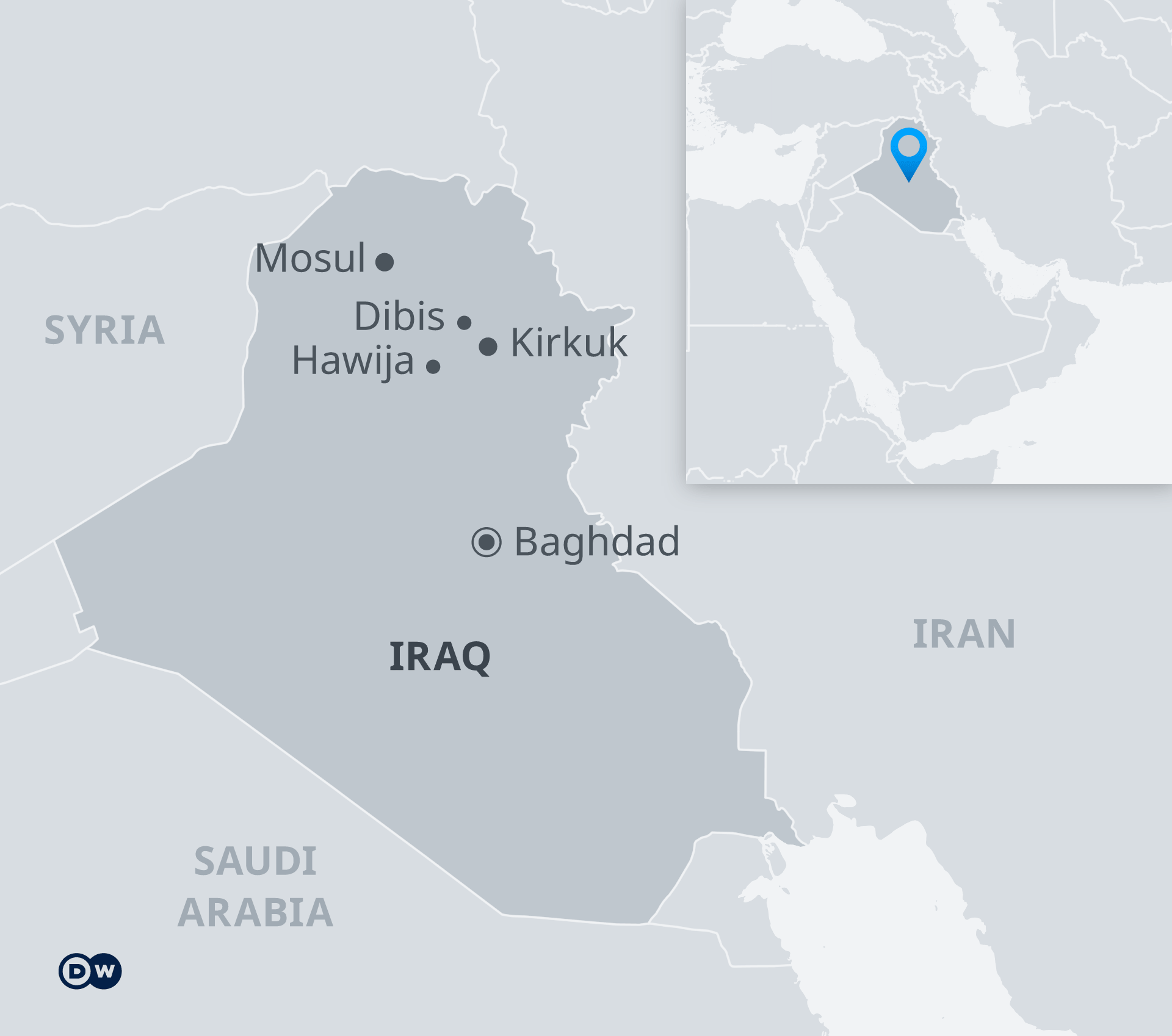 KirkukNow is reporting in Northern Iraq
You most recently worked with DW Akademie on a panel at the International Journalism Festival in Perugia about how the media of today can prepare for the crises of tomorrow.
It was celebrated as one of the top five panels there by the Reuters Institute. So congratulations. Suffice to say, you really know your stuff.
But I wanted to ask you that specifically: What's the most important answer to that question?
Thank you so much for that. Thank you to the team and to DW Akademie for working on that important issue, especially for independent media.
So actually, working in a team is very important in those cases.
Sharing information, knowledge, and updated knowledge on that issue is very, very important for everyone, for all media organizations around the world.
So for DW Akademie to bring in all those experts to exchange ideas and also come out with the Media Resilience Scanner was very practical.
What's important for me, my working style, is going out into coalitions and building networks because we learn from our mistakes and then we can get a lot out of being close to each other.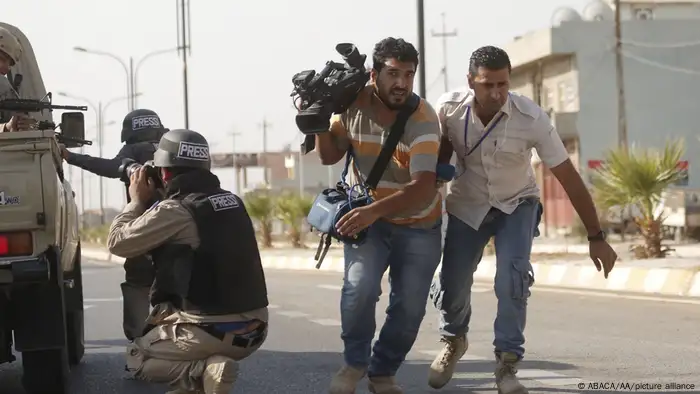 In Kirkuk, Iraq, journalists are seen during street fights between Daesh militants and security forces in October, 2016
We all need each other, certainly! Now Salam, let's talk more about the work that you do.
As you mentioned earlier, KirkukNow is operating in the disputed areas of Iraq. A highly volatile and also violent environment where militia operate and there are a lot of different minorities of various belief systems, also a very conservative environment.
What's it like to work there as a media organization?
You know, we have been doing conflict-sensitive journalism from the beginning, and that was indeed very challenging. The Iraqi media landscape – compared to neighboring countries – is more open.
It's more diverse, but still, Iraq is one of the most dangerous places for journalists to work around the world.
So it is always volatile. You need organizations to be very careful and also to know what to do and find the right niche market in those areas.
For us, building an organization in a media landscape deeply influenced by politicians and also by religious figures is tough.
Knowing the environment is crucial, studying the environment and researching the environment.
For us, building a very inclusive team that actually represents all different ethnic and religious groups, and taking into consideration the gender perspective was very, important.
And also how to work with authorities, different media, state, and non-state actors. Then, building coalitions and networks was also very important for us.
So, at the first stage actually, we had not yet made a name for ourselves.
So we had to build a name. We had to establish a brand that people trusted and protected.
So building coalitions depending on producing objective, quality journalism was one of the most important issues we worked on from the beginning.
And I could imagine, of course, that your newsroom faces higher hurdles than most but earlier you described your business model as a mixture of fundraisers, donations and advertising.
Why did you develop such a business model and how well is it working for you under the circumstances that you face?
You know, the Iraqi media landscape when it comes to supporting independent media, is not friendly at all.
Most of the political parties across the country have mega news organizations that use public money. And then, the advertising revenue is very, very low.
Working in this volatile environment, it's difficult to find new business models that are sustainable and don't hurt your reputation.
Iraq is a very rich country but the problem is politicians misuse money when it comes to journalism. It's dangerous for media organizations to get funding from politicians and even some government departments.
So (we're) reaching out to prestigious international media organizations for grants and also looking for individual funders.
Also, working on this margin of advertisement from the beginning was actually a good idea for us.
Over time, with experience, we built a very good network. We now have a very professional newsroom that can even create content for other partners.
And also, having this experience, we can do it in the newsroom, as trainers, and also as a consultancy.
So we kept changing the business model from the beginning. In October last year, our newsroom adopted a new strategy and now the organization is working on new revenue models. For example, we have strong content that we can soon offer in a subscription model.
So developing the media organizations throughout these challenging areas is encouraging you and also pushing you to take the steps that you know will help you to survive and go on.
So what you're talking about is a variety of income streams to complement, to supplement the fundraising and the grants that you get.
How sustainable is this mixed strategy proving for you?
I don't have like a concrete answer about how sustainable that would be. But I know that depending on one single revenue model, a business model would be very dangerous.
Especially when it comes to fundraising. Donors sometimes have their own conditions and also the situation is constantly changing.
You have to have a diverse revenue model that you can depend on and then become sustainable.
The most important thing is how to build your organization from the inside, and also use your expertise and be open to what's going on around you in order to go on and build a more sustainable model.
So every manager and every media organization should think about diversifying funding and not depending on one model.
Earlier you mentioned that you were also looking into a subscription model for KirkukNow. How would you describe your audience, where they are, and their willingness to pay for KirkukNow's content?
Currently, in Iraq, it is very difficult for people to subscribe to and pay for media.
And there are awareness issues around the importance of independent journalism. This is a certain culture that doesn't actually encourage and then let people pay for that.
And there are also technical issues for example when it comes to the banking system, and when it comes to how to pay online.
Those are the problems. But despite that, we have a very good niche market in those areas and loyal audiences. So there actually are certain segments of our audiences we can reach out to and ask them to pay for our content.
Based on our past experiences, we can work on that segment of audiences that will be ready to pay for part of our services especially since we have very unique content.
Those are quite a few challenges you mentioned with regard to public awareness of the role of independent media. Also, the technical issues that you mentioned in terms of actually setting up payment systems for your subscribers, how are you getting around them?
We are working on it. As I told you, we have a very loyal segment of our audience we can depend on. We have consulted experts on ways around the problems with payment systems, that's a start.
This is one way to go forward – especially now that also the Iraqi government has started some reforms around the banking system and issues of online payment.
So we are hopeful that we will be able to fix that problem.
You know, the root problem is that generally speaking, the state in Iraq doesn't have a vision for the importance of journalism. Most Iraqi politicians look at independent journalism and news that is not in their interest as propaganda.
There's a lack of understanding of the role of journalism across the state. And as a result, there is no encouragement, there are no initiatives, there's no state support for independent journalism.
That's why across Iraq there are very, very few independent media platforms and the ones that exist are challenged by the business environment, and the lack of support from the state.
But still, we are there. We have built networks and also do have audiences. We can build on that. And then, hopefully, we'll find other ways to stay afloat, operate, and provide our audiences with fact-based information and quality reporting.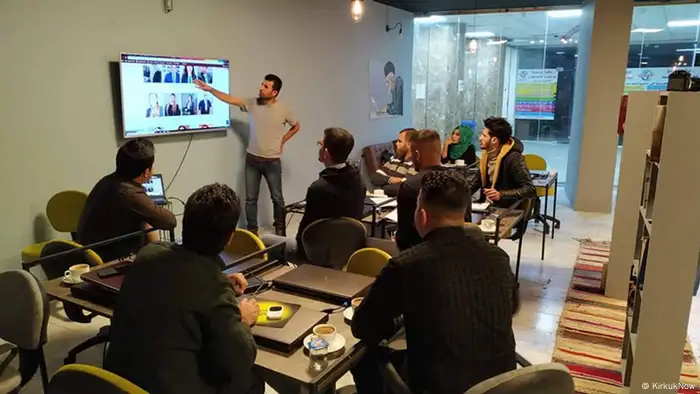 The team of KirkukNow in their newsroom
So you've described a multi-dimensional problem there: Both the philosophical problem, I'll call it, about the importance of independent media and the economic problems that have to do with staying operational and staying viable and existing.
Now I want to go back to something you said about your newsroom reflecting a diversity of perspectives, reflecting perhaps the diversity of your audiences. How do you manage conflicting perspectives in your newsroom?
I think it's very difficult to talk about viable media organizations without having, you know, clear structures in place.
So from the beginning when we built the organization, we came in contact with different media organizations, especially from outside the country.
And we learned that we should have clear structures in place, and that we should guarantee what's organizational behavior and how we do that within the organization.
So structures like, for example, our code of ethics, gender policies, our business plan, and also actually the organizational chart help guarantee that the teams are functioning and actually stick to the fundamental standards of journalism and also journalism ethics.
Also, we have all created an open environment and one of my most difficult jobs throughout my time as the editor-in-chief was how to protect the newsroom when we had frank discussions without letting any political or racial agenda or whatever imposed on the newsroom.
So it's very important that media organizations have structures, clear structures, and stick to the best standards of journalism.
Regarding clear structures, I guess what we're trying to say here is that it's quite important for journalists in a newsroom to have the same set of rules that they all agree on, that they are all able to engage with like the code of ethics, or a gender policy.
We all have to be on the same page.
So that's within your newsroom. Outside your newsroom, we already talked a bit about some of the challenges and some of the volatility present in the region.
How do you guarantee – insofar as you can – your journalists' safety?
It's about teams. The most basic idea is we work in teams and there should be solidarity, there should be understanding. So when we go out, having clear structures, having a mission and vision in place, and having a strategy helps us to be more ready and face the challenges around us.
It's the most basic thing: We have to have clear structures and we have to be ready beforehand. That's what I focused on during the panel in Perugia, as well. We cannot go out without having anything in our hands to face the problems.
So in our daily life, I'm very happy as a dad for example when I'm going to plan for sunny days like when we go picnicking, or when we go traveling, you know, visiting family and friends.
But we usually are not ready, we are not accustomed to also preparing for cloudy days. And organizations should be ready you know for them. So those structures are very, very important when they come.
For example, let's talk about the Scanner. I have used the Scanner for our organization and it is a very practical way to be ready when you go out. There are very clear instructions and also it's a good tool, for example, when you prepare for trainees, there are instructions on how to get ready.
When should we do that training, when it comes to safety? Who will be responsible for the safety? What are the safety challenges – both online and offline?
These are important issues we should think about when we want to go out and work in an environment that is very, very volatile.
Salam, you of course are referring to the Media Resilience Scanner. That's a web app for media managers to create their own tailored crisis plan developed by DW Akademie and it's free to use for media outlets around the world.
You also spoke of the importance of learning how to deal with the authorities. I believe it was in our lightning questionnaire round that you mentioned this phrase and you wouldn't mention it if it weren't a particular issue within the environment that you operate in.
What exactly do you mean?
We have been doing conflict-sensitive journalism with the focus of encouraging different local ethnic groups to communicate on our platforms. So, we deal with different state and non-state actors on a daily basis. We have to be ready for how to deal with conflicting authorities.
There are many ways to go around that and have relationships with them while also keeping your newsroom safe and independent from those issues. For example, there are legal ways to register and build contacts. You might have to register with two or more conflicting parties. In the environment we work in, we have to build good networks.
Contacts are key. Then there are different organizations that cooperate, and others, also within the government, that don't cooperate. So you have to use that for the best benefit of your media organization in order to produce good journalism, and sometimes even keep your team safe. It's very important for your safety to produce good journalism.
Fact-based journalism actually helps you when you operate in conflict areas.
So you know, sometimes it's about procedures, sometimes about your style and also your approach of how to deal with the different actors within the environment.
We usually think about three important challenges when we go into (conflict) areas. First is security. And we usually don't have a lot of control over that. Second is access to information which is used by the various political parties and state actors to put pressure on and censor the independent media.
And third important aspect is the financial side. So politicians in these contexts try to control security and safety, access to information, and finances.
It's very, very volatile. You have to be ready beforehand to work in such situations.
In this conversation, we've been going back a lot to the lessons you have learned. Some of them are methodological, and some of them are about structure.
You have a wealth of experience with you. Having occupied the editor-in-chief position at KirkukNow, and now you're an advisor. Looking back on all the years you've been active in this organization, is there anything that you wished you had done differently?
Yeah. You know, because we are journalists we usually think we know everything and that's actually a misleading concept and a big mistake.
So we usually work selfishly. We usually work for ourselves and that's actually one of the lessons I learned: We actually have to work in teams! Also, throughout being with the team I have learned that we should have organizational structures like any other company around the world. A media organization is a company, a structure.
So it should have a clear structure. It should have different sources of control and also it should have clear goals and objectives. In the past, I didn't actually know how important these are, especially when you work in our situation in conflict areas. You notice when you go through a crisis and in the middle of it you realize you are not ready.
You realize that you haven't taken any precautions, that you know the steps in order to save the organization. We could have saved a lot actually by preparing ourselves.
Preparation is key, as is humility. That's what I'm getting out of that answer.
Our time is almost drawing to a close, but before we let you go, I think what is really important for our listeners to understand from you, if you could tell them, are best-practice tips.
Do you have three tips that you would give to other media outlets looking to survive and thrive in a challenging environment such as you have?
First and foremost they have to be ready. They should have plans.
Crisis planning is very, very important. That's one tip that every manager should know. They should get prepared beforehand because the bad guys are on the rise again and there is a lot of hostility against independent media.
So media organizations, especially independent media organizations should be ready for the future. And that comes through crisis management, structures, clear guidance, and also policies that can be prepared for the organization.
Of course, having this will be impossible for media organizations if they don't have managers, and journalists who are open to accepting criticism and learning.
This is very, very important. Organizations need to be open to learning and to be ready for change.
The last one is having the confidence that while we know there always will be problems, at the same time, there'll be opportunities.
So we should be positive, we should be hopeful and we should work hard. Working hard is very, very important. I know there are problems, but there will be many, many horizons as well.
The first tip is crisis planning. The second is to be open to learning. And the third is to recognize opportunities in crisis and to work on those opportunities.
Salam Omer, advisor to KirkukNow and former editor-in-chief. Thank you very much for your time and insights today.
Thank you, Janelle. Thank you so much for having me.
This transcript of episode one of "Survive and Thrive: The Media Viability Podcast" has been lightly edited for clarity.
Get in touch
For questions and suggestions write to dw-akademie.surviveandthrive@dw.com
Or find us on Twitter, Facebook, LinkedIn and Youtube.
This podcast is produced by DW Akademie and is supported by the Federal Ministry for Economic Cooperation and Development.