The image of indigenous women is fraught with prejudices, and it's something Eslendy Grefa knows all too well. She belongs to the Kichwa people and works as a journalist and activist in the Ecuadorian Amazon. Grefa is also part of the "Lanceros Digitales" ("Digital Lancers") communication team, campaigning for environmental protection and the rights of indigenous groups. In an interview with DW Akademie, Grefa explains how the role of indigenous women has changed, and how modernity and tradition can go hand-in-hand.
Ms. Grefa, how would you describe the situation for women in the Amazon?
Until a few years ago, women mainly took care of the household and the family, did the harvest ("chagra") and made corn beer ("chicha"). Many still get married at the age of twelve or thirteen and many women think that's normal. I don't condemn it because it's part of our culture but other women like myself see it differently. This is the twenty-first century and women now have more rights and freedoms.
We have taken on important functions in our communities as well as our organization. Women are now in top positions, they're leading their communities and implementing projects for women. Lineth Calapucha, for example, is vice-president of the Kichwa Nation of Pastaza. She empowers women and is determined to give them an education.
This is also happening in other indigenous communities. The Waorani nation in the Ecuadorian Amazon, for example, has a female leader. Nemonte Nenquimo is an incredibly strong and dynamic woman. After a large part of their ancestral territory was destroyed, she took the case to the Inter-American Court and won. Time magazine then named her as one of the 100 most influential people of 2020. Her leadership shows that women can lead their people just as well as men can.
Getting this far has been a battle for indigenous women, but we have to keep fighting this prevailing chauvinism that patronizes us.
As an indigenous woman and a journalist, which prejudices have you been fighting yourself?
Starting as a young child, I went to a school in the city. People there don't often understand indigenous people and think that we're stupid and can't learn or adapt. When I went to university, people thought I wouldn't be able to work in the media because I was an indigenous woman. It was a constant struggle, always having to say, "Yes, I can do this. Indigenous women can do this." But thanks to "Lanceros Digitales", I've been able to make women more visible.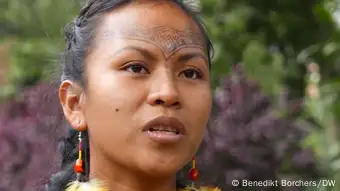 At home in two worlds: Eslendy Grefa at the "Festival of Latin American Indigenous Languages on the Internet"
As a journalist, you use social networks and radio for your work. Is that at odds with indigenous culture that usually rejects modern technology?
We have one foot in the cosmic world and the other in the Western world of technology. Knowing how to stand firmly on the ground with both feet, and being aware of the ground that we stand, is in fact an additional tool for us. Our job as indigenous communicators and journalists is to inform people in our communities as well as people in the cities. We can take issues like our fight to protect nature and show others what the government is doing and how it affects indigenous people. This is also interesting for non-governmental organizations.
And our native language programs reach out to the elders in our communities. They don't speak Spanish but we depend on them for certain knowledge. This wisdom has been passed down from our ancestors and without our native language it would be lost. We wouldn't know as much about medicine or how to cure certain diseases. So these "Western" digital tools help us protect our indigenous cosmic world.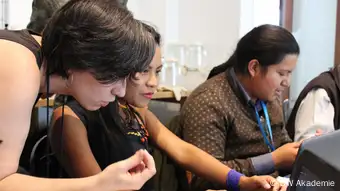 Eslendy Grefa took part in the DW Akademie project "Nos tomamos la Wiki". The project trained indigenous journalists and language activists on how to correct Wikipedia entries and write entries themselves
What would you say to other young women?
We need to trust ourselves more, to realize that we can be grand without discriminating against others, without saying that we can do better than others. There will always be nasty people who try to destroy our confidence or oust us from our positions. So it helps to have a goal and to follow a path to reach it. It's time for women to take on other important roles and not be dependent on others. Leadership roles are not handed to us – we have to take them on ourselves.
I would like, for example, to develop an intercultural training center for young indigenous people – a place where they could study and learn about other cultures and languages without getting lost in the modern world. My hope is that they would then go back to their communities and build new, long-term projects.
If it were not for women, we would not be harvesting and eating the fruits from the seeds planted by our mothers and grandmothers. Women have always been essential. We have to keep believing in ourselves.
"Lanceros Digitales" is a communication collective of the indigenous movement CONFENAIE (Confederation of Indigenous Nationalities of the Ecuadorian Amazon). Collectives like this are an important information source in the Amazon region and are a mouthpiece for indigenous youth. The team of young media professionals provides information digitally from areas that other media cannot reach, and reports on issues that major Ecuadorian media houses ignore. "Lanceros Digitales" staff have been trained as journalists, are networked, and communicate on par with communities. They report in a balanced way and keep both language and culture alive. "Lanceros Digitales" is a partner of the community media network CORAPE and took part in the DW Akademie project "Nos tomamos la Wiki" in the Amazon region.