"It's not unusual for more than 500 people to attend a funeral," says DW Akademie project manager, Fred Mariwa describing a typical burial in rural Kenya. Everyone – whether it's neighbors, friends or acquaintances - feels affected and village life comes to a standstill. But since the arrival of the coronavirus, everything has changed. On March 21, only 12 people attended a funeral.
Mariwa couldn't believe it. "This has never happened before. There's usually a huge crowd but this time you could literally count every person who was there," he says.
Mariwa lives in a suburb of Kisumu, a city on the shores of Lake Victoria, but since the spread of the coronavirus, he has moved back to his village, Asembo Nyilima in Siaya County. He and his family feel safer there than in the megacity Nairobi.
Two weeks later, on April 5, Mariwa witnessed the funeral of a villager elder. "Normally up to 1500 people would come to an elder's funeral and it would last 24 hours. This time only 15 people came and it was over in just two hours," he recalls. It's clear that the coronavirus has arrived in Kenya and that people are afraid of the new virus and are avoiding large gatherings.
False news and rumors spreading fast
Although the people in Mariwa's village are reacting correctly, false news is quickly spreading nationwide and can be so contradictory that people don't know what to believe. False claims abound, such as "The coronavirus is extremely contagious and if someone coughs on you, you'll die." Or: "Only Europeans can contract the virus. Blacks are immune."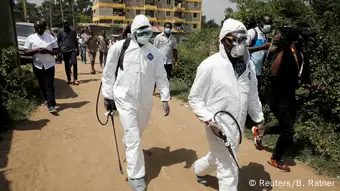 The first coronavirus case was reported in Nairobi on March 14
Claims like these have gone viral, especially on social media. This is why it is so important that people can recognize sources and reports they can trust. As a result, media and information literacy (MIL) is now more important than ever.
This is where the work of Catherine Gicheru and the data journalism project "Code for Africa" comes in. In 2019, DW Akademie's partner set up fact-checking desks in various media houses across the country. Code for Africa supports journalists, government offices and human rights NGOs involved in various and very different projects. They range from the digitizing government documents and promoting freedom of expression to developing information campaigns against female genital mutilation.
All data and products – including those around the coronavirus - are based on open data principles and are made available to the public free of charge.
"Fact-checking can save lives!"
"The main focus right now," says Gircheru, "is on promoting accurate and easy-to-understand reports about the virus and its effect." The Code for Africa team is developing maps and infographics on case numbers and developments in Kenya, which are then distributed by media partners.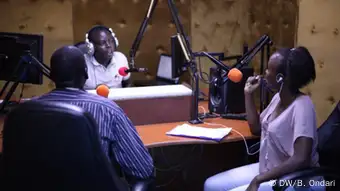 Sky FM, part of the local radio network supported by DW Akademie, will be establishing a "Health Desk"
Through data collection, a "promise tracker" on the website checks promises made by politicians. This is an essential tool, especially regarding the health system, where politicians announce additional intensive care units and respirators, where in fact these units have at most beds and respirators are scarce.
The Star – one of the largest and respected dailies in Kenya – and Sky FM in Kisumu are also involved in the Code for Africa fact-checking project. Sky FM is part of the local radio network supported by DW Akademie. It will be setting up a Health Desk that for the entire broadcasting association, checks and verifies misinformation and fake news about the corona pandemic.
Journalists at the verification desk will learn about fact-checking tools such as how to identify the digital footprints of photos and videos. The Health Desk will also offer health tips and general information on the dangers and effects of the coronavirus. "Fact-checking can save lives!" believes Gicheru.
"It's definitely important to work with a large media outlet like 'Star'," says Gicheru, "but in rural areas, people mainly tune in to their local radio station or pick up a local newspaper because these are much more in touch with their daily lives."
It will be a major success for Code for Africa if people in Kenya realize how serious the situation is and avoid large crowds – even though these play a major role in society. And Gicheru is ambitious: "We want to support The Star in becoming the top site for checking and verifying fake news," she says.