Digitalization has been a catalyst for change in Kenya. That's the verdict of the experts surveyed by the #speakup barometer. The public sphere is undergoing a transformation that is bringing out the very best and the very worst that digital technology has to offer. The coming years will be critical in determining if civil society can muster the vigilance, wit, and creativity to defend freedoms that have increasingly come under threat.
The statistics are clear: Kenya is one of the most-wired nations in Africa. It offers the right conditions for digital participation, including extensive Internet infrastructure and a well-established innovation ecosystem, with a growing list of start-up incubators. It's an environment that gave birth to the mobile money service M-Pesa, the crisis-mapping tool Ushahidi, and the iHub innovation space — all of which have put Kenyan creativity on the map.
The fight for rights
When it comes to rights, Kenya is also leading the way. It's the most open environment for journalists in East Africa. Since 2010, freedom of expression has been protected by the constitution. In recent years, the judiciary has passed several rulings strengthening fundamental rights. More recently, however, the picture has been changing, with attempts to curb freedoms. The government has introduced new laws that have the potential to limit a free press. State surveillance capacities have been bolstered, and journalists have been physically attacked for doing their jobs. Civil society groups responded vociferously, using campaigns and petitions to build momentum against the changes. In 2017, the authorities were forced to back down after threatening to shut down the Internet during the general election. In 2018, several provisions of the controversial Computer and Cybercrimes Bill were temporarily put on hold pending review. Kenya's defiant digital rights community is preventing the country from returning to a controlled information environment.
Power to people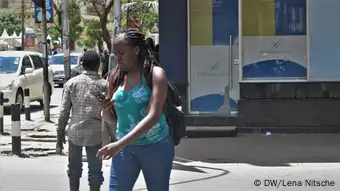 Social media and mobile phones are used to speak up and take agency in Kenya
What's notable about Kenya is the way its citizens use social media to take agency of their lives. Twitter, Facebook, and Instagram have given voice to people who, until now, had been ignored by the mainstream media. On Twitter, Kenyans rally around the popular hashtag #KOT — Kenyans on Twitter — to debate political and societal matters and, in some cases, literally rewrite the story of their country by sharing moments of history left out of the school curriculum. It's helped to foster a burgeoning and active blogosphere. Increasingly, leading bloggers are gaining the recognition of mainstream journalists as reliable sources of information. On the other hand, the digital tools needed for engagement lie mainly in the hands of the urban and well-educated elite. Digital participation in rural areas is still relatively weak. Data and hardware costs, as well as a lack of the necessary skills, are holding rural residents back.
Restoring reputations after election abuses
The 2017 general elections exposed the very worst that technology in Kenya has to offer. Rival political camps paid bloggers to spread propaganda on social media in their parties' interest. On top of that, data mining companies and meme factories, aided by unwitting online commentators, coalesced to form a whole ecosystem designed to manipulate voters. That, together with a new digital voter identification system that failed to deliver its promised results, meant the Kenyan election was one of the most digital, and most expensive, elections per capita in the world. The episode cast a shadow over Kenya, especially as its leaders had made digital development a government priority. It also severely undermined the Kenyan blogosphere that had been regarded as an authentic, alternative voice to the popular mainstream media narrative.
Meanwhile, Kenyan media organizations are busy converting their newsrooms for the digital age. For example, the Daily Nation is promoting fact checking and data-driven journalism through their "Newsplex" program. Analysts, however, say news reporting is too often shallow, uncritical, and dependent on pre-planned events. Even in newsrooms, digital literacy is holding back development. A digital skills gap is stopping media companies from embracing digital tools, which could help them produce quality and sustainable content that is not simply lead by diary items.
Education reforms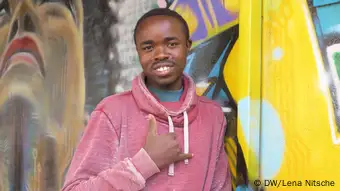 A student at the Tunapanda Institute in Kibera, Nairobi
Almost all the experts interviewed for the #speakup barometer agreed that the key to Kenya's progress is education. Through education reforms, Kenya could fully utilize digital media as a tool to achieve participation. The education system is highly structured and heavily reliant on book learning. The experts argue that critical thinking should be taught as an approach to foster the skills needed for citizens to participate in the digital world and create homegrown innovations.
With election interference, attacks on civil liberties, and increased surveillance, Kenya has, of late, experienced many of the most disturbing aspects of digitalization. This has inevitably lead many to question whether technology will be the catalyst for social change that so many Kenyans had hoped for. But Kenyan writer and political analyst Nanjala Nyabola remains optimistic: "Underneath all of this tension and upheaval is agency. Kenyans are taking on technology built for the West to tell their own story and chart their own political destiny, for better or worse."
The #speakup barometer is a DW Akademie project that examines the connection between digital participation, freedom of expression and access to information. Our method consists of a thorough analysis based on expert interviews in five thematic areas: Access, Digital Rights, Media and Journalism, Society and Innovation. Learn more at www.dw.com/barometer