In many countries throughout the world, people have been internally displaced or have been forced to flee due to war, conflict, discrimination, natural disasters, or poverty. People flee because they cannot otherwise protect themselves or because they would face threats and violence if they stayed.
When people flee, they often face life in limbo, either on the road or caught in a perpetual "in-between-state" inherent to refugee camps. These spaces often have one thing in common: a communication vacuum. Language barriers and a lacking information infrastructure make it hard for refugees to find reliable information about their own situation, their host communities, and the bigger political, economic, and social realities. Host communities, for their part also have difficulties in finding reliable information about those they are sheltering. This creates an environment where propaganda, lies, prejudice, and discrimination can thrive.
This year, the World Refugee Day is taking place amid exceptional circumstances. The Covid-19 pandemic is changing the world and is especially dangerous for refugees. As a result, the UNHCR has this year chosen to "celebrate refugees who are on the frontlines fighting this pandemic, their hosts and the aid workers supporting them."
One of the main concerns arising during the pandemic has been the ongoing spread of misinformation and "fake news" about the virus and how governments are responding. Verified information from primary sources can help people, and their loved ones, remain healthy. It can also prevent agitators from using fear to discriminate against those who are vulnerable, especially refugees. This has made the need for tools and know-how to filter through the "infodemic" more urgent than ever.
"The spread of Covid-19 has highlighted how important reliable information is in situations of forced migration. It can quite simply save lives," said Carsten von Nahmen, managing director of DW Akademie. "In many of our projects, the establishment of functioning information ecosystems and helping refugees distinguish between what's fake and what is real has proven invaluable."
Lebanon
Shatila in Lebanon is one of those in-between places, a refugee camp that at first glance looks like a district of Beirut. Yet everything here, including electricity supply, is makeshift. Palestinians have been living here for generations and now refugees from the war in Syria have fled here, too.
DW Akademie is training young citizen journalists in Shatila to produce video reports for social media. They report on everyday life, develop educational content, and produce investigative reports. They are now creatively also passing on life-saving information about the coronavirus.
Called "Campji", the project is one of the first independent, digital media initiatives where refugees report for refugees.
By making the voices of Shatila's inhabitants heard, the Campji team is closing a major information gap in Lebanon's media landscape. But Campji is also inspiring change: Since its founding, at least eight other similar media projects have also sprung up, all reporting on everyday topics in the camps and providing people with relevant news and information on the pandemic and beyond.
South Sudan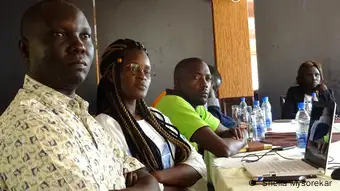 The people of South Sudan have been suffering the effects of a civil war there since 2013. Many have fled to neighboring Uganda. The border region now hosts more than one million refugees.
DW Akademie has been supporting the Cross-Border Network (CBN) since its launch in 2017. Located in southern South Sudan and northern Uganda, approximately 20 radio stations now share content and reports. This way, CBN supports people on both sides of the border, providing refugees, host communities, and those who remained at home with reliable information and reports from refugee settlements. By exchanging and cross-verifying information, the member stations actively combat rumors and hate speech.
Bangladesh
The world's biggest refugee camp is located in the Cox's Bazar District in southeastern Bangladesh. An estimated one million refugees have been living here since the Rohingya people fled Myanmar in mid-2017.
In 2018, DW Akademie began training young Rohingya and local Bangladeshis to become community reporters. Together with a local community radio, they produce reports on life in the camp and surrounding villages. Radio is the best medium for this, as up to 70 percent of Rohingya are illiterate.
Radio programs, broadcast throughout the camp on rickshaws equipped with loudspeakers, are how the camp inhabitants are receiving information about the coronavirus. The local production team has produced traditional songs with lyrics about the virus as well as instructions on how to wash one's hands properly.
Worldwide
In October 2020, DW Akademie will be hosting its second conference on the topic. In virtual sessions, "Displacement and Dialogue" will be bringing together experts and representatives of affected populations.
This year the focus will be on feedback mechanisms in forced migration settings, communication in health-related crises, cooperation between humanitarian and media development organizations, and communication with host communities.
The Call for Ideas is open until June 30.