Human Rights Day is celebrated every year on December 10 to commemorate the day in 1948 that the United Nations adopted the Universal Declaration of Human Rights. The declaration contains 30 fundamental rights, ranging from freedom of expression and freedom from torture to the right to privacy and the right to education.
But much has changed since the adoption of the Declaration of Human Rights nearly 70 years ago. Online and digital technologies are transforming how billions of people exercise their right to freedom of expression and access to information, so much so that it's probably safe to say the Internet, coupled with mobile phones, is the most important information tool in the world.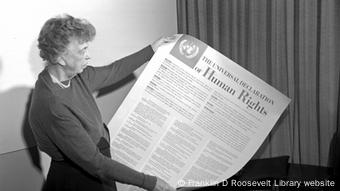 Much has changed since the adoption of the Declaration of Human Rights
At the same time, digital technologies allow new forms of digital surveillance and data collection that threaten certain human rights, in particular the right to privacy.
The rapidity of change in the digital world means it's vital to know what digital rights are and how these rights are being restricted or eroded. Here's a primer.

What exactly are digital rights?
Digital rights are considered to be the same fundamental human rights that exist in the offline world – but in the online world. In 2012 (and again in 2014 and 2016), the UN Human Rights Council agreed in a resolution that the "same rights that people have offline must also be protected online." This means that rather than the United Nations seeking to define new rights for the online space, they have recommended extending existing human rights to cyberspace.
It's important to emphasize, however, that this UN resolution is not legally binding and individual countries deal with digital rights in diverse ways. In the case of privacy, for example, this right is anchored in the constitution of nearly every country in the world.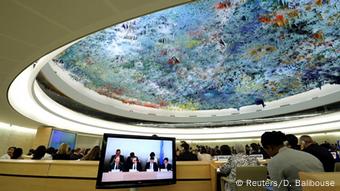 Rights that people have offline must be protected online
However, national laws regulating privacy in the digital world (in the form of data protection laws or freedom from surveillance) often haven't kept up with the technology and might not protect privacy online.
To find out more about legal protections for digital rights, the Electronic Frontier Foundation is a good first address, as is Data Protection Laws of the World.
What are the challenges facing digital rights?
Digital rights are under attack from so many directions it's difficult to know where to start. But here's a quick list to give you an overview of the major issues:
Can I do something about this?
Digital rights and a free and open Internet need strong advocates and cooperative action. All sorts of groups and organizations advocate for digital rights – from the Cambodia Center for Human Rights to the Social Media Exchange in Lebanon, the Media Institute of Southern Africa, Ecuador's Usuarios Digitales and the Digital Rights Foundation in Pakistan.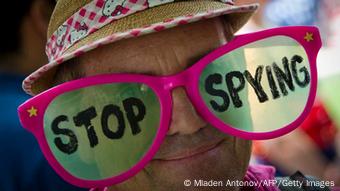 Protest against privacy violations
Some lobby against restrictive new cybersecurity laws or investigate who actually owns telecommunications companies, others create technology to circumvent Internet shutdowns or provide tech services to hacked democracy activists.
So get involved in your region or country to stop further declines in Internet freedom, and with it, our fundamental human rights.