Using mobile phones, illiterate women in northern India can dial a toll-free number to anonymously report illegal fees demanded by maternal health clinics. The project links an interactive voice response system to an Ushahidi platform that automatically shows where the reported clinics are located on a digital map, giving an overview of where corruption allegations have been made.
The
Mera Swasthya Meri Aawaz
project (MSMA), or Our Health, Our Voice, is part of the Indian non-governmental umbrella organization SAHAYOG, and tracks corruption within maternal health clinics for services that are officially free. Yatirajula Kanaka Sandhya, the project manager, explained how MSMA aims to hold the state accountable for this type of fraud. "The digital component offers us the means," she said, "but we also need to keep putting pressure on the government."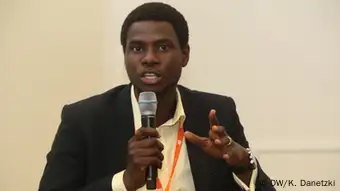 Oludotun Babayemi, co-founder of "Follow the Money"
The Nigerian initiative " Follow the Money" is another example of how digital innovation can expose financial irregularities. Using data journalism, social media and grassroots activism, "Follow the Money" tracks national aid payments promised by the Nigerian government to specific local communities. It is an ambitious undertaking, given the pervasiveness of state corruption in Nigeria.

Oludotun Babayemi, co-founder of the project, stressed that using digital tools alone wasn't enough. "What you see online won't lead to action on the ground," he said, pointing out that community access to the Internet and social media is limited or nonexistent. He said that project members also go to the communities themselves and put pressure on political officials to do the same.


Initiatives like "Follow the Money" and MSMA promote access to information in countries where investigative media are a rarity. Worldwide, digital projects are complementing traditional investigative media, and are increasingly replacing them entirely.

During the DW Akademie panel discussion " Starting up for human rights - how digital innovations advance freedom of expression" at DW's annual Global Media Forum conference held in June in Bonn, experts discussed the opportunities and challenges presented by innovative digital projects, and the effect they can have on media development organizations and sponsors.

Exciting, dynamic developments

The digital arena is playing an increasingly important role in the exercise of freedom of expression and access to information. It is a dynamic process that's being influenced by an increasing number of players and digital startups. This also means that new avenues are available to human rights organizations, especially in the area of media development, to help people around the world enter the digital arena and access information. "There are an increasing number of new stakeholders who we, as media developers, need to learn from and take into account," said Erik Albrecht, co-author of the DW Akademie study, " Advancing freedom of expression". "The digital age is presenting a major challenge to media development," he said.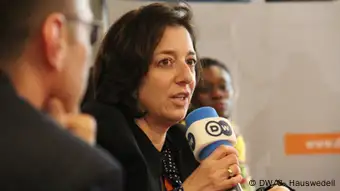 "Startups can shake up media systems" - Anya Schiffrin, Colombia University
Anja Schiffrin, Director of Columbia University's School of International and Public Affairs, pointed to the influence that journalism startups can have. "One person or one small outlet can have an impact," she said, adding they can even shake up media systems. "The Panama Papers have shown that transparent initiatives are increasingly gaining popularity and financial support." Schiffrin said that traditional media are losing influence when it comes to investigative journalism, but she pointed out that questions regarding startups have also emerged, involving issues such as funding, dissemination and security.

New parameters, new questions

Not every digital project that champions freedom of expression can bring about long-term change, said panel host, Steffen Leidel. What is it that determines whether something is "innovative" or not, he asked. He concluded that choosing a suitable platform is crucial, and that successful projects start where the users are, and address the users' needs. In his study, Erik Albrecht found that various criteria determine whether a digital project succeeds or not. "Those who ran successful projects were often in close contact with their target groups," he said, adding that ownership is also a deciding factor.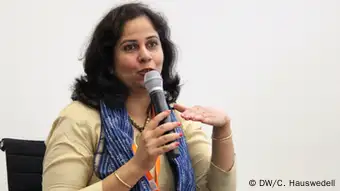 "Exert pressure on the government" - Yatirajula Kanaka Sandhya, Mera Swasthya Meri Aawaz
The Indian MSMA project and the Nigerian "Follow the Money" initiative serve as an inspiration to others. Both show how people can use new approaches to interactivity to highlight social inequities and inform the public. The projects use digital tools to reach those who would otherwise be excluded from social discourse and information, and give them a voice.

Both projects are showcased in DW Akademie's new Digital Innovation Library. The Library is being developed as a reference and information reservoir to help organizations, activists and journalists network and exchange ideas and experiences. It also allows sponsors to learn about new projects and find corresponding contact details.