War changes everything, and nobody understands this better than people from the Luhansk region in eastern Ukraine. When the population was forced to flee after the Russian invasion, locals had to leave both their homes and their communities.
As a result, the tri-city area of Sievierodonetsk, Lysychansk, and Rubizhne quickly went from a bustling industrial center of around 250,000, to a Russian-occupied territory with only a fraction of its pre-wartime population remaining by early summer 2022.
Not only are the inhabitants scattered, but there is also little to no reliable information coming out of the region. A mass exodus of media workers who fear being targeted by Russian forces, the physical destruction of the three cities, and the blockage of telecommunications lines have led to an information vacuum.
According to Kateryna Horiachko, a media worker with Sievieropolis-Online who was displaced soon after the war broke out, only a few thousand people are left in the area, most of whom are pensioners.
"On occasion we are able to communicate, but not very often," she lamented.
A Facebook group fills the space
At the same time, an increased need for information about the region and its citizens has driven the growth of Severopolis, a Facebook group with over 50,000 members. Doubling in size since the invasion, the group has become a vital means of communication for disparate members of the local community, who are now scattered across and beyond Ukraine.
The Severopolis group was originally designed as a community page that aggregated news about the tri-city area and served as a local message board. Yet in February 2022, topics soon took on a new urgency: From ways to escape the city during the first days of occupation to the whereabouts of missing citizens, Severopolis became an important lifeline for the region.
The audience changed as well. Before the war, the group was frequented almost exclusively by locals. Its audience quickly grew to include people who were not from the area but wanted updates from the occupied territory.
Yet the increased traffic and interest also meant new challenges for Severopolis and similar groups. The young owner and moderator Mykola, a self-taught social media manager, soon found himself inundated with new requests from India, disinformation-pushing bots, trolls, and phishing schemes. This small, local Facebook group quickly became another hotly contested information space in the war.
Media outlets struggle under sanctions
While Mykola was dealing with moderation struggles, media workers from the region were facing their own challenges. Despite the clear need for reliable information on social media platforms such as Facebook, for eastern Ukrainian regional media outlets, it was now almost impossible to provide facts.
In particular, two media organizations found themselves at a loss. Suspilne Donbas is the regional outlet of the Ukrainian public broadcaster UA:PBC. A DW Akademie partner, Suspilne Donbas recently transitioned from a state-run media organization to a public broadcaster. More recently,Sievierodonetsk-Online transformed from an aggregate news website serviced by the city council – providing regional news and local weather – into a fully-fledged independent media outlet with an editorial team.
Meta, the parent company of Facebook and Instagram, has guidelines for war zones: news items from occupied territories are restricted. The company's algorithm suppresses posts that include specific words about the region, such as place names and keywords. Furthermore, Meta denies outlets registered in the occupied territories the opportunity to use paid posts, as the company is legally restricted by U.S. law in conducting business in disputed territories.
For local media in Ukraine, this represents a serious blow. Because Facebook and Telegram are the major distribution channels for most media in the country and the most popular means of accessing news content, any decrease in traffic on these platforms has a significant impact on news organizations. News outlets from the region therefore found themselves in a double bind: Displaced and without access to one of their main drivers of traffic.
While Ukrainian media outlets want to stay on Facebook, because it provides the strongest link to their readers, they also have to work around Meta's restrictions as well as moderating discussion on their own pages, something that Facebook does not provide.
Finding an innovative solution
With Meta's suppression of posts by all media outlets in occupied regions, including Suspilne Donbas and Sievierodonetsk-Online, regional news organizations needed to find a new way to distribute stories and reach their audiences. And Mykola needed help with moderation.
Thus, in summer 2022, the two media organizations entered into a new relationship, and began moderating the Facebook group Severopolis.
Both organizations quickly saw the benefits of this new partnership. They decided to divide the work, and to use media workers well-versed in spotting misinformation and scams to do the moderating.
Currently, there is no single designated moderator. The outlets split responsibility as evenly as possible (six moderators from Sievierodonetsk-Online, seven from Suspilne Donbas). A moderator works a few hours a day, from wherever they happen to be.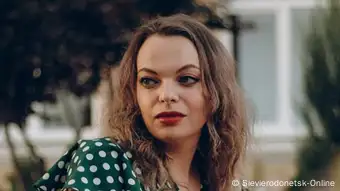 Kateryna Horiachko
The group is closed, meaning that participation and commenting are regulated. People must request to join the group and are approved by moderators who follow guidelines recently developed by the two news organizations. Hate speech, spam, and pro-Russian instigators are not tolerated.
According to moderator Kateryna Horiachko from Sievierodonetsk-Online, it is relatively easy to spot the fakes and the mudslingers. Moderators perform a quick investigation into the user's recent posts to find out if they have been busy elsewhere, selling products in other groups or spreading pro-Russian propaganda.
A mutually beneficial relationship
For the two media outlets, expending resources on moderating Severopolis nevertheless provides a few significant advantages. First, the group provides them with a moderated space and an active audience. Moderators can control what appears on the page, including deleting pro-Russian comments and selecting content of interest to their audiences. They can also delete duplicates – where similar or even identical stories clutter up the timeline. This allows them to prioritize their own content which, in turn, drives more traffic to their sites.
Second, they can help keep their region connected. "The main goal is to maintain our community," Horiachko told DW Akademie from Szczecin, Poland, where she has been living since soon after the invasion. She is one of the 13 moderators who work to keep conversations constructive, while allowing the community to express themselves.
In terms of content, Horiachko states that the media outlets focus less on current events within the Sievierodonetsk region, mainly because they do not have reliable access to information. Instead, reports are focused on soldiers, businesses, and personal interest stories from those who had to flee.
"We are now in constant contact with our community," Horiachko explained. "People react strongly when we report on community members they know. People are interested in learning about the stories of individual citizens." The group also provides an opportunity for the outlets to discover new stories and receive instant feedback on what their audience is interested in.
The moderators try not to overstretch themselves, allowing people to disagree, yet stepping in when a disagreement falls into the category of hate speech. The line is not always necessarily clear and, especially during the early days of the invasion, conversations could turn abusive quickly.
Yet creating clear guidelines has helped cut down on unwanted or disrespectful communication. The moderators look to their community to report unwanted speech. Any member can flag a comment from another group member, which is then reviewed by a moderator to see if it breaches the group guidelines that provide clear definitions of hate speech and misinformation.
Creating a safer digital space
Bombastic statements and disinformation still dominate on social media platforms. For both users and journalists, social media seems to have become incompatible with journalism. Yet groups like Severopolis could show a way to create safer spaces that support responsible regional journalism.
The benefits for the regional outlets are clear, as moderation results in more traffic to their sites. However, the exact amount of revenue is, of course, hard to determine.
For Severopolis members, especially those who had to flee the Luhansk region, the group provides a means of connection with others in the diaspora. And for media workers, it represents a mutually beneficial relationship between journalism and a social media group, offering effective ways to engage audiences while keeping the conversation constructive.
Insights and lessons learned
- Displaced journalists can help keep their readers connected to their hometowns and local news outlets
- Moderation guidelines and dedicated moderators with local knowledge are key to success
- Striking a balance between keeping conversations civil while allowing members to express themselves is necessary
- In the information vacuum of occupation, features and updates on locals are popular among readers
The article is adapted from a case study by Maksym Sribnyi, commissioned by DW Akademie for the "Reclaiming Social Media" research project. Sribnyi is part of a team of researchers and journalists from Africa, Asia, Europe, Latin America and Middle East North Africa who have researched the current challenges for constructive public dialogue on social media, and ways to tackle them.