Before Russia's full-scale invasion of Ukraine in February 2022, many Ukrainians regularly watched video bloggers from Russia and Russian-language content. But everything changed on February 24, prompting many Ukrainians bloggers to switch from Russian to Ukrainian.
One such content creator, the journalist Yana Metyolkina, had set up a YouTube travel vlog in 2019. She told DW Akademie in an interview that this was "a strategic idea" as she could "reach a larger audience where Russian is understood."
Others followed a different strategy: they created compelling content in Ukrainian to promote it alongside Russian, which is also commonly used.
"One day, I read an article that listed eight or nine Russian YouTube channels as the most popular on Ukrainian YouTube," TV producer Serhii Huleikov told DW Akademie. Together with the popular Ukrainian travel show presenter Yevhen Synelnykov, Huleikov created a YouTube channel in 2021 called UkrYouTubeProject. It highlighted interesting places to visit in Ukraine, in the Ukrainian language. "We wanted to show that Ukraine is very diverse, very colorful, and that interesting people live there," Huleikov said.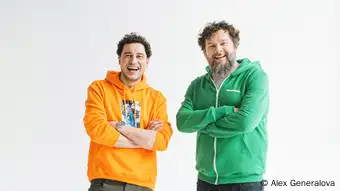 Yevhen Synelnykov (on the left) and Serhii Huleikov (on the right)
Switching languages
After the invasion, the popularity of Russian bloggers and influencers fell sharply in Ukraine. It did not sit well with Ukrainians that some Russian bloggers either avoided commenting on the invasion entirely, while others openly supported the Russian government. Many Ukrainian viewers simply started boycotting them.
According to a August 2022 survey, linguistic and viewing habits have undergone rapid change. More than 40 percent of survey respondents stopped listening to Russian music and watching Russian TV series. The use of Russian in everyday life has halved, and almost two-thirds of respondents now speak Ukrainian regularly (compared to only 50 percent before the war). Moreover, 41 percent of Russian speakers and bilinguals now speak Ukrainian more often.
As a result, bloggers who produced content in Ukrainian saw significant growth in their subscribers and views. The actor and blogger Vitalii Gordienko, who created a YouTube channel featuring movie reviews in 2016, said that his channel's subscribers doubled, and views increased twenty-fold just a few months after the beginning of Russia's all-out war. "It is not because I started to create new content. People just started to watch it," Gordienko told DW Akademie. One of his videos, which analyzed the portrayal of Ukrainians in a popular Russian TV series, has attracted over two million views to date.
Meanwhile, the viewership of Metyolkina's Russian-language travel vlog fell dramatically, so she decided it was time to create content in Ukrainian. "I also realized that I don't want to speak and record videos in the language of the occupiers," she said. Metyolkina not only switched to Ukrainian in her videos, she also branched out into different topics.
From feel-good channel to important discussion forum
Several Ukrainian YouTube channels that previously focused on lifestyle and entertainment topics have gone through a dramatic transformation in terms of content and user engagement.
The UkrYouTubeProject stopped producing travel videos altogether and instead started inviting popular bloggers from across Ukraine to discuss a range of current topics. One of the most popular videos focuses on humor and stand-up comedy during the war. It was this approach that helped the channel grow into a vibrant forum for Ukrainians, attracting over 123,000 subscribers and over eight million views.
Instead of travel tips, Metyolkina also used her blog to discuss and help her viewers process feelings about the war. "I felt so mad when Russia attacked our country. I didn't know what to do with my feelings," she said. In response, she recorded a popular series on overcoming anxiety through intimate relationships, and even invited a psychotherapist to make a video on dealing with hatredand using negative emotions for the good. "Before the war, I had content about places to go, and now it's all about how to stay safe and sane," Metyolkina added.
Viewership figures show that these topics resonate well with Ukrainians, who struggle with the consequences of the war.
The plight of Ukrainian refugees is a frequent topic of discussion on Ukrainian YouTube, and for good reason. According to UN statistics, more than 13 million Ukrainians have been displaced over the past year, with 8 million refugees scattered across Europe and over 5 million internally displaced within Ukraine.
Responding to the refugee crisis, the UkrYouTubeProject launched the series "How do our people live in...?" to highlight the experiences of displaced Ukrainians in different parts of the world. Other shows discuss the role of YouTube in educating young Ukrainians, or the future of Ukrainian-language content on the platform, or the future of Ukrainian-language content on the platform.
Encouraging constructive discussions
According to the Ukrainian YouTubers DW Akademie talked to, the growth in viewer engagement has grown at the same time as the need to moderate online discussion. However, this is also one of the secrets of their success.
For the UkrYouTubeProject founders, the opportunity to engage with viewers through comments is a refreshing change from their previous experience in TV, where they were never immediately aware of how viewers felt about their programs. Nowadays, the comments on their YouTube channel serve as inspiration for future discussion topics, adding depth to the content.
Behind the scenes, a team of around thirty people engages with commenters on social media, encouraging viewers to share their thoughts and opinions, without taking sides or imposing their own views.
According to Synelnykov, bots and trolls are prevalent on Ukrainian social media, spreading disinformation and insulting other viewers. In response, the project has implemented measures to block such users and remove hateful speech from the comments. On controversial topics such as Russia's aggression against Ukraine, they do not necessarily delete comments made by users with minority opinions, as they think that people need to see different views.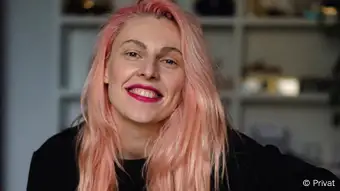 Yana Metyolkina - Journalist and YouTuber
Metyolkina has a similar comments policy, yet she works alone. "I had an assistant who helped me before the war. But now I'm the sole employee who does everything," Metyolkina said. She added that because she doesn't receive an overwhelming amount of comments, she sees every reaction to her videos and can reply quickly.
In her experience, when content is engaging and resonates with users, the conversations also become interesting. Sometimes, viewers leave whole essays in the comments about their lives, or share details about their mental health challenges and offer tips to overcome them.
​Metyolkina said that her task now is to make people think and believe in themselves. She wants people to learn something new from her videos. "I don't expect that one video will change people's attitude to a certain topic," she said. "But I understand that if there's a discussion, it means that people are taking one step towards understanding the topic."
Back to the early promises of the internet?
Eighteen years after its founding, YouTube is still criticized for not doing enough to combat hate speech. Only through developing and implementing their own moderation rules can today's Ukrainian YouTubers provide a space for dialogue where Ukrainian users feel safe to discuss their thoughts. Yet despite this, content creators and users are still free to decide what they want to publish and consume every day – in this case the transformation of everyday life due to Russia's war of aggression. These vital communications may even offer a glimpse of the earliest promises of the Internet – as a space for connection and meaningful discussions on topics that matter to its users.
Insights and lessons learned
Creating content on new topics and choosing to use the Ukrainian language brings more viewers and greater engagement
Moderating to maintain constructive dialog is needed to help users feel more safe when discussing their personal experiences of war