The innovation cluster is classified in the orange section of the #speakup baromter. To find out more about the #speakup barometer color codes, follow this link.
The government in Uganda has big ambitions for the ICT sector and wants to modernize the country's ICT programs. But entrepreneurs face significant problems around bureaucracy, poor infrastructure, and a lack of funding. At the same time, the country's young population offers enormous potential, especially in the area of digital technologies.
Status Report
A Ugandan government report entitled "Vision 2040" sets ambitious goals for the next two decades. It outlines a strategy that envisages "innovative start-ups growing into multi-billion-shilling ICT businesses.....creating thousands of technology jobs and greatly expanding the country's tax base".
In an article in the daily New Vision published in February 2018, Moses Watasa, the commissioner of information dissemination monitoring and inspection at the Ministry of ICT and National Guidance, addressed the country's ICT future and Uganda's enormous youth population, or as he calls them, its "ICT wizards". He wrote that government initiatives will enable young people to find work and and secure a future in IT. He also predicted the creation of more than two million new jobs by 2020, supported by initiatives such as the National ICT Initiatives Support Program (NIISP).
In addition, open data initiatives put in place by the government are designed to provide citizens and businesses with better and faster access to government data and services, like the neweCitizen Portal, "a one-stop online center for government online service."
And yet, difficulties regarding access to information combined with high levels of bureaucracy and slow, cumbersome administrative procedures continue to cause significant problems for entrepreneurs and innovators in Uganda. A report on ICT investment in 2017 by the news portal enstartup, "Uganda's startup Capital", mourned major hindrances such as corruption, illiteracy rates, bureaucracy, and legal bottlenecks, and the fact that access to information in Uganda continues to deteriorate. The report called it a "one step forward and two steps backward kind of movement."
Financing is another problem. Richard Zulu, the founder of Outbox, a tech incubator in Kampala, said tech startups in Uganda have a hard time finding funding, especially from sources close to home. "The number of players operating there are players from the regional market, often based in Nairobi or somewhere else. But locally the market has not yet developed a culture of seed funding."
What are the most important issues?
Uganda lags behind neighboring countries in terms of the number and volume of tech startups, although the trend is on the upswing. In 2017, 560 million USD in venture capital flowed to startups from Africa, according to areport from Partech Ventures. Of this, only 16 million USD went to companies from Uganda, putting it after Rwanda (36.7 million USD), Ghana (20.4 million USD), and far behind neighboring Kenya (147 million USD). "Startups in off-grid tech/energy, fintech, and health-related sectors gave an account of the most deals in terms of value while startups in the health, agriculture and energy sectors gave an account of the most deals in numbers," the enstartup report found.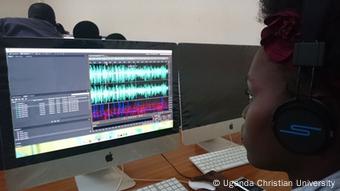 Finding tech talents in Uganda is a challenge that is limiting the growth of the innovation landscape.
The MTN Innovation Awards gives a good overview of what is happening in the digital economy. It was created by the largest telecom company in Uganda in 2015 to "to recognize outstanding applications developed by Ugandans as well as outstanding individuals or private organizations that are enabling the local innovation Eco-System." One example is Roundbob.com which was selected as "the innovation of the year" in 2017 ", that helps users access and afford travel both domestic and international."
However, startups in the media sector are relatively absent, as is their capacity to innovate. "Media startups are almost non-existent in Uganda at present," said Zulu. Traditional medial companies that have the financial resources to implement new technologies or adapt to a digital media environment still find digital innovation a challenging prospect. A number of them have utilised social media and digital platforms such as Google, Facebook, Instagram and YouTube well, although they still spend a lot of their efforts and budget on other channels like television. This is due to the limited revenue potential on digital in such areas where the number of online users is still low. "For various reasons the amount of money you earn on air is definitely higher than what you earn in digital. That is why they focus on where the bulk of revenue comes from," he said
For startups in the media sector, a main challenge is financing. "You get less funding from the government and even international organisations because most people don't see it as a priority area," said Abaas Mpindi from the Media Challenge Initiative, a non-profit journalist training and mentorship organization and DW Akademie partner. His Fellowship Program aims to prepare young journalists for the challenges of a digital media landscape.
What happens next?
Despite the challenges, Uganda is a country of entrepreneurs with enormous potential. In 2014, "The Global Entrepreneurship Monitor (GEM)" saw Uganda as a country with "an abundance of willing entrepreneurs held back by limited skills and a lack of support from the government."
Today, digitization and new funding initiatives are providing a possible way for young, digitally oriented entrepreneurs to find a successful path forward. Because of this potential, the "Uganda's startup Capital" report painted a positive picture of the coming years: "One sign of the expanding ecosystem is the number of new innovation spaces," it said. Outbox, TechBuzz Hub, Design Hub, Andela and a variety of co-working spaces give entrepreneurs opportunities for creative development cooperation. The areas of energy, fintech, agriculture, transport, and health are considered particularly promising.
There are also new opportunities appearing in the field of civic tech, a sector which connects the public with government and public authorities through new digital services and open data. Pollicy, a civic technology organization focused on using technology and data to improve public service delivery in Uganda, is barely a year old but has tried to bridge the gap between civil society organisations, governments, and citizens. In November 2017 they hosted the first Data Club in Uganda, a quarterly meeting where representatives from the academic, technology, business, civil society, and government sectors come together in an informal atmosphere.
The Makerere University in Kampala has also set itself the goal of promoting entrepreneurs. The Makerere Innovation and Incubation Center, founded in October 2017 at the College of Computing and Information Science (COCIS), aims "to provide a vehicle for nurturing talent in product development using ICT, bridging the gap between the innovators/investors/consumers, and providing mentorship for creative developers interested in finding solutions to the many challenges faced in the country."
How can the innovation landscape be improved?
Neema Iyer, the founder of Pollicy, hopes that the government will live up to its promises around ICT sector development. "You can only do so much as a private company," she said. She wants it to be easier to do business by, for example, streamlining the process for acquiring work permits for investors. And for that, government intervention is essential. She would also like to see the expansion of networks where people who work in the digital sector, like coders or web designers, can exchange experiences and cooperate on new ideas and projects. Right now, digital innovation takes place predominantly in the cities, especially in the capital Kampala. "One of the things we need to work on is access," she said. "The second thing is education."
The #speakup barometer is a DW Akademie project that examines the connection between digital participation, freedom of expression and access to information. Learn more at www.dw.com/barometer