The digital rights cluster is classified in the orange section of the #speakup baromter. To find out more about the #speakup barometer color codes, follow this link.
The rights to freedom of expression and access to information are guaranteed in Article 29(1)(a) of Uganda's constitution, but a number of laws on the books have tightened control of content in the media and on the web while limiting speech. Government mistrust of the media and online communication increased as the Internet as a communication medium for expression by the country's citizens has grown.
For example, the vaguely worded section 25 of the Computer Misuse Act 2011 prohibits "offensive communication" and threatens fines and imprisonment to anyone using "electronic communication to disturb or attempt to disturb the peace, quiet or right to privacy of any person." This legislation could potentially lead to removals of content and the criminalization of user comments. The Uganda Communications Act from 2013 notes that the regulator, theUgandan Communications Commission (UCC), has the power in a state of emergency to direct operators to employ a network in a specified manner. In addition, the Regulation of Interception of Communications Act requires companies to install surveillance technology that enables real-time surveillance and allows the government to intercept communications for national security matters.To Geoffrey Ssebaggala, Executive Director of witnessradio.org, these laws seek to "target the online space and criminalize online content." While there is no one law that specifically curtails online freedoms, current legislation could be used to do so due to overly broad, vaguely defined statutes.
Digital participation in Uganda is especially problematic when the interests of those in power are concerned. In 2017, the UCC issued a ban on live streaming parliamentary discussions over the age limit of presidential candidates. Even if the ban was lifted shortly thereafter, it underlined the fact that free speech in Uganda has its limits."Uganda lives at two extremes - one offers a lot of freedom, but then you have a regulator issuing very old-fashioned regulations banning the media from covering an event live or shutting down a radio station," said Wairagala Wakabi from the Kampala-based ICT policy organization Collaboration on International ICT Policy for East and Southern Africa (CIPESA).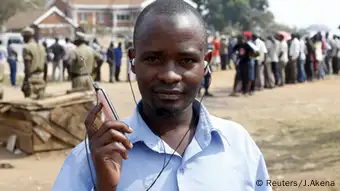 Government shut down Social Media during the elections in 2016.
Laws and regulations issued by the government are affecting digital participation of the citizens. "It does not seem, at the end of the day, that the voice of the people matter", says Gerald Businge Ateenyi, managing director at Ultimate Multimedia Consult, a Ugandan digital communications company. He sees a level of resignation among many people to comment on political and critical issues, and they primarily go online for entertainment and to engage in personal communications. Ssebaggala of witnessradio.org wants the government to reexamine laws regulating cyberspace. "Their main objective is to fight crime, they were not enacted to promote user's rights and freedoms," he said. "In the end, this kills the good intention of the Internet".
While political activists and journalists are more aware now than ever before about the laws and regulations as well as government pressure that threatens digital security and speech, most users do not understand the growing threat around online spaces, said Ssebaggala. "We are still in the honeymoon phase of digital transformation. People are still excited."
However, a significant number of people did show their ability to resist attempts at limited online access. During the Internet shutdowns around the 2016 elections, people fought back byusing alternative communication channels such as virtual private networks (VPN).
What are the most important issues?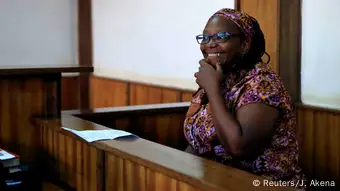 Activist Stella Nyanzi during her court trial at Buganda Road Court in April 2017.
The laws and rules imposed on cyberspace have negatively impacted user rights and freedoms and had a chilling effect on expression online. Journalists, bloggers, activists, and even regular users have been arrested and charged under the Computer Misuse Act 2011. For example, in 2017, university academic and activist Dr. Stella Nyanzi was charged for "repeatedly insulting the person of the President" on her Facebook Page. She spent 33 days in jail before being released on bail. Her fight continues with authorities questioning her sanity which further delays court proceedings.
As Uganda's president embarks on his 32nd years in office, resignation among citizens to change political power structures is growing, as is the fear of speaking out.
Increased self-censorship is a concern in Uganda as people who raise critical voices fear both online and offline harassment and bullying. Neema Iyer from the technology consulting and development organization Pollicy asks: "In terms of freedom of speech – yes, you can say whatever you want, but are you prepared to take the backlash that comes with it?" According to her, critical users have to fear harassment and bullying online and offline. The legal and societal backlashes lead to widespread self-censorship. Social media users often set up pseudonymous accounts to protect their anonymity. Self-censorship also concerns journalists in Uganda, since "many don't cover the real issues of public interest in the way that they should and we do attract some criticism for that.", says Ateenyi.
In June 2017 the Ugandan government announced that a new social media monitoring unit has been set up. As well, Privacy International reported that police and the military used the intrusion malware FinFisher to infect the communication devices of opposition leaders and media. Although these reports have been denied by the Ugandan government, it led to a widespread perception among citizens that their communications are being monitored. "This has implications on the level of participation", said Wakabi.
What happens next?
Recently, the digital rights situation in Uganda has worsened said Juliet Nanfuka from CIPESA. "There have been a couple of worrying developments that detract from the rights regime in the country. These include the registration of online content providers, moves to tax social media, and the repeat registration of sim card owners in the absence of a data protection and privacy law." These actions are likely to have an impact on free expression and access to information by citizens and the media alike while also serving to perpetuate a culture of self-censorship and limited opportunity for online civic engagement Nanfuka thinks.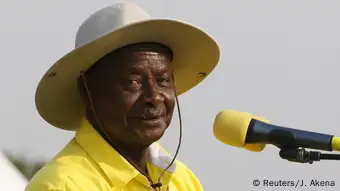 Uganda's president Yoweri Museveni is in office for three decades.
One main worry is the existing power structure which gives a lot of authority to a small amount of people who can decide to close a media outlet or interrupt online communications in politically sensible situations. Cases brought to court to fight this concentration of power might not be decided for years. The communications regulator, UCC, has become even more powerful after an amendment of the Uganda Communications Act in 2017. The change eliminated oversight of the telecommunications minister who directs the UCC. In March 2018, the UCC published a statement in which they advised "All online data communication service providers, including online publishers, online news platforms, online radio and television operators (…) to apply and obtain authorizations from the Uganda Communications Commission with immediate effect in order to avoid the risk of enforcement." This step to further control online spaces could mean that millions of websites become inaccessible, since only 14 publishers completed the registration so far.
Ssebaggala doubts the situation will change for the better over the next years. "People use the Internet to speak out in society and demand change, and that is the government's fear. So their role is to kill active participation as long as they are still in power," he said. Civic space in Uganda continues to be cramped down. As with the situation now, the tightening of the net will continue, as long as people speak out and claim their civic spaces on the net.
How can digital rights be improved?
As many more users come online, online spaces in Uganda will be subject to more control and criminalization of Internet freedom. "This is a space we all need to claim, we need to fight for it", stresses Geoffrey Ssebaggala.

Juliet Nanfuka from CIPESA points out that her organization has worked with legislators in various countries in Africa, including Uganda. For her, capacity building towards issues such as access to information and data privacy are crucial to enable more legislators to defend positions promoting freedom of speech. Capacity building is also important for other groups, such as the media, and as such journalists should report more on digital rights issues. However, since the majority of people in Uganda live in rural areas, it is also important to focus on citizens in rural communities and their ability to demand accountability and transparency.
This also includes issues of digital security. It is crucial that citizens become more aware of the dangers of online communication and learn how to enhance digital security, for example by using VPNs, open source tools like Tor for anonymous browsing or Thunderbird for email encryption.