Kibera, Kenya's largest slum, is located on the outskirts of the capital Nairobi and is teeming with people. "Kibera" means jungle as that's exactly how it is here: dangerous, confusing, loud. An estimated 800,000 people call the slum home.
COVID-19 has hit Kenya very hard. Thousands have died. Authorities have begun rolling out a mass vaccination campaign at local health facilities, including in Kibera, but skepticism and fear about the vaccines remains.
Residents only wear masks when they see the police patrolling. People are afraid of being tested or vaccinated for fear of being sent into quarantine. Rumors about a community health worker who supposedly died shortly after being vaccinated have caused panic. Health centers that have recently been set up in the slum to distribute vaccines are subsequently deserted.
A new initiative to set up a crisis communication chapter (CCC) will help fight this. The first step is to collect information about the area's communication and information gaps regarding factual information about the virus. Once more is known about the gaps, the CCC will put together tailored information packages that will be distributed throughout the slum. The goal is to create a network that will enable the distribution of reliable information to fight the "infodemic."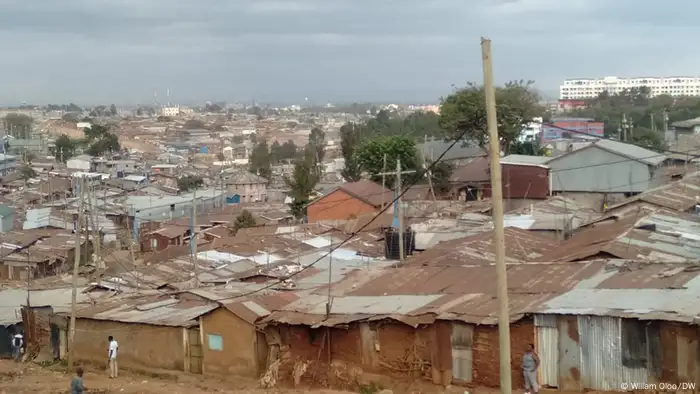 With little media infrastructure, word of mouth is still one of the main communication channels in Kibera
The project has been initialized by the Kenya Correspondents Association (KCA) and DW Akademie and will be implemented over the coming months.
A CCC is a network of people with access to all the relevant sources of information while also serving as a feedback channel for the concerns of the target groups in a form of two-way communication. Information from the CCC will be distributed via WhatsApp, radio, flyers, print material, TV or loudspeaker announcements.
Recruiting women as 'influencers'
Water collection points are some of the main gathering points in Kibera. Women go there regularly to fetch fresh water. It is also an information point where people exchange news and rumors about the COVID-19 situation.
Women are some of the most influential and respected community leaders in Kibera. Every day up and down the lines of tin houses, residents wait for word from women leaders. They are strong multipliers, even influencers.
These women are not elected per se but have emerged and occupied their leadership positions through service to the community and strength of character. Government administration officials and community health workers are also important sources of information, as are local NGOs that offer essential services. Pamoja FM, a community radio station, is the dominant formal media source of information for the residents. Young people receive and disseminate most of their information through social media channels, especially WhatsApp, Instagram and Facebook.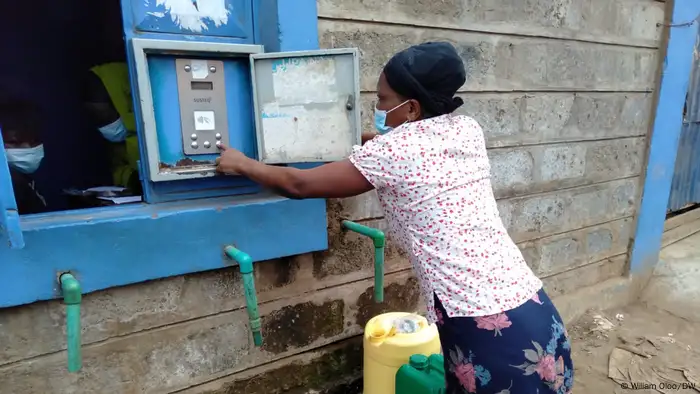 Water points are a gathering point in Kibera where women gather to collect water, news and gossip
Different community groups in Kibera are still very traditional and retain most of their cultural and religious practices, so one has to adopt a very sensitive approach when disseminating information.
Relaxing too soon
Despite the rising number of COVID-19 cases in Kenya, people there are resuming their normal rhythm of life. Young people are gathering again to watch international sports on TV. Religious groups are hosting large services and wedding ceremonies, all of which are against the COVID-19 health regulations meant to prevent virus spread.
Factual information is needed to convince the residents of Kibera that the coronavirus affects people across the social strata. Setting up the CCC will support efforts to make factual and timely information available in Kibera to help reduce the effects of the pandemic.
The women leaders in Kibera understand the necessity of reliable information. So together with them, the CCC will be able to distribute compact information packages to local leaders and influencers that are targeted, comprehensible, fact-based and adapted for the respective target groups in the civilian population.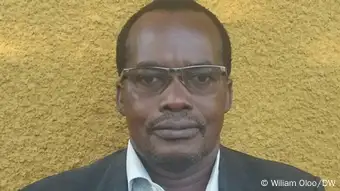 William Oloo Janak
William Oloo Janak is a veteran journalist and media trainer with more than 30 years of experience with both local and international media. He is currently the Chairman of the Kenya Correspondents Association (KCA) and the Secretary of the Congress of African Journalists (CAJ). He is the project manager of the Crisis Communication Chapter in Kenya supported by DW Akademie.
This project is part of the global initiative "Transparency and media freedom - Crisis resilience in the pandemic" from DW Akademie and the German Federal Ministry for Economic Cooperation and Development (BMZ).