On the crumbling living room wall of a ruined villa in Burkina Faso's capital Ouagadougou, the word "JUSTICE" can be seen among spray-painted portraits and other graffiti. Less than a year ago, the room was part of a luxurious mansion belonging to the brother of Blaise Campoaré, the former president. But after Compoaré was toppled from power in October 2014, the house was gutted.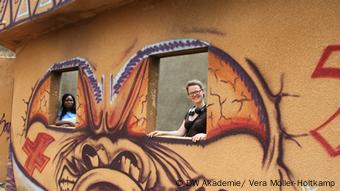 On the look-out for details: Amélie Gue from Lefaso.net (left) with German colleague, Lea Koch from Germany's WDR broadcaster
The stop at the villa was part of a so-called "Sites of the Revolution" tour that Burkinabé journalists gave their German counterparts during a four-day Media Dialogue held in the capital in early August. "You can still feel the determination of the people who took over this place," said Marius Münstermann, a German freelance print and online journalist. "It feels like a pilgrimage site," he added.

Burkina Faso, which translates as the "land of honorable people", is a landlocked country in West Africa. For 27 years, it was under the rule of Campaoré, an era already referred to as the "ancien régime" since his ouster last Fall. Members of the entourage once surrounding Campoaré, and which included his brother François, have since been stripped of their privileges. For years they had lived in splendor while most of the population remained poor. Now the country has embarked on a new path.

"African Spring"

These days, people are hoping for a better life, for justice and democracy. "Pour le people, rien que pour le people!" ("For the people, just for the people!") is the slogan of the grassroots movement called "Le Balai Citoyen" ("The citizen's broom"). The language is reminiscent of the French Revolution, with one major difference: there was little bloodshed during Burkina Faso's own revolution. It's celebrated as a peaceful one.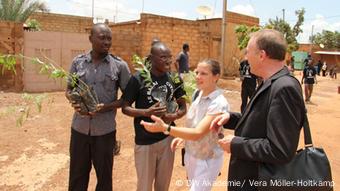 Project manager Gerlind Vollmer (center) with Michael Tecklenburg, Head of DW Akademie's Africa Division, at a tree planting campaign organized by the protest movement
Democratic presidential elections are now scheduled for October 2015 and political observers are referring to this phase of the transition as the "African Spring", reflecting the many hopes that accompany it.

Three months ahead of the first election round, the six German journalists travelled to Burkina Faso to meet with six Burkinabé colleagues. DW Akademie organized this Media Dialogue on behalf of the German Foreign Office with the goal of providing opportunities for intensive discussions and joint research.

"Election preparations are underway but this isn't the critical phase yet," said Gerlind Vollmer, DW Akademie project manager in charge of the Media Dialogue. "Things have been quiet so far and it's a good time for journalists to gather background information."
New start for reporting
DW Akademie's local project coordinator, Boureima Salouka, was also involved in organizing the program which included meetings with eyewitnesses and leaders of the "Le Balai Citoyen" movement, as well as a visit to the state television broadcaster RTB. Participants also spoke with experts from the so-called reconciliation commission, constitutional scholars, members of the anti-corruption commission and economists. The German journalists were particularly impressed by a meeting held with traditional clan chiefs, including the administration minister of the Kingdom of Boussouma.
In essence, the program offered a close-up look at a country in the wake of a peaceful revolution. International media will once again be focusing on Burkina Faso when the people head to the polls in two months' time. German participants of the Media Dialogue now have more insight, new contacts, a better understanding of the local context and the characteristics of the country as a whole.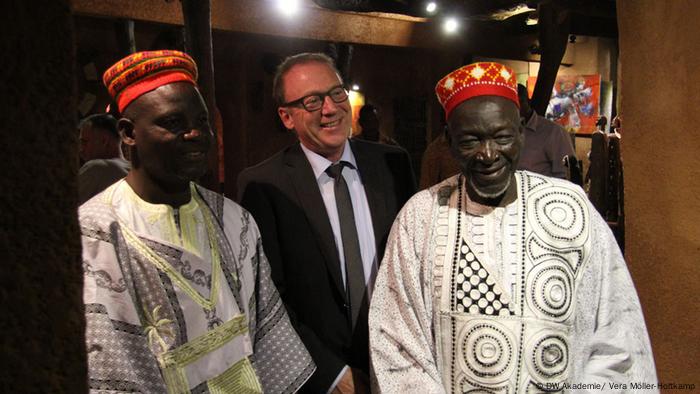 Michael Tecklenburg, Head of DW Akademie's Africa Division (middle), and Wayalgin Naaba du Diima (right), administration minister of the Kingdom of Boussouma
"The Media Dialogue was aimed at supporting German media coverage of Burkina Faso," said Michael Tecklenburg, head of DW Akademie's Africa Division. "Within an African context, the events here offer a model for peaceful transition. Civil society is incredibly well organized here, but we know little about this in Germany."

The Burkinabé participants said for their part they had benefited from new journalistic approaches – not to mention from all the questions that were asked. "I've had to rethink a number of things here," said Idrissa Barry, editor-in-chief of the independent magazine Mutations.

Teamwork

One program highlight was the teaming up of German and Burkinabé journalists. Each team of two chose a topic - for example, how the protest movement was sparked - and then went on to produce a report.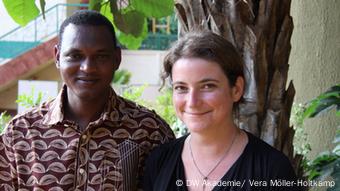 Teamwork: Idrissa Barry (left) and Simone Schlindwein
"My partner has an excellent network and was able to organize several people we could talk with," said Simone Schlindwein, African correspondent for the German daily taz as well as the radio broadcaster Deutschlandfunk. "I learned a lot from Idrissa. He's also an activist and a media consultant for 'Le Balai Citoyen'. Being a journalist and taking a stand is common here," she added and pointed out that while not always obvious, a dual role like this is fairly common all over the world. For his part, Barry said he was impressed by his colleague's persistence. "Simone never stops asking questions and she really goes in depth," he said.

After an intensive four days the 12 journalists returned to their own jobs. The Burkinabé journalists said they'd be taking many new questions and ideas back to their offices. As for the German journalists, media consumers in Germany will soon be learning more about Burkina Faso - and seeing a more complete picture of this West African country.