In the middle of the night in Coatzacoalocos, a port city in southeastern Mexico, Raquel and José Manuel Hernández were suddenly woken by a loud noise outside their window. José ran outside to check on his taxi while Raquel ran for safety with their daughter.
That was in May 2015. José has not been seen since. Like many men in Coatzacoalcos he was the victim of one of the worst human rights atrocities – one that the United Nations (UN) awkwardly refers to as "enforced disappearances". It points to those, like José, who have been robbed of their freedom.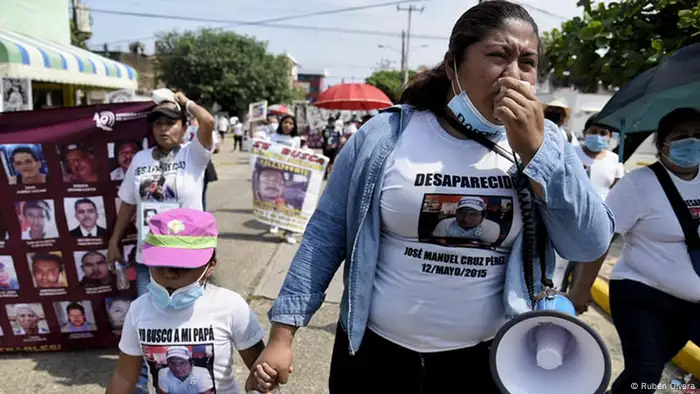 Raquel has been searching for her husband since 2015. Her six-year-old daughter wears a t-shirt with her father's photo and the words "I'm looking for my papa"
And people are not just disappearing in Coatzacoalcos. Since the start of the Mexican drug wars in 2006, 85,000 people – or "desaparecidos" as they are called – have been listed as missing. Eleven more vanish every day, leaving their families in a state of constant uncertainty. Political decision-makers have not offered help and traditional media rarely cover the issue.
The family's suffering is downplayed and the victims are often stigmatized. The general consensus is that those who disappear are somehow connected to organized crime. But in reality, this could happen to anyone.
Técnicas Rudas is a DW Akademie partner and supports social movements and human rights activists through technology, strategic research and stakeholder networks. The Mexican organization wanted to change the distorted view that bystanders have of the disappearances and looked at how to make local populations aware of the issue, ensure that the voices of the families are heard, and give others an understanding of the families' grief and pain.
The answer is to promote empathy, art and dialogue. "Art and poetry help communicate difficult and painful situations. People become aware and can start taking action," said Itzell Sánchez, a project manager at Técnicas Rudas.
"Narrativas y Memorias de la Desaparición en México" ("Narratives and Memories of Disappearance in Mexico") is a project bringing artists, media professionals and researchers together with family members like Raquel Hernández. "We want to be a mouthpiece for the families so that they can be heard," said Itzell.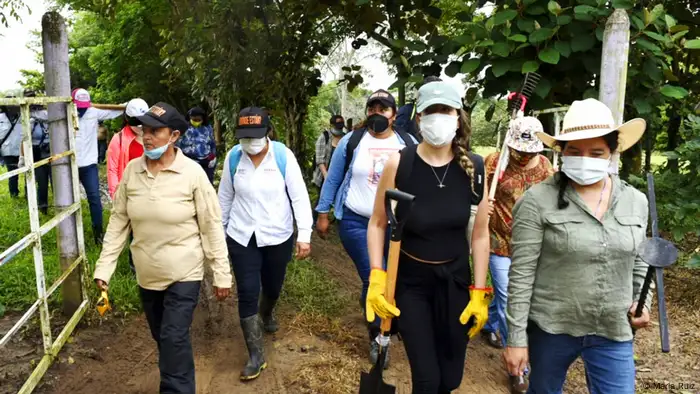 Artists accompany families as they search for their loved ones in a field – equipped with shovels and boots
Arturo Muñoz Carcará, for example, is a musician who has turned into songs letters written by relatives to their loved ones. Together with family members he wrote "yolpaquilistl", a word that means "joy" in nahuatl, their indigenous language. Relatives now sing the song like a hymn. "It's important to develop new narratives and be able to create works of art for the public. This way the families have a sense of ownership and can take their work to meetings and demonstrations that contribute to their struggle," he said.
In handicraft workshops, the doll maker Sandra Reyes sews dolls together with family members, as a way to remember and honor those who are missing. Raquel Hernández has herself sewed a doll. It wears the clothes of her husband, José, and is for her daughter, Gema – to hold until her father returns.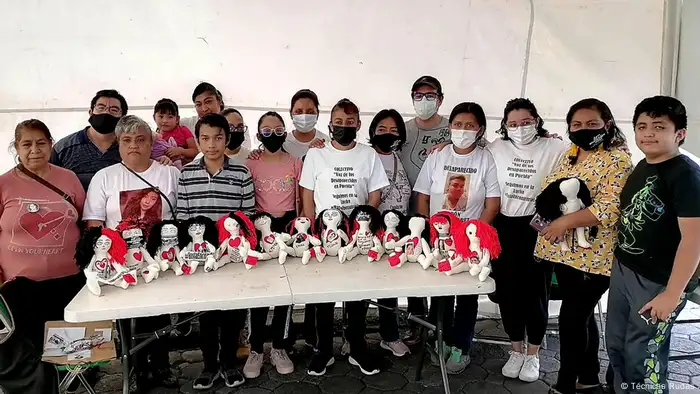 Families sew dolls as a way to honor loved ones who have disappeared
"Art is a universal language that everyone understands and gives others a sense of the pain that we feel," explained Raquel. "I don't want them to be so indifferent anymore but to instead help us to deal with our pain because this can happen to anyone," she said.
The project has resulted in more than 40 plays, songs and posters as well as artistic events held in the public sphere. They are a call for truth and justice and reflect the deep wounds left by the disappearance of those they love. For two weeks starting August 30 – the United Nation's International Day of Victims of Enforced Disappearances – the families' artwork will be on display in Puebla, a city east of the Mexican capital. Numerous online and local activities will accompany the exhibition.
Técnicas Rudas has been a DW Akademie project partner since 2020. The local independent organization in Mexico uses strategic research and develops networks to support the victims of forced disappearances and their families. DW Akademie's goal in supporting the project is to raise people's awareness of human rights issues. The project is financed by the German Federal Ministry of Economic Cooperation and Development (BMZ). In 2011, the UN declared August 30 to be the annual "International Day of Victims of Enforced Disappearances".
From the German original: Heidi Walsh