When it comes to connecting with young people, the way information is presented is key, and that's more than just a technical issue. While media and Information Literacy (MIL) has become a global buzz term, it matters little if the target audience isn't aware of how important it is.
As a result, a focus of the first "Youth Voices Matter!" User Lab workshop was to find new ways to connect with young Cambodians, including by coaching MIL skills. But ultimately, it was about helping youth find new channels to express themselves and have their voices heard, both in their own communities and among the country's decision-makers. Almost half of Cambodia's population (47%) is below the age of 25. By comparison, in the European Union, that same age group makes up only a quarter of the population. 
The two-day workshop brought together media specialists and youth representatives, and concentrated on three main aspects: an inclusive youth media approach for both rural and urban populations; the possibilities that youth media alternatives can offer compared to mainstream outlets; and the way that media covers could present political debates to spark the interest of young Cambodians. 
Getting the best out of new and traditional media with MIL 
MIL is extremely important, especially when it comes to social media, said You Y Li from the Cambodian Journalists Alliance CamboJA and a participant at the workshop. "According to an extrapolation of Facebook data published in April 2019, in Cambodia 89% of youth (13 - 35 years old) are on Facebook. Through this platform, they can access information related to social and political issues from independent and various kinds of sources," she pointed out.  
Li argued that young Cambodians are no longer a passive audience but have instead become content generators and actively voice their concerns, above all via social media.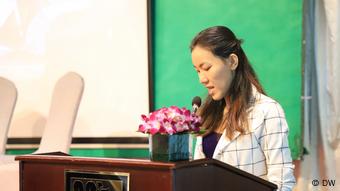 At CamboJA, You Y Li aims to support quality journalism in Cambodia
For this, it's crucial that young users can successfully navigate the media world. MIL plays an important role here, and at CamboJA, a priority is transferring MIL skills to young people entering the media field. "We encourage them to report on issues in their community and use their skills to verify and fact-check information for the public. That's because the public are [often] unable to identify credible and reliable sources of information on Facebook," Li explained.
The User Lab was originally planned to take place in Phnom Penh but due to COVID-19 was held online instead. This actually made it easier for the project partners (DW Akademie, Women's Media Centre of Cambodia and Cambodian Center for Independent Media) to invite more participants, allowing for more complex, enriching discussions. 
The workshop's primary findings indicate that a key for engaging with young audiences is finding the right mix of traditional and online media. However, much also depends on media outlets finding the right tone and topics. 
Food for thought for tomorrow's leaders 
This may include controversial topics, said Vicheika Kann of Politikoffee. Describing itself as "an informal weekly political discussion forum" that strives to cultivate democratic political culture, Politikoffee has struck a nerve with many young Cambodians. 
"Whenever there's a controversial discussion, young people participating in the forum always listen to the speakers, as well as to other young people, expressing their opinions carefully, ethically and responsibly – even if they see things differently," said Kann.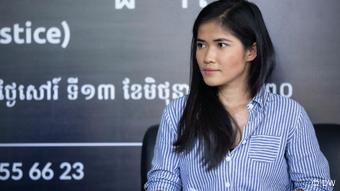 Vicheika Kann says strengthening political debate is part of youth development.
Speaking at the User Lab, Kann highlighted the impact that political topics can have on youth culture if delivered in the right tone and setting. She said that after heated debates, forum participants often smile at each other, take photos and continue to chat. "This shows that young people understand [the value of] non-violent and fair debate, that they can prevent conflicts, and that they are open to listening and accepting the opinions of others," she said. This, she stressed, is a vital quality for tomorrow's leaders. 
For the "Youth Voices Matter!" project, funded by the European Union and German Development Cooperation, the insights gained at its first User Lab were essential. Designed as a three-year project set to run throughout 2022, it will include a number of public debate forums where young Cambodians can discuss their topics with their communities. An important feature will be using the right mix of traditional and new media to accompany these discussions, and this way enabling everyone to participate. 
 Andreas Grigo is a trainer and project manager for DW Akademie.