"We want to watch the show! We want to watch the show!" chant forty young school children sitting in a small stuffy classroom on the Turkish- Syrian border. They are refugees and impatient for the TV show to start. We're here to present the first edition of "Yalla Nehna" ("Let's get going!") and to get their reactions. But there's suddenly a power failure and screening becomes a distant prospect. It's just one of the many challenges we've been facing during the past three months.

The project was sparked by an idea to design a TV program for Syrian children - the most vulnerable group in this conflict. More than a million Syrian children are currently on the move and constantly being confronted with violence. Many have not attended school for months.

Teamwork across the borders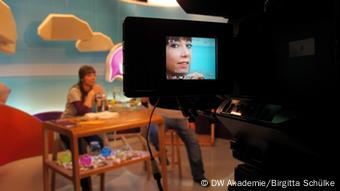 The "Yalla Nehna" studio in Dubai
Our partner in this project financed by the German Foreign Office is Orient TV - a moderate Syrian opposition channel that broadcasts from Dubai . "The children are lacking everthing right now: education, safety and care," says Fadi Jabbour, deputy head of Orient TV. "We want the TV show to offset some of the wounds."

He had no additional reporters and editors available for the program, so one of our priorities was to quickly put a new team together. Fortunately, we knew a number of Syrian citizen journalists from previous DW Akademie trainings who are based in Syria, Jordan, Lebanon and Turkey and who said they could work as correspondents. My colleague Alican Emre (name changed by the editor) in the meantime recruited talented editors and hosts in Dubai who had little television experience but were highly motivated.

A TV program to empower children

In November 2013, we met for the first joint workshop in Istanbul. Together with children's TV experts the editors and correspondents passionately discussed the concept. They wanted to produce a program that empowers the children, one that the kids can identify with and learn from, and one that does not portray them as victims but - in spite of the difficulties - focuses on their strengths.

In the following weeks eight correspondents were equipped with video cameras and editing computers and attended further training in Turkey while hosts, editors, graphic designers and studio engineers brushed up their skills in various workshops in Dubai. A total of 116 workshop days were filled with enthusiasm, the need to improvise and a barrage of questions: how to stay in contact with correspondents given unreliable Internet connections and phone lines, for example, whether one could do something for the safety of colleagues based in Syria, and how to cope with news about more and more people dying. This project required much more than everyone's professional skills. "We've all benefited - the participants and the trainers," says DW Akademie trainer, Niels Eixler. "There were often times when I wondered who was learning more from whom."

Modern, unconventional and entertaining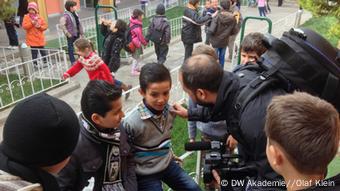 Children in the Turkish refugee camp, Gaziantep
Thanks to nightly Skype conferences and a closed Facebook group the team grew closer together. Necessity is the mother of invention, and that was certainly the case on the day of the show's first recording when the studio set was still being built and lit up. Still, we managed to finish the pilot show in time, and produced an unconventional and entertaining program that included portraits and reports reflecting the lives of Syrian children, fun clips, and pieces that easily explained a given topic and were supplied free of charge by the German public broadcaster WDR.

The concept has come across well. Maya Götz, head of the International Institute for Youth and Educational Television evalutated the project in Turkey and praised the show: "It's better than anything currently available in Arabic children's television."

And the children's response?
The power is finally restored on the Turkish-Syrian border and we're able to launch the pilot. Many children sit there with mouths wide open, laughing out loud, and then focusing on the screen again. At the end they clap wildly. A girl gives me a quick hug, saying, "That was great, thank you!" And then they start chanting again: "We want more shows! We want more shows!"

That's the best feedback any of us can imagine. And yes, the children will be watching more episodes soon: starting mid-March Orient TV will be broadcasting "Yalla Nehna" on a weekly basis.