In Mexico and Central America journalists often put their lives at stake reporting on violence, corruption and crime. DW Akademie invited 12 journalists from Mexico, Honduras, Guatemala, El Salvador and Germany to a four-day media dialogue to look at ways they can protect themselves. "Free Expression in Times of Organized Crime", was sponsored by Germany's Federal Foreign Office and held September 22-25 in Mexico City.
The meeting gave journalists facing threats in the region an opportunity to discuss experiences. They also looked at state and non-state protection programs, digital safety and new approaches, and came away with seven key points to keep in mind.

1. To what extent is there press freedom and freedom of expression in Mexico and Central America?
It's quite alarming. According to the Organization of American States' (OAS) human rights commission, on average, one journalist is killed every 30 hours. Free press opponents have become increasingly powerful, unafraid of sanctions because the state legal systems are flawed and the penalties few.
2. Who are the press' main enemies in the region?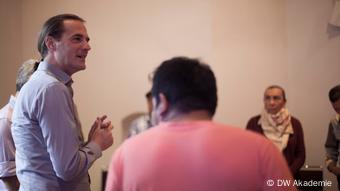 Johannes Metzler, DW Akademie project manager, moderated the media dialogue
They include corrupt local governments, business interest groups and organized crime units such as drug gangs, but journalists say the greatest threat is state violence. Politicians also influence the judicial system and it becomes especially dangerous when organized crime infiltrates state structures. Journalists often have precarious working conditions, corrupt co-workers and a lack of safety training. Now with the digital age, journalists are also increasingly being monitored and surveilled.
3. How is the state protecting journalists?
Mexico introduced a state protection mechanism for journalists and human rights activists in 2008. This was an important step but it was only through external pressure (from international organizations) that it landed on the government's political agenda. The state program, however, is inefficient and doesn't fully protect journalists. The journalists in turn put little faith in the system because they are being subject to state violence themselves. If the government really wants to project journalists, it needs the political will and a keen interest to do so. Guatemala, Honduras and El Salvador do not yet have state protection programs.

4. Who offers protection to threatened journalists?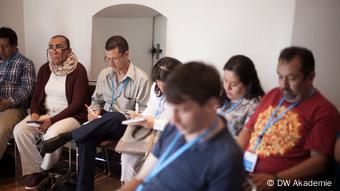 "Journalists should not be left alone with their fears," said one participant.
Non-governmental organizations (NGOs) such as the international organization Article 19 have introduced special programs to protect media workers and promote freedom of expression. In addition to documenting attacks against or the murder of journalists, Article 19 also offers journalists legal support. With governments not protecting journalists, organizations like these are often the only ones that do. Still, they have limits given their own financial constraints.
5. What are the new threats facing journalists in the digital age?
Latin American journalists work mainly with digital devices like computers, tablets and mobiles, and so are more likely to be monitored. The state, business sector and criminals are also interested in surveilling journalists' online activities and work.
They want to control who the journalists talk to and whether they are interviewing government opponents or uncovering corruption cases. This means journalists need to be committed to protecting their personal data, sources and research results. They should use special tools available for this and ask their colleagues to do the same, and this way make sure that information is transferred safely. Digital safety has to become a priority for editorial offices.
6. What are the digital safety basics that journalists need to know?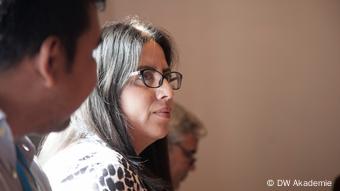 If possible, journalists should work online anonymously, using software such as Tor. They should know how to secure passwords (for example, by mixing lower and uppercase letters, numbers and special characters) and if possible use two-factor authentication. Journalists should encrypt all email correspondence containing sensitive material; they can also encrypt external hard drives using open source programs that prevent unauthorized access. Journalists surfing on public Wi-Fi should use a VPN. Before interviewing a person who has been threatened, journalists should leave their mobiles at home to avoid being monitored or located. They should lock all digital devices with a code. Finally, they should be extremely careful with emails sent from unknown sources and, if possible, avoid clicking on external links because these can contain malicious software or spyware.
7. What else can journalists do to protect their work and themselves?
Journalists should not keep their fears to themselves. It's important they create networks and share possible security protocols. Journalists should also demand support from their employers (editorial offices and media). After all, these should feel obliged to help protect their staff.