Fake news and hate speech are two of the most troubling trends to emerge from the re-ordering of public communication over the past couple of years.
At the same time, media and information literacy (MIL) has gone from a niche topic to being on the agenda of diverse players, from education ministries to journalist associations and social media giants such as Facebook.
These trends make discussions about MIL, and learning from those involved in its practical application, more pressing than ever.
A DW Akademie panel, held at UNESCO's World Press Freedom Day 2017 event in Jakarta, brought together six media literacy experts from the Gambia, Indonesia, Cambodia, Jordan, the US and Germany. The panel entitled "Media and Information Literacy Against Hate Speech" dealt with how the changing media and communications landscape are affecting MIL.
Teaching by letting people create and tell their own stories
Helping young people create their own media boosts the impact of MIL, said Pa Nguong Teang, the director of the Cambodian Center for Independent Media.
Speaking on the panel, Teang said that young people involved in MIL trainings in Cambodia experienced a mind shift. Before the training, they believed only old people were entitled to share their views about society whereas afterward they were putting forward their own perspectives by posting video blogs on Facebook.
They were also better at verifying whether information they found on the Internet was, in fact, true, Teang said.
These experiences reflect findings by Paul Mihailidis and Samantha Viotty, scholars at Emerson College in the US. In a recent journal article, the authors suggest that the standard way of teaching MIL needs to change to meet the challenges of fake news. Instead of focusing on negatively critiquing media, which fosters distrust of and alienation from the mainstream media, the authors say MIL should encourage people to critique and create media in support of the common good.
What's fake is a matter of opinion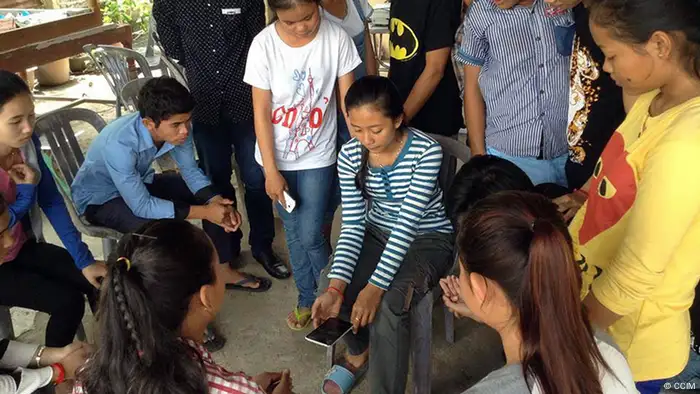 Young people from Cambodia's Svay Rieng province participating in a one-day media literacy training organized by the Cambodian Center for Independent Media in 2015
Another problematic tendency is the polarization of public discourse. Fake news has gone from a term for invented stories to a pejorative term for any news that doesn't correspond to the interests of the person using the term.
So when a US President criticizes the US-based broadcaster CNN for being fake news, this judgment is in itself, of course, highly partisan. And if the state-funded international news outlet Russia Today launches a fact-checking web site, it's no surprise that that they primarily fact-check stories running contrary to Russian interests.
Breaking out of the cozy filter bubble
The personalization of news feeds on social media tend to entrench these differences because people are often presented with information that confirms, rather than questions, their opinions.
For this reason, it's vital for people to "think broadly about the information they see" and to look for other sources, said Claire Deevy, Facebook's community engagement manager for the Asia-Pacific region.
Deevy said Facebook's research had found that showing people the polar opposite of what they believe often only reinforces their current beliefs.
"So (Facebook) is trying to look at things in form of a spectrum. How do you show people information that is maybe not exactly what they have been looking at but slightly different that challenges their viewpoint? We are trying this at the moment," she said.
In February, Facebook CEO Mark Zuckerberg had announced that the social media company is working "to help people see a more complete picture."
Panelist Adama Lee Bah, the youth representative of the Global Alliance for Partnerships on Media and Information Literacy, emphasized that people actually have a choice and can view different sources. Bah, who hails from the Gambia, also stressed that deciding which messages to share and comment on social networks also requires a critical mindset.
Schools need to wholeheartedly embrace MIL
In order to foster critical minds on a broad scale, however, media and information literacy needs to become rooted in educational systems.
For instance, Cambodia's Center for Independent Media has worked with 500 Cambodian students in the past school year, explained its director Teang. But when MIL is integrated into the school curriculum in the coming school year, more than 100,000 pupils would benefit, he said.
MIL isn't yet a common subject matter in schools. Some developing countries, such as Indonesia, are working on rolling out media and information literacy in schools country-wide.
But it's not always an easy sell to establish a new topic for young people to learn at school. Digital literacy trainer Abdallah Al-Kafaween from Jordan said getting MIL into the Jordanian national curriculum would require considerable advocacy work. His hope was to convince students and parents of the necessity of MIL and that they would then demand its inclusion.
Media literacy isn't just for kids
In the discussion following the panel, an audience member raised the important point that the older generation shouldn't be forgotten because they often lacked the media skills digital natives grow up with.
This could be a direction for MIL practitioners to explore more extensively, expanding the target group beyond children, adolescents and young adults.