#mediadev recently published a series of portraits of how 13 people in seven different countries consume and view media, including a blind farmer in Burkina Faso, a fruit vendor in Guatemala and an eco-activist in Ukraine.
The idea behind the portraits was to humanize some of the trends of the changing media environment – trends such as the shift of news consumption to the mobile Internet, Facebook's increasing domination as a news distributor, and the continuing importance of radio in providing local information.
The portraits illustrate some of the benefits of and concerns about the new digital world. Here's what we found, along with some recommendations for media development organizations.

Not all the world is equally connected

"I can't live without the Internet," stressed Ugandan journalism student Fortunate Nagawa in a conversation with #mediadev.
The twenty-two-year old said she constantly used her smartphone to check Facebook, read news, look at fashion and look up information. While Fortunate regularly reads the paper and watches TV, she said the web was her main source of news.


Ugandan journalism student Fortunate Nagawa
Fortunate, who lives in Kampala, Uganda's capital, can go online whenever she wants. This makes her an exception in the East African country, where less than one in five people, or 19 percent, used the Internet in 2015 (the latest year for which figures are available).
Uganda is an example of the enormous disparity in global Internet access. Although 47 percent – nearly half of the world's population – was estimated to be online by the end of 2016, this figure differs dramatically depending on where people live.
In developed countries, 80 percent of people used the Internet in 2015, according to a recent report by the UN's International Telecommunication Union (ITU).
In developing countries, this figure plummets to 40 percent.
Even fewer people are online in rural areas, where mobile broadband coverage is often lacking – especially in less developed countries, such as Uganda. There, for example, only 27 percent of its population (and seven percent of its area) was covered by 3G mobile broadband in 2015.
According to the ITU report (whose findings are mirrored in research carried out by DW Akademie) women, low income earners and the poorly educated are also less likely to use the Internet.
Sandra Gómez in Guatemala ticks all these boxes. The mother of five lives in Palín, a rural town near the capital, Guatemala City. Falling pregnant for the first time at 14, Sandra had very little opportunity for schooling and now sells fruit at a small stall at the side of the road.
Sandra earns between $4 and $7 a day, which means, unlike Fortunate in Uganda, she simply can't afford to go online at all.
In this, Sandra isn't unusual.

Internet coverage doesn't equate to Internet use

The ITU estimated that 84 percent of the world's population are now covered by 3G mobile broadband. This means the infrastructure is in place for the vast majority of people around the world to use the Internet on a cell phone.


Sandra Gómez from Palín, Guatemala
Like Sandra though, there are numerous reasons why more than half the world (53 percent) is still offline.
Affordability, as Sandra's case illustrates, is a significant barrier to going online – a finding highlighted in a report by GSMA, the global association for the telecommunications industry.
Even César Canil, a human rights lawyer in Guatemala City, complains that accessing the Internet on his mobile phone is expensive.
He pays $45 per month. Without the Internet, though, explained César, he wouldn't be able to access independent information in a country where traditional media houses are concentrated in the hands of business elites.
César also lamented that his clients, who are for the most part Indigenous people living in remote areas, not only can't afford the mobile Internet, they also aren't educated enough to be able to use it.
"It would be ideal if everyone could read independent information but there is still much poverty and poor access to education in this country," he said.
Lack of digital literacy and skills is another of the key barriers to people going online, the GSMA report found.

Internet lacks local content in local languages

The GMSA study highlighted the lack of locally relevant content as another reason for the low uptake of the mobile Internet in Latin America. Our conversations revealed the same phenomenon in other regions of the world.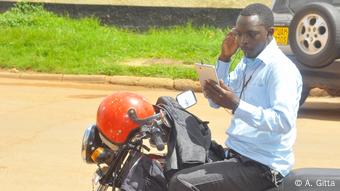 Ugandan boda boda driver Mwanje Bernard
In Uganda, boda boda driver Mwanje Bernard told #mediadev he owned a smartphone but used it mainly for listening to local radio because he had difficulty understanding English, the language of much online news in Uganda.
Bernard appreciated that many radio stations in the capital Kampala broadcast in the language he speaks, Luganda.
In fact, our conversations also reveal the continuing importance of radio for local language speakers, especially in rural regions.
For example, in Burkina Faso, blind farmer Seydou Ilboudo relies on radio programs broadcasting in Mossi, his mother tongue, to help him harvest good yields.
"Thanks to the farming programs, I've learned a lot about agricultural techniques," he said.

Facebook headed for world domination

"[Facebook] is very important for my life," said Sreymom Khem, a former garment worker who now makes a living providing small loans in Cambodia's capital, Phnom Penh.
"When I worked as a garment worker, I only listened to the radio," she said. "Now, I like reading news on Facebook."
Facebook is by far the most popular website in the South East Asian country, accounting for around two thirds of Cambodia's total Internet use. And the trend of turning to Facebook first for news and information can be seen in many other countries across the world.
"I rarely open any websites directly," Yulia Melnyk, a Ukrainian eco-activist, told #mediadev. "I use my Facebook feed as a filter."
Facebook is now one of the largest news distributors in the world, bringing content to its 1.8 billion active users.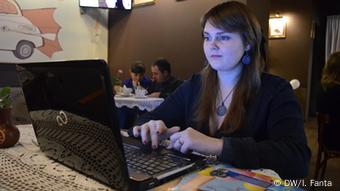 Ukrainian eco-activist Yulia Melnyk
Its dominance as a media organization raises concerns about Facebook's lack of transparency around how it determines what content people are shown or what they aren't shown – a biased content selection, for example, could potentially influence people's opinions and beliefs especially in regions where access to alternative news and information sources are limited.
In addition, although Facebook distributes news, it doesn't curate the news (although rumor has it, it is working on introducing curated content) and its algorithm "struggles to distinguish between high-quality content from established media outlets and the glut of low-quality, fake news stories that go viral across the social network", as Business Insider UK, an online business site, puts it.

This brings us to the issue of trust

Globally, trust in news sources and the media has fallen to an all-time low. Some of the reasons for this are the lack of news outlets free of state or industry influence, the rapidly changing media environments and, as mentioned above, the surge of fake news.
This is creating a demand for credible and independent news sources – although those we spoke to all had diverse opinions on where to find these.
Yuriy Kupinsky, a freelance web developer in Ukraine, gets most of his news from Facebook because in Ukraine the concentration of media ownership means truly independent news is a scarce resource.
Kupinsky says he relies on established international sources such as the Reuters news agency or the BBC to double-check information.
In Guatemala, César Canil turns to several independent online news sites, such as Plaza Pública, which publishes investigative reports with a human-rights focus, for political information.
In Cambodia, where the ruling party indirectly controls much of the country's media, former garment worker Khem Sreymom relies on Facebook because she "doesn't trust" TV news to keep her informed.


Governments tracking your thoughts online

Although Sreymom posts selfie videos to Facebook when she takes part in events or demonstrations, she admits she's "afraid" of attracting government wrath.
"My friends also told me not to post or comment something bad about the government. I am careful," she says.
Freedom House's most recent Freedom on the Net report found that in 2016 "more governments [around the world] aggressively targeted social media and communication apps than ever before."
The report found that two thirds of all Internet users, or 67 percent, live in countries where criticism of the government, military, or ruling family was subject to censorship.

Lessons for media development

Despite risks of human rights abuses through mass surveillance or Internet shutdowns, digital technologies are essential tools for promoting fundamental rights such as freedom of expression and access to information. They can also help create inclusive public spheres and strengthen political discussion.
Here are several things media development initiatives and activities can do to help make sure that everyone benefits from the global media revolution.
Help strengthen laws regulating media ownership transparency, as well as anti-trust rules and provisions securing media pluralism.
Support digital media and information literacy programs to help get a wider range of people online (not just young, educated, city dwellers).
Create programs specifically targeting marginalized groups, such as the elderly, women and rural populations.
Ensure such programs include information about digital dangers such as surveillance and loss of privacy, and teach people how to stay safe online.
Support the development of high quality local content in local languages.
Help traditional local media outlets expand online (for example, by assisting radio stations in drafting social media guidelines).
Author: Alexander Matschke (hw/kh)