The Pop Up Think Tank brought together more than 122 journalists, experts, entrepreneurs, and young people to discuss Tunisia's environmental crisis and explore practical solutions.
Over seven weeks, the Pop Up Think Tank offered a co-working space in downtown Tunis, where journalists and entrepreneurs could meet daily. The Pop Up Think Tank also included a diverse agenda with 15 events and activities, such as panel debates, more private Friday talks, movie nights and workshops – all in the name of environmental journalism. The participants could put their new knowledge and skills to the test in the Pop Up Think Tank pitch competition, and they selected environmental ideas which were awarded a production stipend.
One participant, Tunisian journalist Saida Zemzemi (39) discovered her interest for environmental issues and the question of what determines the behavior of citizens towards the environment at a young age. She recalls watching nature programs and the urge to make a difference in protecting the environment. In 2016, she founded the Tunisian environmental media platform Albiaanews.
DW Akademie

:

How did you become an environmental journalist?
Saida Zemzemi: Since a young age, I was interested in the environment, I was always impressed by the work of international organizations on the issue and policies aiming to change behaviors, and I watched many programs about nature and the environment. I have always wanted to work on environmental topics – and sensibilization, raising awareness and changing behaviors is the role of a journalist. Since my university days, I had the idea of launching an environmental media [platform]. I launched Albiaanews in 2016, and among other goals, it aims to show citizens ways to preserve and protect the environment and resources for generations to come.
Can you tell us more about your experience in the

Pop Up

Think Tank?
The Pop Up Think Tank project was a rich and important experience for me and the other journalists. It gave us many tools, such as working with data, quality journalism, and how to prepare and produce more efficiently. The weekly expert panels were very useful for journalists. Journalists need to develop their capacities in order to produce more reliable information. The Pop Up Think Tank project gave us the tools that we need in our daily work.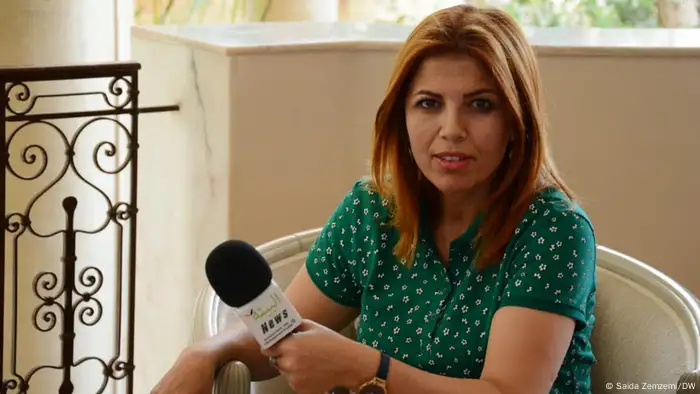 Saida Zemzemi, founder of Albiaanews, took part in the Pop Up Think Tank
What are the most pressing environmental challenges in Tunisia?
The urgent topics are related to climate change such as water scarcity and food security. At Albiaanews, we focus on these topics and try to raise awareness. In the Pop Up Think Tank Project, we discovered how different parties of interest can and should be included in developing solutions. We also explored the importance of storytelling.
Can you tell us more about

your production for the pitch competition?
For the pitch competition, I worked on the topic of water scarcity and the effects that it has for farmers in the northern Tunisian governorate of Mandouba. The government has taken measures to reduce the amount of water provided to farmers without informing them beforehand. This had serious consequences, as the farmers depend on their agricultural output for their living.
The skills that I obtained during the Think Tank, as well as the feedback and mentoring by coaches, helped me improve my production. Working as an environmental journalist is not easy. Also, it is important to apply a solutions-oriented approach, and present approaches that can help us all overcome environmental challenges. Overall, the Pop Up Think Tank gave me also motivation to produce more content, and since the end of the project, I have produced and published many stories on Albiaanews.
The Pop Up Think Tank project is part of the initiative "Initiative for Transparency and Freedom of Expression: Media Resilience during Crisis" and financed by the German Federal Ministry for Economic Cooperation and Development (BMZ).