The think tank is open to journalists, entrepreneurs, experts and civil society members from Tunisia and offers a variety of panel discussions, dialogue formats and workshops that tackle pressing environmental issues.
A space to understand, analyze and discuss challenges
Crises, on both national and international levels, have become more complex in both their scope and nature. Tunisia is currently facing and will face many environmental issues related to resource scarcity and food security. Yet frequently there is a lack of a space to understand, analyze and discuss these challenges in detail. Social media, for example, often does not offer the right platform to develop meaningful solutions.
To provide a physical space that can help tackle crises at their root cause, DW Akademie, supported by the German Federal Ministry for Economic Cooperation and Development (BMZ), is piloting a new format in Tunisia: The Pop-Up Think Tank, part of the "Initiative for Transparency and Freedom of Expression: Media Resilience during Crisis".
Program includes debates and dialogue formats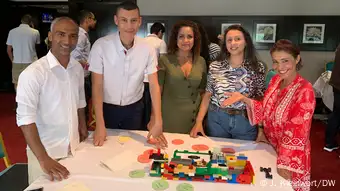 In September 2022, DW Akademie gathered journalists and entrepreneurs in Tunis for an Idea Lab. The goal was to identify the crises that are not sufficiently covered by Tunisian media. The Idea Lab's findings resulted in the topics of the Pop Up Think Tank.
The think tank offers journalists, entrepreneurs, experts, members of the civil society and other interested parties a physical space for co-working, discussion and dialogue. The co-working space provides workstations, access to a variety of scientific magazines and strong internet connection. It was established with the help of local Tunisian start-ups and constructed using sustainable resources, such as cardboard.
Throughout the duration of the Pop-Up Think Tank, a compelling program is on offer, consisting of a variety of panel debates and dialogue formats with experts, along with accompanying workshops.
The program is divided into three different thematic blocks: the first two weeks are dedicated to environmental issues in Tunisia in general, the second block targets water issues, and the third concludes the think tank by engaging in issues of food security. The think tank will bring together journalism, scientific expertise, diverse knowledge, initiative and innovation.
Register now
The official opening event takes place on January 9, 2023, starting from 5:30 pm. Experts will discuss how science journalism can contribute to solving crises. Furthermore, the full program for the Pop-Up Think Tank will be presented.
Registration for the think tank is now open via this link.
Contact for further questions
Cyrine Ben Saad (Tunisia): Cyrine.BenSaad@dw.com, +216 27 610 555
Jenna Kleinwort (Germany): jenna.kleinwort@dw.com