Imagine you are a local media editor. You wake up one February morning from the sound of explosions. The war is knocking at your door and dozens of neighbors are already packing their things.
What will you do? You are a journalist, but at the same time you are a person that cares for your friends and family. Will you take your loved ones to safer parts of the country? Will you get in line for the draft board to be sent to the front? Or will you call an emergency meeting to keep your media outlet running and try to adjust to the new situation?
It is not an easy choice and you will always doubt if you made the right decision.
Not all media outlets will survive
Now let's fast forward to spring 2022. Ukraine withstood the blow, its troops managed to repulse the attacks on Kyiv. The world is discussing the terrible crimes in Bucha, Mariupol, and other cities. Information from these places comes from, among others, Ukrainian journalists. Does this mean that the media are faring okay? Of course not.
Editorial offices from the territories where the Russian army entered naturally suffered more than others. Some of them were lucky enough to be evacuated and continue to work as "internally displaced media". However, quite a few media professionals left journalism. If an editor-in-chief decides to quit to join the war effort, it can take an entire editorial office out of the game.
Many local media outlets have lost their audience. Tens of millions of Ukrainians left their native regions. In the occupied territories, the Russian military immediately began to cut off information networks from the Ukrainian media environment. In Russian-occupied Luhansk for instance, Ukrainian sites were blocked by local providers and mobile internet was turned off, leaving people without access to information.
Soldiering on despite extreme conditions
In October 22, Russia started to target civilian energy infrastructure, which greatly complicated the work of Ukrainian media. Newsrooms had to buy autonomous charging stations and generators, as well as Starlink for uninterrupted internet.
Physical reporting work was severely restricted by martial law. Official authorities have become the main newsmakers in an environment of limited freedom of speech. Journalists have been taught to stifle the urge to be the first to upload photos and videos from the places where missiles and kamikaze drones hit because this could help Russian spotters.
But those media that continued to work despite the terrible external and internal pressure quickly found their relevance. Editorial offices have learned to work remotely. Many have mastered new challenges, such as conducting hours of consecutive live broadcasts. Social media channels have become the main sources of information during the war. It is there that audiences are looking for news.
Grants from international donors helped plug financial holes. And media support programs such as from the Media Development Foundation, Thomson Reuters Foundation, and MediaFit from DW Akademie, Canal France International and Lithuanian Radio and Televisions, have helped surviving newsrooms to adapt their media strategy to the new reality. The organizations have helped newsrooms reconnect with their audiences, organize workflows, and embrace new formats, most notably video. For instance, Ukrainian-language YouTube has become an alternative to the formerly diverse television landscape.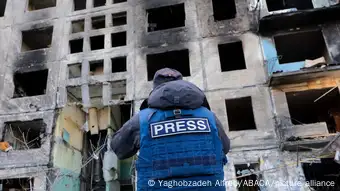 A journalist covering Russia's war on Ukraine
What's next?
In late 2022, I had the opportunity to speak with local journalists who had fled from the occupied eastern region of Ukraine yet found the strength to continue their work remotely. We tried to predict new challenges that await us in 2023 – among them ongoing war, economic recession, additional occupied territories, fatigue and apathy of the population.
As journalists, we need to return to liberated cities to quickly organize effective media work there. Investigative journalists should study not only the crimes of the Russian military, but also the abuses conducted by authorities. Also, we must question those who so generously promised to quickly restore the destroyed Ukrainian cities as to why so little has been done. And we should remember to tell the stories of survival from ordinary people.
Of course, the immediate challenges remain: at any moment journalists can be under fire, many suffer from psychological trauma and no one even talks about burnout – it is not the time.
As a local media editor, your thoughts every morning are actually not much different from the morning of February 24, 2022. The same questions keep reappearing in your head: What should I do? Should I continue to do journalism? Is this really my civic duty?
Then you dial in to your online editorial meeting. That is, if there is internet and power, of course.
Andrii Dikhtiarenko is a Ukrainian journalist, editor and TV presenter. He owns the online media Realnaya Gazeta which specializes in the situation of the occupied Donbas. Until the summer of 2014, the editorial office was located in the city of Luhansk. After February 24, 2022, he is also the host of the United News National Marathon.