It's March 17, 2016 and when I enter the editorial office that morning, the mood at Radio Fara'a is tense and emotions are running high. My colleagues are gesticulating wildly and loudly voicing their opinions on the latest political developments. This is a microcosm of what is happening in the rest of the country. In just three days, Nigeriens are due to vote in a presidential run-off that is being boycotted by the opposition.
I sit down at the large editor's desk. A few minutes later things get too noisy for me, and I demand that everyone calm down. "We need some quiet here!" I say. I'm editor-in-chief at the private radio station Fara'a in Gaya, a city on the border with Benin and about 300 kilometers away from the Nigerien capital, Niamey. "We need to calm our listeners," I tell them, "but first, we have to calm down ourselves." Throughout the country, tensions between supporters and opponents of the incumbent president, Issoufou Mahamadou, are running high. Many Nigeriens are afraid of increased violence and instability.
A call for dialogue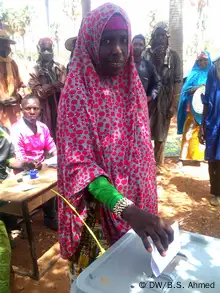 Voters often traveled far to cast their ballot
My colleagues join me at the editor's desk and look at me expectantly. I remind them of what happened the week before. The regional opposition candidate complained after we invited a representative of the governing party to talk with us in the studio. "We have to remain balanced and unbiased," I caution my colleagues. "Yes, but how?" some of them ask.
I suggest that we invite someone who is independent and well-respected to be our studio guest. That could calm down our listeners, I say. Everyone agrees and we decide on Adamou Idé, who is widely seen as a wise man. He comes to the studio for our midday magazine show. In a trembling voice he reminds listeners that the future of the country lies in their hands. "If we talk to each other we can overcome our differences," he urges. "We all want peace, and that means we have to help bring it about!"
My colleagues are pleased with the interview, and after the show we congratulate ourselves on our excellent decision. Someone suggests that in the run-up to the vote, we issue daily reminders to our listeners about their personal responsibility for Niger's future, and that we also warn them about rising ethnic tensions being exacerbated by politicians.
Giving people a voice
On Election Day I take a long walk through the city. The overall mood is no different from any other Sunday. There are no angry demonstrations or loud discussions in front of the polling stations. I check in at various ones to get a sense of what is happening on the ground.
In Bengou, a lively district of Gaya, a polling station has been set up right next to a mosque. Many women are lining up to cast their vote, and Amina, a woman in a patterned dress, nods to me and smiles. She tells me the run-off is very important to her. "I came here to cast my ballot," she says, "because I love my country. That's why I want to vote and I invite everybody else to do the same!"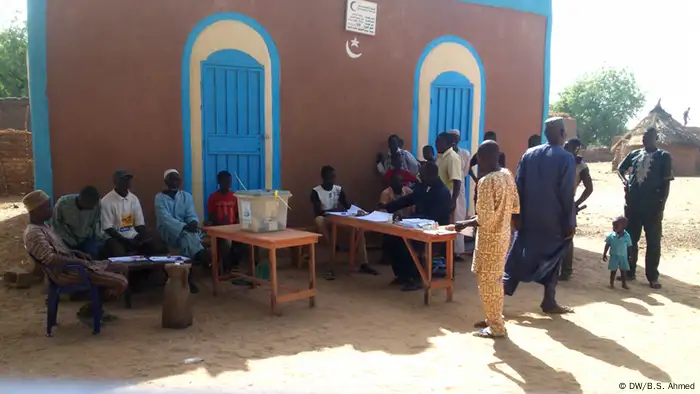 Sidi Ahmed headed out of the city to get a sense of voting in rural areas
I drive out of the city to see how things are unfolding in rural areas. That's something I wouldn't have done before because it requires a fair bit of effort. But now I want to gather my own impressions instead of just repeating what the national broadcaster in Niamey is saying in its newscasts.
The polling station in the village of Bana is about 30 kilometers from Gaya and is made out of straw mats and surrounded by palm trees. The voters have formed a long line in front of the station. They all come from the region and many of them are cattle breeders. They've come on foot from far away in order to cast their ballot. I record short interviews with them, and many emphasize how important it is to vote.
Tired but satisfied with the day's many impressions, I drive back to Gaya
I'm glad that I haven't just talked with politicians. Previously, I would have just invited them to the studio and that would have been it as far as reporting on the election was concerned. Now I know how important the voices of ordinary people are. They're honest and direct, and they reflect the general mood of the country.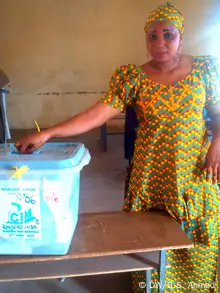 This woman says she came out to vote because she loves her country
Back in Gaya, an old man beckons me closer. He wants to say something on the microphone. "I'm so happy that everything has stayed calm," he says, echoing what many Nigeriens are probably thinking today.
But for me, Election Day is far from being over. I still need to sit down at my computer to edit the many sound bites that I've recorded. In my magazine show on the run-off, I want to make sure that as many people as possible have their voices heard in order to convey a lively and authentic sense of what this important day has been all about.
Balkissa Sidi Ahmed is the General Secretary of the Nigerien network for conflict-sensitive reporting. The 34-year-old journalist was initially trained in this area of reporting by DW Akademie and went on to train as a trainer for conflict-sensitive reporting herself, along with 11 other local journalists. Since 2014, she has been training colleagues and community journalists from the West African country's community radios in conflict-sensitive reporting.
From November 2012 to spring 2016, DW Akademie was engaged in developing a sustainable framework for the promotion of conflict-sensitive reporting in Niger. The long-term project was financed by Germany's Federal Foreign Office. Around 350 Nigerien media workers from private, public and local radio stations participated in the DW Akademie workshops.