"The polling stations open at six in the morning and close at four in the afternoon," explains Su Myat Wai as she holds up the two colorful paperclocks. She's preparing a journalists' workshop on election reporting and these improvised clocks are part of her training material.

Ten years ago Su Myat Wai was a journalist herself. She initially worked for the state newspaper "New Light of Myanmar", then for the regional TV channel "Channel News Asia", and finally as editor-in-chief for a well-known weekly in Yangon. She's now a journalism trainer and has a permanent contract with the Myanmar Journalism Institute (MJI). This is one of the first times she's conducting a workshop, so she's understandably a little bit nervous.

"It's new for all of us," she says, and tells how the MJI had offered three other journalists and herself a six-month training program for aspiring instructors, as well as a contract. Su Myat Wai didn't hesitate, seeing it as an exciting career opportunity.

Adult education, methods and e-learning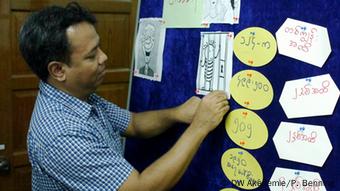 "We need new trainers," says training director Sein Win
The MJI training director, Sein Win, was hoping for responses like this. "Right now there are perhaps ten professional trainers in Myanmar who work according to international standards," he says. So it's no wonder, he continues, that when the MJI opened last summer, there were simply not enough trainers. "It's one thing to establish an institute that's in line with local laws," he admits, "but running it with local staff is an entirely different matter. We had to do something."
That's where DW Akademie together with partners in an international consortium stepped in, and with the training director developed a curriculum for the MJI's "Training of Trainers" (ToT) program. The six-month syllabus offers journalistic know-how, training methods, the principles of adult education, and skills for working with the "Moodle" e-learning platform. The MJI introduced the web-based learning management system (LMS) in autumn 2014, and was the first to do so in Myanmar. At this point it's mainly being implemented in a part-time degree program for aspiring trainers. Every month they spend three weeks learning online and one week in the classroom, while continuing to work as journalists.
"The e-learning project is definitely a distinguishing feature of the MJI," says Isabella Kurkowski, head of the DW Akademie office in Yangon. "It's like gold-rush fever in Myanmar right now, with international organizations scrambling to offer journalism training. The MJI needs to stand out in the crowd and that's what we're working on," she says.


Presenting topics clearly
The MJI's training program has a clear role to play in this and Director Sein Win knows how he'd like it to develop. "The program is aimed at journalists wanting to become professional trainers, of course, but we're also hoping that at some point it'll bring in financial gains," he says. "It's already contributing to the institute's good reputation," he adds.
Before becoming a trainer, Su Myat Wai had taken part in numerous journalism workshops herself. While she says that international trainers are much more experienced than local ones, she admits that she's already feeling more confident.. "I'm learning how to structure topics and make presentations more interesting," she says. "Still, I'm surprised that I'm already gaining the same respect that participants are giving to my international colleagues."


The Myanmar Journalism Institute (MJI) was established in May 2014 and is an association whose members are local media and media organizations. The project is sponsored by a predominantly European consortium made up of DW Akademie, Canal France International (CFI) and the French embassy in Myanmar, Fojo Media Institute (Sweden), International Media Support (Denmark), UNESCO and the local media organization, Forever Group.