"Are you happy with what you're doing?" That's the question that Nils Puerta puts to every journalist who works at Televisión Universitaria de Tarija, a public TV station located in the small Bolivian city, Tarija. While it's an unusual question, it's key to the approach Puerta began developing in 2020 when he became the station's director.
A psychologist by training, Puerta has long worked in the media and had a clear goal: to win back the Tarija audience. Still, there were obstacles to overcome, including technical limits, a demotivated team and a small audience – and this in the midst of the pandemic.
He was inspired in October 2020 when he took part in MediaLab, a project developed and conducted by the Bolivian non-governmental organization Fundación para el Periodismo (FPP) together with DW Akademie. Puerta learned new ways to improve a public media outlet by promoting plurality and a democratic structure, and by offering trustworthy information and focusing on both the team and the audience.
"To really reach audiences, you have to like what you do," Puerta believes, and created spaces for his team to develop media products together and have a closer dialogue. "The team is much more motivated now and they interact with each other. The working environment has improved," he said, adding there had also been a positive response from city residents.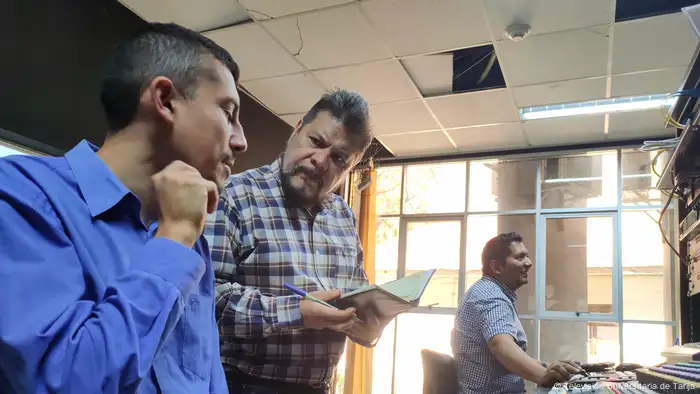 Puerta regularly gets feedback from the station's staff
Journalism serving society
Given the country's political polarization, Televisión Universitaria de Tarija stands out for offering information that's closer to the people and their information needs. The mobile units, for example, travel to various parts of the city and report on local events as well as activities of the indigenous Weenhayek, Tapieté and Guaraní communities whose voices are rarely heard in traditional media. They also report on those who risked opening a new business after losing their jobs during the pandemic.
"People now have a supportive media," said Yobana Knaudt, a journalist and the station's anchor. "They feel good, and the team feels motivated." After taking part in the MediaLab project, she changed her journalistic approach and now wants her work to be closer to the audience's needs. "This is not just about information because there's also a solidarity aspect," she stressed. "Helping and listening to people has changed everything, and the audience now even comes to us."
"News itself can be cold," she continued, "so we have to look for reactions, for people to get involved." The results have been impressive: Televisión Universitaria de Tarija is now the local channel of choice for those living in Tarija, and second to the national network UNITEL.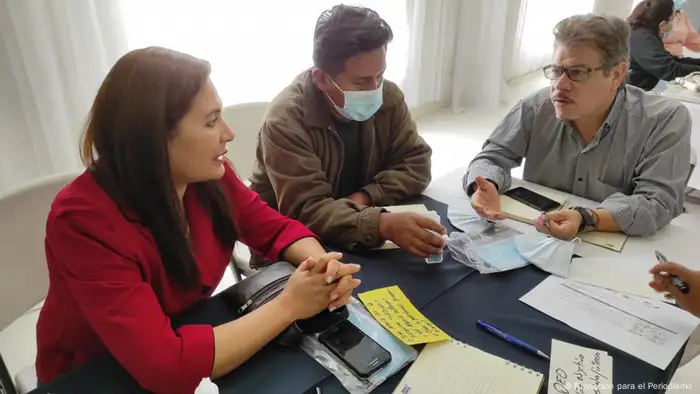 At MediaLab, Puerta and Knaudt learned to produce media using a human-centered approach
A growing community
MediaLab also looked at how to increase an outlet's reach and create spaces for innovating and experimenting with approaches.
Three MediaLabs were held between 2020 and 2022, developed and conducted by FPP with support from DW Akademie. More than 100 media professionals took part, including Knaudt and Puerta. "Obstacles facing media outlets range from how to connect with audiences to how to survive financially," said FPP executive director, Renán Estenssoro. "Through the labs, journalists now know ways to overcome those obstacles."
The Bolivian Fundación para el Periodismo (FPP) has worked with DW Akademie since 2014 and was a DW Akademie strategic partner from 2019 - 2022. The "Idealab: Creating new media, a shared task" was launched in 2019, and in five Bolivian cities gathered feedback from civil society on the type of media that the country needed. The "MediaLabs: New Generation" initiative ran in 2022 and was based on the study's results. Supported by DW Akademie, the project was funded by the German Federal Ministry for Development and Cooperation (BMZ).