Imagine this: journalists produce solid, accurate news reports around the clock; correspondents report from locations throughout the country; and domestic and international media as well as other correspondents and cloud subscribers can access this new source of information. The news sector has stabilized and reports out of Libya can now be trusted.

A farfetched scenario in this country riven by conflict? Not necessarily, especially now that the Cloud News Agency (CNA) is set to be launched online this summer, one of the components of the long-term EU project "Stability through Structure." DW Akademie has been playing a leading role in developing the CNA since December 2013.

The idea was born out of necessity. Projects already running in Libya had to be put on hold in July 2014 after violence escalated between rival militia groups. Political solutions are still nowhere in sight and fighting continues.

"Government authority is basically nonexistent and the national news agencies and institutions we were working with have since collapsed. People simply can't access information," says Martin Hilbert, DW Akademie country manager for Libya. But that's where a virtual news agency comes in. "The goal is to acquire and distribute news independently," says Hilbert.

DW Akademie's role in the "Stability through Structure" project is to help with the
technical aspects as well as offer editorial support and training modules. Participating journalists are to be trained as cross-media correspondents able to upload their reports to CNA. The project includes multi-stage educational programs and a comprehensive mentoring concept.

Developing an independent agency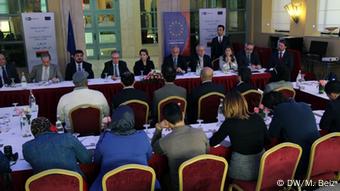 On par with each other: journalists and diplomats at the Tunis dialogue
The CNA project is coming together. Since November 2014 sixty Libyan journalists have been trained in Istanbul or Tunis as correspondents, receiving basic and advanced instruction in various journalistic areas including conflict-sensitive reporting. Other workshops, including security training, are also planned. By April this year some 100 media workers will have been coached, some of them also as mentors. A roadmap has been created for the establishment of an editorial team. Chief editors will be responsible for checking the facts and sources of incoming material.

"Stability through Structure" is based on an initiative by the EU delegation in Libya. At the end of January this year, EU Ambassador Nataliya Apostolova spoke in Tunis to participating journalists about the importance of independent news. "Independent and reliable news sources and open and responsible public debates are essential to a society in transition," she said. All the more so, she continued, "in these highly polarized times."

Germany's ambassador in Tripoli, Christian Much, also sees independent news and the CNA as a constructive strategy toward solving the current crisis. He said it reflected the project's goals of creating stability by improving the quality of information available to people.

Ambassador and journalists in discussion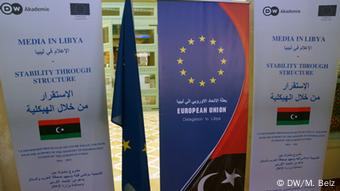 "Stability through structure" is a comprehensive EU project being conducted by DW Akademie
At the Tunis dialogue, diplomatic representatives and participants discussed the current situation for journalists in Libya. "Journalists are expected to be partisan and take a clear position in the conflict," said one of the journalists taking part. "That makes us part of the conflict and that's dangerous because we become targets for those who don't like what we're writing or thought we were firmly on their side." He said participants were now learning "that journalists need to distinguish between fact and opinion and remain neutral."

The trainees come from all regions in Libya and from all ethnic minorities.


"Stability through Structure" is the most comprehensive project that DW Akademie has so far conducted in the field of EU-funded media development. The 30-month project is to run until mid-2016 and is divided into four components; three are to be conducted by DW Akademie and the fourth by the Institute for War and Peace Reporting (IWPR). New media associations and committees will also receive project support as well as journalism workshops and consultation services for media managers.

Under the auspices of "Media Governance," DW Akademie is advising government agencies and the government itself on modern media regulations and legislation. This includes supporting new media associations and boards. Another focus is the development of a public broadcasting system.

A third component looks at strengthening independent and professional journalism in the region. Trainings are to fit the needs of staff at individual radio and TV stations. Accompanying surveys on media consumption are to be developed together with universities in Bengasi and Tripoli and conducted in various parts of the country. The final component involves a planned Content Development Fund that supports media workers and institutions, and that will subsidize independent reporting. This component is being developed by IWPR.