DW Akademie presented the long-term project "Media in Libya: Stability through Structure" at a festive reception held March 29 in the Libyan capital. The project, funded by the EU, got underway in December 2013 and is being conducted by DW Akademie and a junior partner, the Institute for War and Peace Reporting (IWPR).
DW Akademie director Christian Gramsch underlined the trust that Libyan partners had placed in working together with DW Akademie. "We all recognized the need for a long-term strategy and have responded to a request for a project that supports the introduction of modern media legislation and strengthens Libya's media institutions." Gramsch also thanked the European Union for funding the project.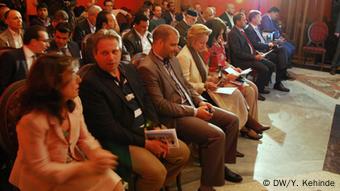 Festive reception in Tripoli
Among the 100 guests attending the event were EU ambassadors and delegates, representatives from the Libyan media and high-ranking Libyan government members. Libya's deputy Minister of Information, Lamia Abusedra praised DW Akademie's activities. "I am confident this project will make a vital contribution to developing Libya's media sector, especially at this very sensitive time." Further praise came from the EU's ambassador to Libya, Nataliya Apostolova. A press conference was held ahead of the reception.

"Stability through Structure" is DW Akademie's most comprehensive, EU-funded media development project. Designed for a 30 month period it is divided into four main areas, three of which will be conducted by DW Akademie, and the fourth by the IWPR. On the agenda are support for the newly emerging media unions and committees as well as consulting services for media managers.

Another focus will be on strengthening regional, independent and professional journalism. Workshops will be designed to reflect the training needs of radio and television stations. Accompanying surveys looking at media usage trends in various parts of the country will be developed together with universities in Bengasi and Tripoli. Also being planned is a Content Development Fund for media workers and institutions, and that is designed to subsidize independent reporting. The IWPR will be developing the fund over a two-year period.