Over the course of his 25 year career as a print journalist, William Oloo Janak has learned how to get to the bottom of a story. After ten years at Kenya's biggest-selling newspaper, the Daily Nation, Oloo Janak spent another ten years at the Standard, the second largest paper in the country. As a columnist, he has critically explored serious shortcomings in the education sector, the government administration and Kenya's political landscape.

Oloo Janak, who is currently the chairman of the Kenya Correspondents Association (KCA), sees well-grounded research, critical investigation, and broad-based knowledge as the essential foundations of journalistic work. However, he finds these qualities are often missing in the work of his fellow journalists. "The Kenyan media has a tendency to focus on personalities - background information and important details usually fall by the wayside," he says.

Font of inspiration and practical assistance

Hence of the involvement of the KCA in the Kisumu Media Information Hub, which moved into its offices in the port city of Kisumu on the shores of Lake Victoria in October 2014. The idea behind the hub, which is supported by DW Akademie, is to develop a center for critical and high-quality journalism. The aim is to shift coverage in the country away from personality and event journalism and instead to foster "issue-based reporting by the media," explains Oloo Janak.

The hub is designed as a place where media professionals and others interested in the media can work, research and debate as well as get to know each other. "We decided to create a physical space which we manage that is open to journalists, academics and the community to interact around media issues," says Oloo Janak.

The space is still being renovated and outfitted with one overriding goal - to create a real information hub. Journalists will prepare dossiers on issues such as health, the regional economy, politics and human rights issues. "We can showcase some of the things that happen in the Lake Victoria region and we intend to help the people in participating in decision-making," Oloo Janak says.

Hub for new content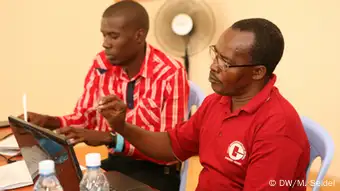 William Oloo Janak (front right), Chairman of the Kenya Correspondents Association (KCA), in the new Kisumu Media Information Hub in July 2015
Around 100 journalists have already completed training seminars at the new center, says Oloo Janak. Some will now receive follow-up assignments from the hub to cover in-depth stories. The public will be able to access these stories on the hub's blog. A coordinator, numerous trainers and several assistants will ensure that journalists engage in what they should be able to do best - research.

Jutta vom Hofe, DW Akademie country coordinator for Kenya, visited the information hub in 2014. On-the-ground support in Kisumu is a key building block of DW Akademie's overall strategy, she stresses. "We want to increase the professionalism of small and medium-sized media companies in rural areas in particular," vom Hofe says, "in order to provide communities with easier access to information."

This process benefits disadvantaged areas in particular, she says, an important consideration considering Kenya is currently undergoing a process of political decentralization with the central government gradually transferring power to 47 counties.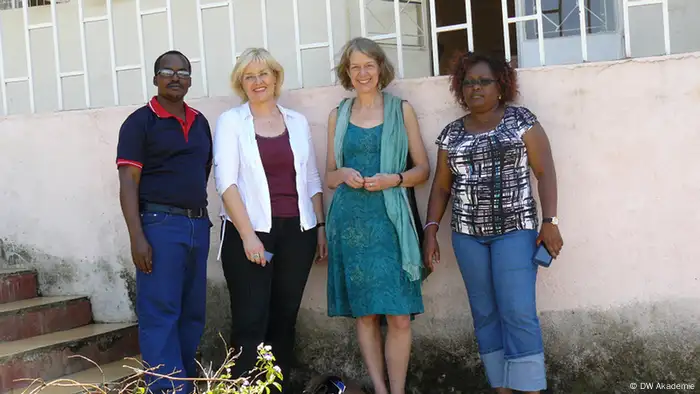 (Left to right) KCA Chairman William Oloo Janak, DW Akademie country coordinator for Kenya Jutta vom Hofe, DW Akademie project manager Sigrid Thomsen, and KCA project assistant, Esther Nhtusi

DW Akademie involved in the kick-off

In the medium-term, the new media hub in Kisumu could also help protect journalists. All the signs point to a storm brewing in Kenya around security issues, says Jutta vom Hofe. The country's new media laws have severely curtailed press freedom, and the government, at times, exerts massive pressure on journalists.

Many are talking of a "new climate of fear," notes DW Akademie Kenya expert vom Hofe with concern. Recently, journalists have been attacked by security forces and a journalist was even killed in April 2015 by unknown assailants. Here the close cooperation between DW Akademie and the Kenya Correspondents Association has been invaluable, says vom Hofe. "We have profited considerably from the KCA's expertise because it is one of the best sources of information about the current situation in the country."

William Oloo Janak also views training and mentoring on security issues as a central focus for the hub in future. "We are not only offering capacity building to journalists who write ethical, well-founded stories," he says. "We are saying that if the environment is not right, that is, if the political, legal or security environment is not right, then this center should be able to intervene."

Range of services to provide funding

Oloo Janak expects the information hub in Kisumu will offer the full range of intended services in around six months time. The plan is to charge users nominal fees to use the center - and this will contribute to the center's financial upkeep.

"We want to make this a center where even leaders can come and hold press conferences - such as regional governors," explains Oloo Janak. Exhibitions on cultural and media topics are also being considered. The provision of computer and printing services as well as information could also contribute to the center's income.

Although financing has not yet been secured, William Oloo Janak is confident that people will hear more about the Kisumu Media Information Hub project in the future. He cites one reason in particular. "The journalists I meet here have a lot of energy. You can feel it."