Lissette Lemus is a Salvadoran documentary photographer with more than 20 years of experience. In her work, she combines photojournalism with writing on social issues with a focus on defending human rights and, specifically, the rights of women and vulnerable populations, such as migrants.
Lemus participated in the second edition of DW Akademie's #CambiaLaHistoria project, together with the Salvadoran media Alharaca. Her report "El baño dejó de ser una amenaza para las mujeres de Pushtan" ("The toilet stopped being a threat to Pushtan women"), published in the Salvadoran newspaper El Diario de Hoy, tells how the feminist organization Mujeres de Xochitl has achieved the construction of private bathrooms that some 15 girls and women from the municipality of Nahuizalco will be able to use.
In this indigenous hamlet in western El Salvador, more than 20,000 people live in poverty and some 7,000 in extreme poverty, according to Lemus. In this context, many girls and women are forced to bathe in the open air or in improvised spaces.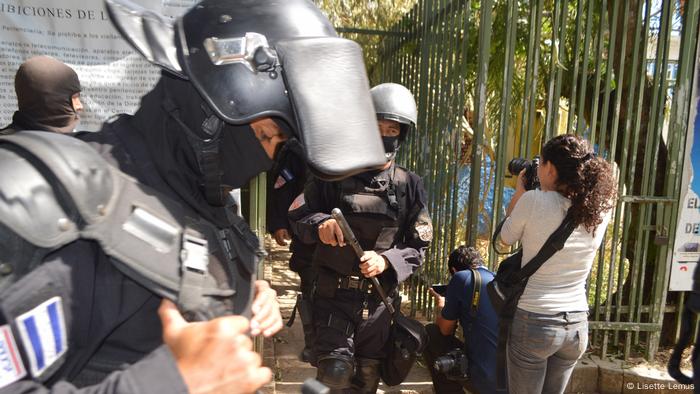 Lemus has vast experience in covering complex issues, now also from a constructive angle
DW Akademie: The #CambiaLaHistoria works focus on invisible gender-based violence. How does your report fit into that context?
Lissette Lemus: No access to a private bathroom violates the right to privacy. Most women have access to a private bathroom where we can take off our clothes and bathe quietly without being observed by anyone, and not having something so simple and ordinary is a source of discomfort for many girls and women. The lack of a private space possibly exposes them to sexual aggression.
We usually think that all women have access to a private bathroom, so the issue might feel insignificant and unworthy of attention. Where it is lacking, it is normalized that women bathe without privacy, and even those who ask for privacy are criticized; they are accused of having something to hide, for example.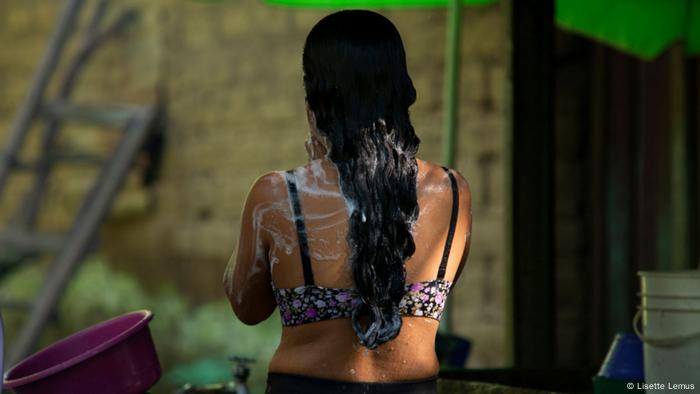 Lemus' report in #CambiaLaHistoria shows an often ignored reality that affects girls and women in rural areas
So the lack of access to a private bathroom is one of the normalized or silenced forms of violence. What other forms of violence have you observed throughout your career?
In general, gender violence has always been quite invisible. We normalize certain behavior and stop seeing it as a problem. Through our work, it is worthwhile to make the violence visible and to show that women suffer at home or in an intimate relationship, but also the difficulties surrounding equal marriage or trans rights, for example. These are forms of violence that are deeply rooted in countries like El Salvador, and many people even consider that the populations that suffer from them are the ones who must adapt.
It is important to reflect on these necessary changes, but the general media do not usually have the time or space to focus on the problems of a specific population or to develop coverage with a gender focus, for example. This is what #CambiaLaHistoria allows. In addition, the constructive journalism approach of the project motivated us to look for positive initiatives trying to solve a problem.
What was your experience like immersing yourself in constructive journalism?
In my case, I was fortunate to discover the organization Mujeres de Xochitl. Although they cannot carry out everything they would like to due to a lack of funds, they are motivated by the idea of solving specific problems. This allowed me, through constructive journalism, to tell the story of those who create alternatives and not just denounce them. The collective was born with the intention of listening to young women who live in rural areas and who are also of indigenous origin. Thus was born the need to talk about sexual and productive rights, and to carry out projects on this issue in the area, among which is to enable access to private bathrooms for women.
These efforts, however small they may be, can attract attention and generate momentum for other people or organizations that want to join in solving these or other problems. And, in this way, change history. From a journalistic point of view, these narratives make it possible to highlight a problem that obviously only affects women and bring it to spaces where it usually has no place. It is very transforming to tell a story with a gender focus in a conventional newspaper and in its social networks, and for the public to have access to these narratives that are not usually generated due to lack of time and dedication.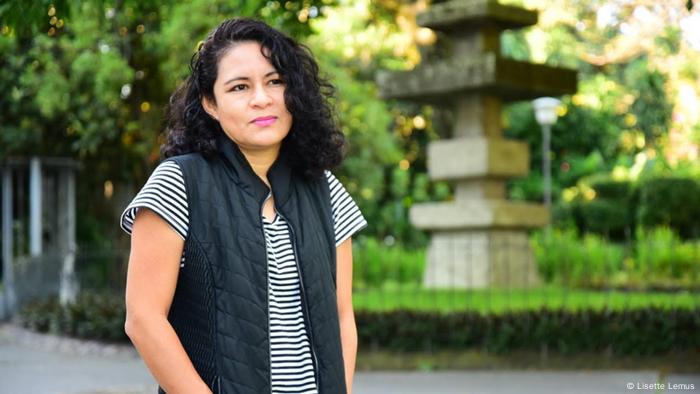 Lemus is one of eleven journalists who participated in the second edition of #CambiaLaHistoria
So how can constructive reporting help to change these situations?
Journalism has the power to make us reflect on violence that we consider normal. Presenting this from the very voices of women or vulnerable populations who are affected provides a different perspective. Often these issues are invisible because we do not stop to reflect on them. Journalism allows us to analyze them by putting ourselves in the story protagonists' situation as if we were the person who feels exposed while bathing outdoors and does not even dare to take off her clothes. To think about being in that situation makes us reflect.
That is why it is so crucial that initiatives like #CambiaLaHistoria continue to exist in countries like El Salvador. Journalism is changing and now is the time to adapt and develop new ways to present forgotten or overlooked issues more effectively. But to achieve these changes in journalism, journalists must be prepared and seek ways to sensitize those who are not yet.
It is not a matter of becoming activists; we must maintain and comply with journalism's ethical and quality guidelines. But improving our awareness of certain issues allows us to identify problems where we did not see them before. It is a matter of no longer normalizing situations that actually need to be changed knowing how to tell that story