The interactive Digital Innovation Library presents projects from Africa, Asia, the Middle East and Latin America - groundbreaking digital approaches to advancing media freedom and access to information.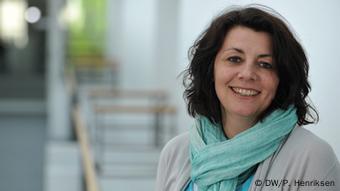 Petra Berner, Head of Strategy and Consulting
What are you hoping to achieve with the Digital Innovation Library?
Petra Berner: Inspiration, communication and interconnectedness. There are so many interesting projects, large and small, that achieve amazing things, but that other organizations and institutions know nothing about. This is more often the case with digital projects, as they evolve at a faster pace. Other projects in the North as well as in the South can learn a lot from them - from their successes, and also from their problems. It would be wonderful if the Library were to become a good source of information in this regard, and would facilitate a lively exchange of knowledge and ideas.

You are presenting a total of 16 projects from 13 countries. How did these individual projects and initiatives attract your attention?
Research and feedback from colleagues on the ground. The subject has engaged us for a long time already and the projects were featured on our #mediadev platform. Ultimately, we also rely on information, feedback and ideas from the various regions when it comes to our own digital strategy -which is currently under intense discussion in DW Akademie. What was important for us, was to find examples of projects and initiatives that demonstrated added value in our key thematic areas. In the digital world we have to find new definitions for freedom of expression and access to information - without digital inclusion, there's no freedom of expression.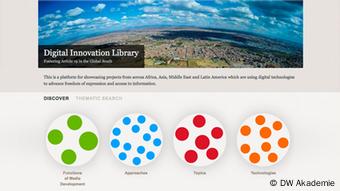 Screenshot, Digital Innovation Library
Which project particularly surprised you?
I was once again surprised and impressed by how simply and quickly different opportunities for participation, interactivity and public information become available to people.
Take "Africa check" for example, a portal from South Africa that allows citizens to verify the statements made by politicians.
Or the impressive initiatives from Latin America.
Well established is "Plaza publica" from Guatemala - a real reference site for investigative data-driven journalism. And that, in a country that can't really boast of having a free press.
This one's transparent: "Rutas del Conflicto" from Colombia - where all kinds of information about the armed conflict in Colombia can be collated and accessed. What a contribution to processing the past!
Or the sensational "Follow the money" from Nigeria - which maps the movements of international donor funds.

You will be presenting the Digital Innovation Library on World Press Freedom Day at the accompanying international UNESCO conference in Helsinki. Have you had any reactions in the run-up to the presentation?
Yes, and they were very positive and concrete. Some organizations have already approached us saying they'd like to be represented in the Library. We were delighted because, on the one hand, this confirms that there's a demand and the idea works, and on the other, it demonstrates the potential to use the Library to connect, discuss, and share ideas and information.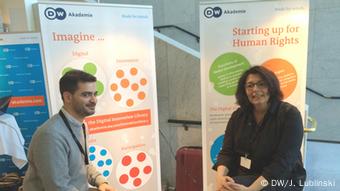 Ayman Mhanna (GFMD) and Petra Berner in Helsinki
Do you already have plans for a phase two?
The project is a dynamic experiment and we're hoping for keen participation. We haven't set a cap on it. Rather, we're just at the starting gate with these initial 16 projects. If you ask me about the Library on World Press Freedom Day a year or two from now, I hope to be able to point to very many different and interesting projects, and to a lively exchange of knowledge and ideas on our #mediadev platform.


Petra Berner heads DW Akademie's Strategy and Consulting Division, which played a significant role in DW Akademie's strategic realignment. For many years, she has been advising on and designing international media development projects - primarily in the area of organizational and staff development.