Andrea Castro puts on the headphones and takes a quick look at the clock. It's 6 a.m. and time to go on air. She glances over at her colleague Diego Melendreras and then gets closer to the microphone. "Good morning!" she greets her listeners cheerfully. "What's on your mind today? Give us a call or text us." A few seconds later the studio cell phone lights up. It's the first message of the day, coming via WhatsApp.
Youths speak out
The project began a year ago with the idea to create a radio station that would give youths a voice and take them seriously. After an intensive year of planning, which involved developing a music concept, putting together an editorial group and hiring young moderators, Sónica 106.9 went on air in August 2015. "There's nothing like it in Guatemala," says Edgar Zamora, a local DW Akademie expert who is supporting the project. "We're at eye level with our listeners and openly discuss difficult or sensitive topics like youth crime and sexuality." The focus is on listening to the views of the audience, whether via radio or social media.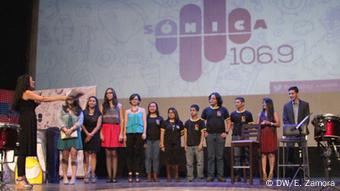 Celebrating the launch of Sónica 106.9 in late August
"This station definitely fills a void," says David Olmos, DW Akademie's country coordinator for Guatemala. Even though more than half of the Guatemalan population is under the age of 30, that is barely reflected in the media. "The stations are very commercial and there's little in-depth information," Olmos says. "This basically undermines young people's right to freedom of expression and access to information." But, he says, Sónica is taking a different approach. The station is there to provoke discussion and offer alternatives to violence. Guatemala is a country with one of the highest murder rates in the world.
New dynamics
Projects focusing on youths have been among DW Akademie's priorities in Guatemala since 2011. DW Akademie has been working closely with Guatemala's Institute for Radio Training (IGER), an organization that offers educational programs for the poorest of the population. IGER has had a broadcast license for years.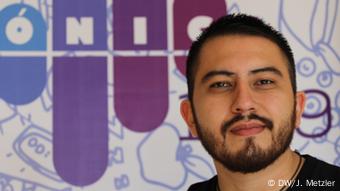 Sónica director Cristian Galicia says working together with DW Akademie is giving the station a clear direction
Radio Sónica needed an entirely new strategy if it was going to attract listeners. Previously, the channel had no clear direction and people rarely tuned in. "That changed when we started working with DW Akademie," says the station director, Cristian Galacia. "We now have new ideas – not just in terms of journalism but also in terms of organization and sustainable financing."
Enthusiastic media makers
Radio Sónica is broadcast in and around Guatemala City and has the potential to reach more than a million young listeners. It's aiming to become the most popular station in the region and to establish a greater presence on social media. DW Akademie is continuing to support IGER by helping to develop the station and to expand its multimedia selection. The Sónica staff is more than enthusiastic. "We love coming here in the mornings," beams radio presenter Andrea Castro. "It's always good to hear from our listeners, whether they're calling in or sending us a text message."