The country is still struggling to deal with the traumas of a civil war that ended in 1996 after 36 years of bloodshed. Finding former Guatemalan foes who are now willing to speak with each other in a public setting can be extremely difficult.

But at the end of November, DW Akademie organized the podium discussion "¿Tu verdad? No, la Verdad" ("Your truth? No, the truth itself"). It brought together Julio Balconi, a retired general and former minister of defense, and Gustavo Meoño, once the commander of the insurgent "Guerilla Army of the Poor" (EGP), and now the director of the National Police Historical Archive (AHPN). For two hours the former enemies spoke about the atrocities committed during the conflict. It was a controversial discussion, but at the end, the two men offered a gesture of reconciliation: they hugged.

This historic event drew nationwide media attention: some 40 journalists attended the dialogue, including staff from the national television stations TV Antigua and Gautevisíon, and reporters from rural areas. Balconi and Meoño discussed the wounds of the past and coming to terms with the brutality. Moderated by Luis Felipe Valenzuela, a journalist with the radio channel, Emisoras Unidas, the discussion showed that dialogue is crucial and a prerequisite for reconciliation. "We see things differently," Balconi stressed, "but now we're at least talking to each other."

Dialogue after decades of silence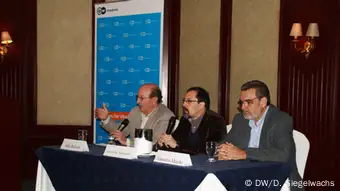 Speaking with each other for the first time: Julio Balconi (left) and Gustavo Meoño (right) together with host Luis Felipe Valenzuela (center)
The Guatemalan civil war lasted from 1960 - 1996 and pitted various insurgent groups against the government. An estimated 200,000 - 250,000 people disappeared or were killed by the army and right-wing paramilitary, who primarily targeted the indigenous population. The guerillas, however, also committed human rights violations.

For David Olmos, DW Akademie's Country Coordinator for Guatemala, the discussion offered a cautious rapprochement. He says it could also serve as a platform for initiating a long-term, national dialogue. "There are still very few public references to the past, and even the media try to avoid it - especially as it regards the indigenous population," he says.

Reconciliation and dialogue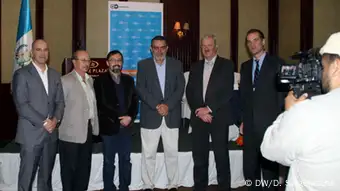 The podium discussion was part of a long-term DW Akademie project that focuses on rural reporting and on giving victims a voice. It is also a way to break the silence of the past. Coming to terms with atrocities is something Germany has gone through itself. "Our country went through World War Two and so we understand the importance of peace," said Artur Brunner, Germany's deputy ambassador to Guatemala. It's one reason why Germany is supporting Guatemala in its efforts to create a peaceful and democratic society, he said.

In 2014 DW Akademie developed a training program for sensitizing Guatemalan media representatives to issues of the past. Research techniques are part of the program, and DW Akademie is working closely with the National Police Historical Archive as it establishes 22 offices throughout the country. The offices will enable journalists and others interested to conduct more effective research in the rural areas, so that they will no longer have to travel to the capital to gather information.


DW Akademie projects in Guatemala are funded by Germany's Federal Ministry for Economic Cooperation and Development (BMZ).