"This looks like pure conjecture to me," says a member of Germany's Press Council as others sitting around the conference table begin to flip through their files. They are deciding whether a complaint lodged against one of Germany's largest newspapers has merit, whether the newspaper had simply printed material taken from the Internet without verifying it first.

It is just one of some 80 cases that Germany's Press Council is reviewing at today's meeting. This time, however, the session is not for council members only. At the other end of the room, ten men and women from Mongolia sit and listen to a simultaneous translation through headphones. They take notes and occasional photos with their smartphones.

The Mongolians are here to observe how Germany's Press Council, founded in 1956, carries out its mandate. They will take what they learn and apply it to their own work back home. "I'm taking notes for my colleague in the administration department to give her an idea of how to plan our meetings more effectively," says Gunjidmaa Gongor.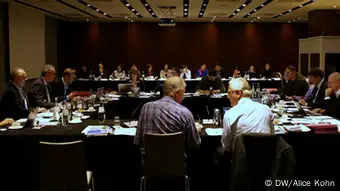 The Mongolian delegation attended a session of the German Press Council
The visit to the Press Council meeting is the highlight of the Mongolians' one-week, fact-finding tour to Berlin that has been organized by DW Akademie. DW Akademie supported the founding of the Mongolian Media Council, a project launched in 2014, and continues to advise the body as it firmly establishes itself in Mongolia's media sector. Mongolia's council has 30 members in total; ten of them have come to Berlin.

In addition to the council meeting, the tour includes workshops as well as visits with news agencies, newspaper editorial offices, the German Federal Press Conference and the German Federation of Journalists.

Sharing views and experiences

Mongolia's very first media council started its work in early 2015. Unlike the German Press Council, it reviews complaints against broadcast reports as well as print and online articles. "Our aim is to develop self-regulatory mechanisms for Mongolia's media sector," says Gongor, one of the council's founding members. She works at the Press Institute of Mongolia and was elected to the council's 15-member board of directors. "We'd thought about establishing a media council," says the energetic woman, "but we didn't have experience in this area. That's why we turned to experts from abroad."

Manfred Protze is one of those experts. A former editor of the German news agency dpa, he has been a member of the German Press Council since 1987 and is currently its deputy spokesperson. He conducted DW Akademie workshops in Mongolia, and helped develop the country's press code and organizational structures. "Lodging a complaint with the Media Council is an alternative to filing a lawsuit, which can result in financial penalties," he says. "In countries like Mongolia, such penalties that can be a threat to a media outlet's very existence."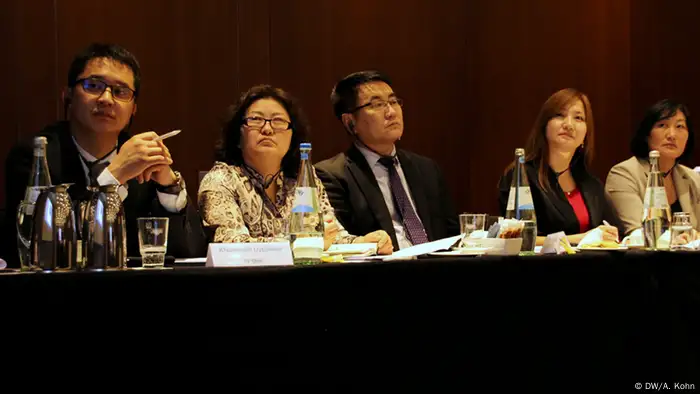 Simultaneous translations made the council's decisions-making process easier to understand

Voluntary self-regulation

Mongolia's Media Council and the newly developed press code now need to find broad acceptance within the media sector. The council initially came up against strong opposition, and several media owners did what they could to stop the body from even getting started. To win them over, the council's founding members visited numerous media companies and civic organizations - a strategy which proved a success. To date, 28 associations and media organizations are now affiliated with the council. "What's really been remarkable is the role journalists have played in helping the Media Council succeed," says Protze. "They've become increasingly committed as the project has moved along," he says.

Otgonchimeg Adiya is a radio journalist from Uvurkhangai province, some 250 kilometers southwest of the capital Ulan Bator, and represents regional journalists on the council. "We would like to improve the quality and professionalism of journalism in Mongolia," she says. Although freedom of the media and information in Mongolia is guaranteed by law, in practice those freedoms frequently run up against obstacles. Members of the government either directly or indirectly own media outlets and often act in ways that interfere with or affect media coverage. There is no separation between impartial editorial content and biased political coverage.

During the tour, Adiya says she particularly enjoyed the visit to the Federal Press Council, which meets three times a week. "I was impressed by how confident and independent the journalists there appeared to be," she says.

International support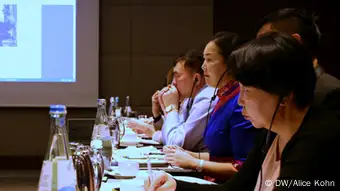 The council's focus now will turn to funding and its long-term sustainability, as well as informing people about their right to lodge complaints. "The council has to date received considerable support from DW Akademie, and there have been joint projects with Germany's Friedrich-Ebert-Stiftung," says Eva Mehl, DW Akademie's country coordinator for Mongolia. Besides Manfred Protze, the initial phase of the council was supported by the executive director of Bosnia-Herzegovina's Press Council; the OSCE has now taken on an advisory role. "This gives the council more weight and backs up council members and the board," Mehl points out. "That's important because the challenges ahead are huge," she says.

Back in Berlin, the third item on the Federal Press Council's agenda is a request for reconsideration. Manfred Protze adjusts his glasses. "We need to be aware that the complainant represents a particular political viewpoint," he says to the six women and four men from Mongolia. They nod. "That's at least what the appealer says," Protze explains as the Mongolians think it over. It's time for the Press Council members to vote. "Who believes there are no grounds for complaint?" asks one of the members. A majority of members raise their hands and the complaint is rejected.