Life doesn't always run along straight lines. It's a complex progression, full of byways, unexpected detours and circuitous paths. Not exactly breaking news. At the recent FoME symposium, keynote speaker Ben Ramalingam of the UK-based Overseas Development Institute argued that linear thinking perpetuated an antiquated top-down approach among media development professionals.

In his address, he asked the members of Forum Media and Development (FoME), a network of media professionals, researchers, and institutions involved in development, to consider why so much media development work is mapped out as if there were purely linear solutions to multifaceted problems. This kind of outdated thinking is one of the most common reasons important projects and programs fail, according to Ramalingam, who consults with renowned British and international development organizations such as the UK'S Department for International Development (DFID) and UNDP. He is also the author of the much-discussed book "Aid on the Edge of Chaos."


"I think we need to work in much less top-down ways, much less Encyclopaedia Britannica and much more Wikipedia. So less extract, organize and deliver, and much more curate and steward. It's about providing platforms that people can adapt and use as they go," he said. "If we cannot change the way that we operate ourselves, we can't ever possibly hope to ask poor people in developing countries to change what they do. We have to look to ourselves first."

In his talk, Ramalingam encouraged the more than 170 national and international media experts and researchers in attendance to fundamentally rethink how they approach their work. It was a thought-provoking kick-off to the two-day FoME conference under the motto "Focus on Impact: Advanced Methods and Concepts in Media Development."

Innovative approaches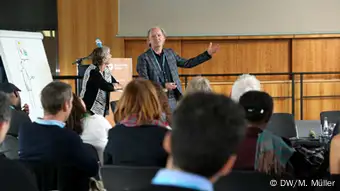 Storytelling: a new approach to project evaluation
"Now, more than ever, FoME has become a creative forum for everyone working in the field of media development. This is where we can share opinions, exchange our thoughts and discuss our own experiences," said DW Akademie Director Christian Gramsch in his opening address to the gathered representatives of organizations such as BBC Media Action, Free Press Unlimited, Reporters without Borders, Internews and CIMA as well as employees of the German federal government and the development ministry. DW Akademie is a founding member of this unique development network, which held its eleventh symposium.

"We felt it was important to present an innovative spectrum of themes for discussion, but also to make innovative methods and concepts come alive through the actual format of the event," said Patrick Leusch, the organizer of this year's symposium and head of international cooperation at DW Akademie as well as the director of DW Media Services. So the event created spaces for knowledge transfer including short presentations in the "Knowledge Café" and workshops detailing cutting-edge methods such as storytelling or Lego Serious Play, a creative idea development strategy that employs Lego bricks.

Other topics included media project sustainability, featuring discussions with Sopheap Chak from the Cambodian Center for Human Rights as well as Günter Nooke, commissioner for Africa for the Federal Ministry for Economic Cooperation and Development, among others.

"In our daily work, we're always looking for solutions to challenges, such as the demand for measurement and evaluation," said Sally Gowland of BBC Media Action, who found the two-day exchange with development-sector colleagues an enriching experience.

A bright outlook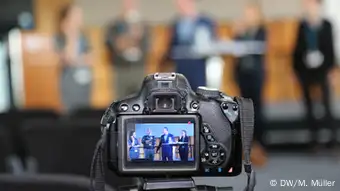 Designated "FoME reporters" summarized the symposium talks and discussions, presented not as a report, but as a mock-up of the front page of a fictional newspaper they called the "Change Maker". It even featured a weather forecast predicting rain in 2015, cloudy skies in 2016, and sunshine for 2017. This reflected the progress made during the two-day symposium in clearly identifying the challenges facing media development work. Devising solutions and establishing sustainable development strategies will be the challenges from here on out.

"I really liked the change in perspective," said Bektour Iskender, co-founder of the Kloop Media Foundation in Kyrgyzstan, a DW Akademie partner. "Instead of a top-down approach, now our experience is an essential part of the process."

"Poor countries can teach as well as learn," he added.